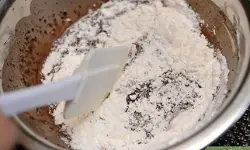 Fold
Where you have a heavier mixture that needs to be added to a lighter mixture, folding is the process to use.
Normally the lighter mixture has been whipped up to incorporate air into the mixture and by adding the heavier ingredient you need to maintain as much of the incorporated air as possible.
The process is performed with a large spoon or spatula and the lighter ingredient is added to the heavier ingredient and then with the spoon/spatula, lifted from the bottom in a cutting motion very gently to combine the two ingredients.