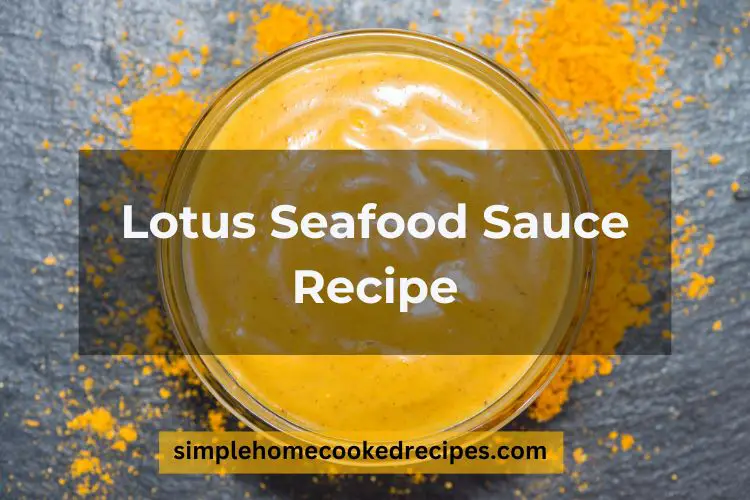 I'm thrilled to share my own take on Lotus Seafood's signature seafood sauce with you all. Having enjoyed countless memorable meals at their trendy and casual restaurant, I couldn't resist trying to recreate their delicious sauce at home. This sauce perfectly complements a variety of seafood dishes. I'm excited to walk you through the steps to make it just like they do at Lotus Seafood.
How to Make Lotus Seafood Sauce Recipe Overview:
This Lotus Seafood Sauce recipe is a creamy and flavorful accompaniment to your favorite seafood dishes. It has a super creamy texture that easily pairs up with shrimp, crab, lobster, or even fish. Today I am making the sauce for approximately 4 people. This sauce is a fantastic addition to elevate your seafood dining experience.
Tools and Equipment:
To prepare this delicious seafood sauce, you'll need the following tools and equipment:
Large saucepan
Wooden spoon or spatula
Whisk
Measuring cups and spoons
Cutting board and knife
Ingredients:
1/2 cup (1 stick) of butter
1/2 chopped onion
1.5 tablespoons minced garlic
1 cup of heavy cream
1/2 teaspoon Cajun seasoning
1/2 tablespoon Old Bay seasoning
1/2 tablespoon paprika
1/2 tablespoon garlic powder
1/2 teaspoon dried parsley
Freshly ground black pepper, to taste
A splash of lemon juice
Instructions:
Start by melting the butter in a large saucepan over medium heat. 
To the melted warm butter add those chopped onions and minced garlic.
Sauté them until the onion becomes fragrant, usually about 3-4 minutes.
Pour in the heavy cream, stirring continuously to combine it with the butter, onion, and garlic. Keep stirring until the mixture is well blended. Wait until the mixture begins to simmer.
Add the Cajun seasoning, old Bay seasoning, paprika, garlic powder and dried parsley. Reduce the heat to low flame. Stir these seasonings into the sauce until they are fully incorporated. Allow the sauce to simmer for another 5-7 minutes. stir  occasionally.
Season the sauce with freshly ground black pepper to taste. Be cautious with the salt as the Old Bay seasoning is already quite salty.
Add a splash of lemon juice. Stir well and let it simmer for another minute.
Turn off the stove and remove the saucepan from the heat. Your Lotus Seafood Sauce is now ready to be served. Drizzle it generously over your favorite seafood dishes, and enjoy the restaurant-quality flavor right at home.
What seafood dishes go well with Lotus Seafood Sauce
The Lotus Seafood Sauce is a flavorful condiment that pairs wonderfully with a variety of seafood and side dishes. Here are some fantastic pairings to create a memorable seafood experience:
Grilled Shrimp: The creamy and slightly spicy sauce perfectly complements the smoky flavor of grilled shrimp.
Juicy Crab: Lotus Seafood Sauce is an excellent accompaniment for sweet and succulent Juicy Crab Seafood Boil. Simply crack open the crab legs, dip the meat into the sauce and savor the combination of flavors.
Lobster Tails: The rich and creamy sauce enhances the delicate flavor of lobster meat.
Pan-Seared Scallops: Create a gourmet experience by searing scallops until they're perfectly golden brown and then drizzling them with the sauce. The creamy sauce beautifully complements the tender scallops.
Crispy Fish and Chips: Elevate your fish and chips with Lotus Seafood Sauce. Dip the crispy fish filets into the sauce for a delightful twist.
Remember to adjust the quantity of the sauce based on the number of guests and the size of your seafood platter. These pairings will enhance your dining experience and allow you to enjoy the Lotus Seafood Sauce to its fullest.
Tips and Tricks:
For a savory taste, you can increase the amount of Cajun seasoning to your liking.
If you prefer the consistency of the sauce thicker, you can simmer it for a bit longer. Simmering it a little longer will make the sauce thicker than usual.
This sauce pairs exceptionally well with steamed crab legs, grilled shrimp, or even as a dip for crispy fish and chips.
For a sweeter version of this sauce, you can use sweet chili sauce. Sweet chili sauce offers a sort of sweet heat for the sauce. Thought sweet chili sauce is an optional ingredient.
FAQs:
Can I substitute light cream for heavy cream?
Heavy cream provides a richer texture. You can use light cream for a lighter version of the sauce.
Is it possible to make this sauce in advance?
Absolutely! Prepare the sauce in advance. Reheat before serving.
Can I freeze leftover sauce?
You can freeze the sauce in an airtight container. It will be consumable  for up to three months. Thaw and reheat it slowly on the stove.
How to balance the taste if my sauce is too salty?
Mix it with a bit of unsalted cream. This will make the taste much lighter. You can also use milk for this process.
Can I use fresh herbs instead of dried parsley?
Of course! Fresh parsley will add a burst of vibrant flavor to the sauce.
Conclusion:
This Lotus Seafood Sauce recipe brings the flavors of a popular seafood restaurant right to your home kitchen. It's a versatile sauce that can elevate any seafood dish with its creamy, savory, and slightly spicy profile. Enjoy creating restaurant-quality seafood meals with this delicious sauce. Don't hesitate to get creative with your seafood pairings. Bon appétit!