---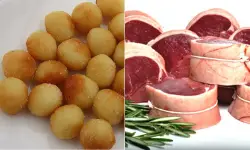 Noisette
Noisette (Nut Brown)
The term Noisette in cooking can be defined in 3 different ways.
Beurre Noisette is clarified butter that is cooked through until it turns a nut-brown colour. Normally served as an accompaniment to fish as in Sole Meuniere.
Pomme Noisette are Potato balls approx 2 1/2 cm, cut with a melon ball cutter, that would be shallow fried in clarified butter until golden brown, or alternatively parboiled and then finished off in the oven until golden brown. 
Noisette of Lamb is a small medallion made from the Lamb's loin, which is in the saddle. It is a lean and flavoursome cut.
---