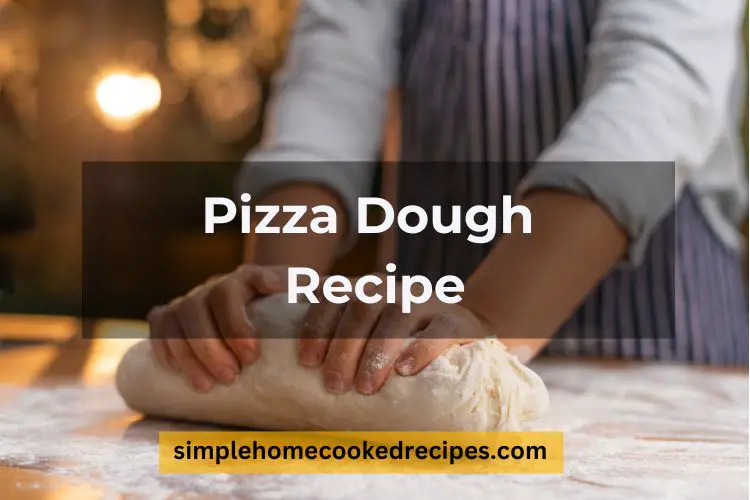 Why pay for a delivery pizza when you can easily make one yourself. A simple to make pizza base and add the toppings of your own choice. This recipe will yield 2 medium sized Pizzas or 4 small individual pizzas.
There's something quite satisfying about making your own homemade Pizza dough and then topping it with any filling you desire and with how much, instead of relying on the local Pizza takeaway.

Making the dough isn't that difficult and using ingredients that won't cost a fortune and the good thing is, that if you happen to make to much just wrap it and pop it in the freezer for another day. Pizza dough freezes well! (See notes at the bottom of the recipe card)
Pizza Dough Ingredients
All pizza dough starts with the same basic ingredients: flour, yeast, water, salt, and olive oil. 
Yeast: The easiest and simplest yeast to use is Active dry yeast. The yeast normally comes in 7g packets, which is ideal for your Homemade Pizza Dough.
Water:  The water must just be lukewarm to activate the yeast. If the water is hotter than 130ºF it will kill the yeast and you will not get any rise in your Pizza Dough.
Flour: The two types of flour used for Pizza dough are all-purpose flour and bread flour. 
All-purpose flour is great for making a thin pizza crust. Because it doesn't contain as much gluten as other types of flour it doesn't rise quite as high as dough that contains a lot of gluten.
Don't make the mistake of thinking you can use All purpose flour as gluten-free, it isn't and will cause problems for people that are on a gluten-free diet.
Bread flour is the other type of flour used for making the dough. It contains a high amount of gluten, which will allow the dough to rise a lot more, making for a thicker,  softer, and fluffier dough, giving your pizza a chewier crust. Ideal for a deep pan pizza.
Oil: Extra virgin olive oil adds wonderful flavour to the Pizza dough.  To prevent the tomato sauce from seeping down and making the dough soggy, brush the dough with olive oil before adding the toppings.
Salt: Salt is needed just to add flavour.
Sugar:  Increases the yeast's activity and acts to tenderise the dough. 
Cornmeal: A little Cornmeal dusting on the baking tray before the Pizza dough is laid on, will give the pizza crust a little extra flavour and crispness when baked. Active
How to make and form the Dough:
Making Homemade Pizza Dough is fairly simple and straight forward, but there are a couple of pointers to look out for.
Kneading the dough until it is smooth and elastic, will give much better finished Pizza.
Allow the dough to rise in a lightly oiled bowl (make sure to turn the dough in the bowl so it gets covered lightly in oil, this stops the dough from forming a skin), cover the bowl with a clean large Tea-towel
The bowl should be placed in a warm draft-free area to allow the dough to rise until doubled in size.
Never use anything other than olive oil.
Simple Pizza Dough Recipe
Course: Brunch, Main Course
Cuisine: Italian
Difficulty: Fairly Simple
Servings
2
large pizza bases
Total time
1
hour 
20
minutes
Ingredients
7 g sachet dried yeast

1 tsp sugar

250 ml lukewarm water lukewarm not hot

400 g plain flour All purpose is good enough, plus extra to dust

2 tsp. salt

3 tbsps. olive oil

cornmeal or semolina flour to place on baking tray
Directions
Whisk yeast sugar and water in a jug. Stand for 5 minutes or until frothy.
Place flour and salt in a large bowl. Make a well in the centre. Pour in the yeast mixture and oil.
Using your hands, mix the dough until it comes together and is smooth.
Turn out onto a lightly floured work surface and knead for 2/3 minutes
Make the kneaded dough into a ball and place it in a lightly oiled bowl turning the dough around to lightly cover the whole surface with the oil and cover with cling wrap.
Set aside in a warm place to rise for 30 minutes to an hour until it doubles in size.
Turn dough out onto a lightly floured surface and knead gently for another 5/8 minutes or until smooth.
Divide dough into 2 equal portions, cover with a damp clean tea towel and allow to rest for 30 mins
At this point, if you are only going to make 1 Pizza base, before allowing to rest, place the second ball of dough in the freezer. (**See notes for freezing Pizza Dough)
Once the dough has rested knock it with your fists to knock the air out of it and roll out pizza bases on a floured surface to the desired size to about 1cm thick
Line a baking tray with a sheet of baking parchment and sprinkle it with cornmeal or semolina flour
Place the rolled out pizza dough onto the baking tray and using your fists gently push from the centre out to produce a rim all around the outer edge, the centre of the pizza should be about 5mm thick and the rim about 1cm
Your dough is now ready for your Favourite Pizza Toppings
Recipe Video
Notes
To freeze pizza dough, let it rise first and then divide into pieces for single pizzas. Make into a ball and lightly coat in olive oil, place in a freezer bag or double/treble wrap in cling film. To thaw before use, place in the fridge overnight or for at least 12 hours and allow to come back to room temperature before using, this will take at least 30 minutes.
Then continue on from step 9 in the method.
FAQs
Is it possible to create pizza dough in advance?
Absolutely! In fact, creating the dough ahead of time and letting it ferment for a day or two in the fridge might enhance the flavour. Just keep in mind to remove it from the refrigerator and allow it to thaw before using.
How thin or thick can I make the crust?
The adaptability of handmade pizza dough is what makes it so lovely. Depending on your desire, you can form it into thin, crispy crusts or thick, doughy ones. Rolling or stretching is often necessary for thinner crusts, while shaping thicker ones may call for a kinder touch.
Can pizza dough be frozen?
Yes, pizza dough can be frozen. Divide the dough into portions once it has been kneaded and given time to rise, then tightly wrap each portion in plastic wrap. For up to three months, freeze them in a freezer-safe bag. Before using, let the dough defrost overnight in the fridge.
What if my dough doesn't rise?
If your dough doesn't rise as you had hoped, it can be because the yeast was old, the water was too hot, or there was a draught. Activate your yeast in warm (not boiling) water to ensure it is fresh. The dough can rise properly by being placed in a warm, draft-free environment.
Can I experiment with different flours?
Absolutely! While all-purpose flour is frequently used, other varieties of flour, such as whole wheat, bread flour, and even gluten-free choices, can be tried. Remember that the water ratio may need to be adjusted depending on the type of flour being used.
With the help of these ideas and advice about making pizza dough, start your quest for pizza excellence. Whether you want to make a traditional Margherita or a daring gourmet innovation, a homemade pizza dough will improve your dishes.