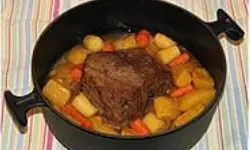 Braise
Braising is a culinary term for cooking large joints/cuts of meat, poultry, or vegetables in enough liquid to partially cover over a very low heat.
A mirepoix of roughly cut vegetables is often included to add flavour to the liquid, the pot is then tightly covered so that the food cooks slowly in the liquid and steam until very tender.
The liquid from the braised food will be very flavoursome and can be reduced and served as a sauce.
The difference between Braising and Stewing is that with Braising, the main ingredient ie: the meat, is left whole and not wholly submerged in the cooking liquid, when cooked it is served separately, whereas with a stew the meat is cut into bite-sized pieces and is completely submerged in the cooking liquid, it is also served as a complete meal with the added vegetables.