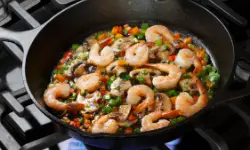 Sauté
Sauté  Sautéing derives from the French word sauté meaning 'jumped, bounced' which reflects the method of tossing while cooking.
Sautéing is a method of cooking that uses little oil or fat in a shallow frying pan over relatively high heat.
Sauté pans are a specific type of pan designed for sautéing, they would have a wide flat base and low sides, this is to maximize the surface area available for heating whilst allowing the evaporation of steam from the low sides. 
Because of the high heat used for sautéing certain oils should not be used to sauté due to their low smoke point.
Clarified butter, rapeseed oil and sunflower oil are the fats commonly used for sautéing. Whatever the fat, it must have a smoke point high enough to allow cooking on medium-high heat, without burning.