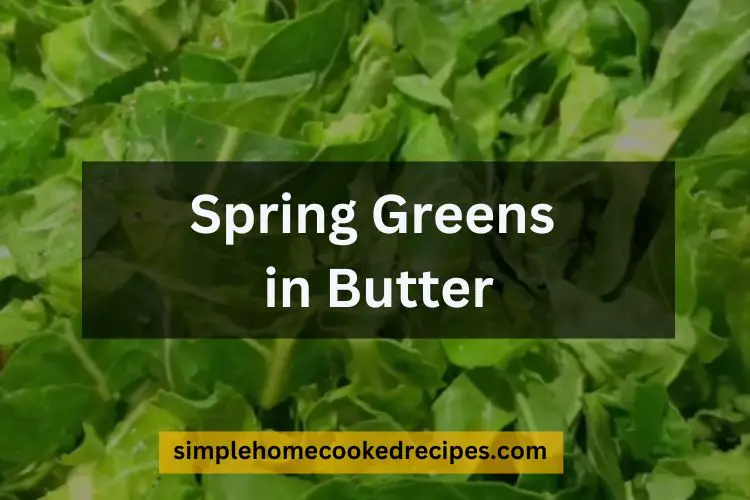 Spring greens serve as the first cabbages of the year. They are better than the following harvests because of their freshness and softer texture. Other vegetables may be hard to chew and cook.
Most people cook spring greens to accompany their main course meal. You may also make this item to eat healthier if you're on a plant-based diet. If you want to know how to cook spring greens in butter, you're in the correct place.
Here is an easy spring greens in butter recipe to help you.
Overview Of Spring Greens In Butter
The main feature of the spring greens in butter recipe is that it is the easiest recipe you will find. You don't need many ingredients to make this side dish. Another great thing is that it is perfect for those who don't like to spend much time in the kitchen.
It will take you three to five minutes to prepare your spring greens. Meanwhile, cooking time will vary from five to ten minutes, depending on the amount of spring greens you are making. The best thing is that you will never have to spend more than 15 minutes on this recipe.
You will also enjoy a serving of four when making spring greens in butter using the following recipe.
Nutrition Facts
4 servings per container
---
Amount Per ServingCalories65
% Daily Value *
Total Fat 5.2g

8

%
Cholesterol 13mg

5

%
Sodium 246mg

11

%
Total Carbohydrate 3.9g

2

%

Dietary Fiber 2.8g

12

%
Sugars 0.5g

Protein 1.9g

4

%
---
* The % Daily Value tells you how much a nutrient in a serving of food contributes to a daily diet. 2,000 calories a day is used for general nutrition advice.
Ingredients
Spring greens – 300 grams
Water – 2 cups
Butter – 25 grams
Garlic cloves – 2
Lemon juice – 1.5 tablespoons
Salt – a pinch
Black pepper – a pinch
How To Cook Spring Greens In Butter?
Take a cutting board and place your spring greens on it for shredding.
You must keep several leaves on top of each other, then roll them and start cutting using a sharp knife.
To enjoy accurate shredding, you must cut the leaves at a gap of 1/8-inch.
Pour water into a medium pot and bring it to a boiling state.
Transfer the shredded spring greens to a pot of boiling water.
Blanch the leaves for two minutes to make them tender.
Drain the spring greens properly and keep them aside.
Keep your garlic cloves on a cutting board and take out a clean knife for crushing.
You should place the blade flat on your garlic and ensure the sharp side is away from you.
Use your palm to press the knife on the clove to crush it. You must do this step for both cloves.
Keep the crushed garlic aside in a small cup.
Take out a large pan and add butter to it.
Heat the pan to melt the butter.
Add crushed garlic to the pan and fry for one minute.
Transfer your spring greens to the pan and cook for four minutes at low heat.
Sprinkle salt and pepper to season the vegetable.
Pour lemon juice into the pan and stir the spring greens to prevent them from sticking to the pan.
Pro Tips For The Chef
You can enhance the texture of your dish by frying chopped shallots in the pan before adding your spring greens.
Always wash your spring greens before shredding them.
Nutritional Information
Here is the nutritional value of spring greens in butter:
Total Calories – 65
Total Fat – 5.2 grams
Saturated Fat – 3.3 grams
Cholesterol – 13 milligrams
Sodium – 246 milligrams
Total Carbohydrates – 3.9 grams
Dietary Fiber – 2.8 grams
Total Sugars – 0.5 grams
Protein – 1.9 grams
Also Try: Heavenly Mary Berry Dauphinoise Potatoes Recipe
Frequently Asked Questions
Here are answers to some FAQs about how to cook spring greens in butter:
Can I Cook Spring Greens Without Butter?
You may not be allowed to enjoy buttery dishes because of dietary restrictions. If so, you can replace the item with olive oil or coconut oil. However, the main ingredient of spring greens is butter.
It adds a rich flavour to the side dish, so avoid replacing it unless you cannot consume butter in any condition.
How Do I Know When My Spring Greens Are Cooked?
Some people find it difficult to know when their green vegetables are cooked because their colour does not change much. You can use the tenderness level to know whether your spring greens are cooked or not. The item mainly wilts within a minute and becomes tender.
If you're doubtful, you can also take a small piece of the vegetable and taste it to check the texture. You should also avoid cooking your spring greens for more than four minutes to prevent them from burning.
Can I Reheat Spring Greens?
You can reheat spring greens if you've made the side dish ahead of time due to other chores. Take a skillet and place it at low heat before adding your buttered spring greens to it. A splash of water may also be needed to prevent the vegetable from drying out.
It is also possible to add a splash of chicken or vegetable broth instead of water. This will save your spring greens from becoming dry while adding more flavour to them.
Can You Add Other Seasonings To Spring Greens In Butter?
The best thing about spring greens in butter recipe is that you can improvise it easily. Pepper flakes are a great addition to this dish if you prefer a spicier taste. Onion powder and thyme are some other seasonings you can use to enhance the taste.
Topping the item with parmesan shavings also adds a unique touch to the side dish.
How To Retain Nutrients In Your Spring Greens In Butter?
Spring greens in butter is an iron-rich side dish that will help you live healthier. If you have leftovers of this item, you must refrigerate them to retain the nutrients. Another thing you should do is finish the vegetable close to the date of cooking.
So avoid making your spring greens in bulk and cook them fresh whenever you want to have them to enjoy a nutrient boost. You can store your spring greens in a fridge by keeping the dish in a sealed container.
The item will last in the refrigerator for about three days before it starts to spoil.