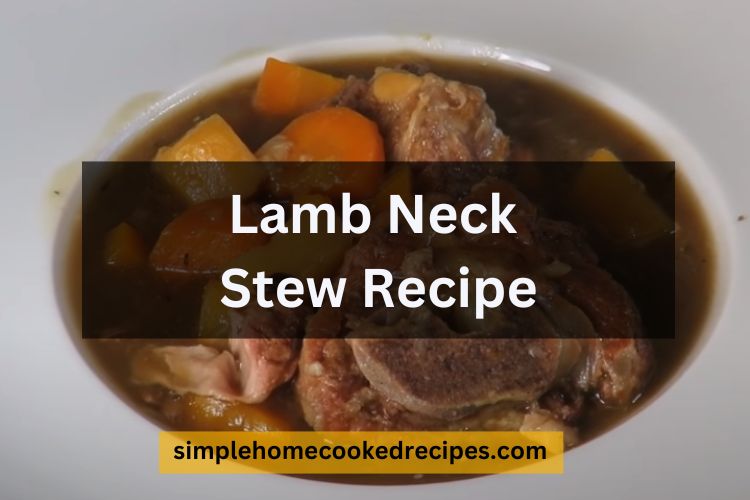 Lamb neck stew is one of the best things you can make for dinner on a cold winter night. It is a heartwarming meal that will fill your stomach and help you enjoy different flavours. Another great thing about lamb neck is that this cut is much cheaper than other lamb cuts.
If you want to prepare lamb neck stew for your family to comfort them, you're in the right place. Here is an easy lamb neck stew recipe.
Overview Of Lamb Neck Stew Recipe
Lamb neck stew is rich in nutrients to offer you a healthy meal. However, you must not rush the process when making this dish. Lamb neck may take time to cook, but all efforts will be worth it once you have the first bite of the meat with stew.
Preparing the ingredients is simple and will take up to 20 minutes. Meanwhile, cooking the lamb neck stew can take one to two hours. The following recipe will offer you a serving of five. 
Nutrition Facts
4 servings per container
---
Amount Per ServingCalories1357
% Daily Value *
Total Fat 42.6g

66

%
Cholesterol 26mg

9

%
Sodium 10.36mg

1

%
Total Carbohydrate 50.7g

17

%

Dietary Fiber 5.9g

24

%
Sugars 12g

Protein 153.8g

308

%
---
* The % Daily Value tells you how much a nutrient in a serving of food contributes to a daily diet. 2,000 calories a day is used for general nutrition advice.
Ingredients
Lamb neck fillet – 800 grams
Salt – a pinch
Black pepper – a pinch
Olive oil – 1.5 tablespoons
Butter – 60 grams
Baby onions – 12
Carrots – 3
Swede – 2
White wine – 60 ml
Rosemary – 3 sprigs
Bay leaves – 5
Lamb stock – 1.5 litres
Chopped parsley – 4 tablespoons
How To Make Lamb Neck Stew?
Preheat your oven to 250 degrees Fahrenheit at gas level 0.5.
Cut your lamb neck fillet into cubes of 1 inch.
Season the meat using salt and pepper.
Add some flour to the lamb neck.
Take out a heavy casserole dish and place it on a stove at medium heat.
Add olive oil to the pan, then butter, and finally, the lamb neck cubes.
Fry the meat until it achieves a golden-brown appearance.
Once the lamb neck is cooked, remove it from the dish and set it aside.
Lower the heat level and add peeled baby onions, diced carrots, and diced swede to the casserole dish.
Cook the vegetables until they are caramelised.
Pour your white wine into the pan and simmer until the volume of liquid in the dish is less than half.
Add lamb neck back to the dish along with the stock.
Allow your stew to reach a simmering state.
Add rosemary and bay leaves to the stew.
Cover your pan with a lid immediately after adding the leaves, and transfer the dish to your oven.
Bake the stew for one hour.
Remove the stew from the oven and garnish it using parsley before serving.
Pro Tips For The Chef
If you want to enjoy a more flavorful stew, you may consider cooking lamb neck with bone.
You can also use chicken stock if you don't have lamb stock at home.
Nutritional Information
Here is the nutritional information for this lamb neck stew recipe:
Total Calories – 1357
Total Fat – 42.6 grams
Saturated Fat – 20.1 grams
Cholesterol – 26 milligrams
Sodium – 10.36 grams
Total Carbohydrates – 50.7 grams
Dietary Fiber – 5.9 grams
Total Sugars – 12 grams
Protein – 153.8 grams
Also Try: Tasty Mary Berry Lamb Shank Recipe Using The Oven
Frequently Asked Questions
Here are answers to some FAQs about lamb neck stew:
Why Is Neck Fillet Best For Lamb Stew?
Some people love neck fillets, while others prefer shoulder or leg cuts for making a stew. The main reason behind using a neck cut is that it is one of the most tender parts of a lamb. This cut also comes in boneless form, which is less expensive.
If you don't want to spend much money while enjoying a flavorful meal, it is best to use neck fillets for making your stew.
How To Cook Lamb Neck Stew On A Slow Cooker?
Not everyone has an oven in their home, which is why you may be looking for an alternative method for making lamb stew. You can use a slow cooker easily to prepare the dish if you have enough time. Add all ingredients to the crock pot and cook them on low heat for six to eight hours.
Remember, the more time you give to fillets for cooking, the more tender they will be. Once the meat is tender, you can remove the stew from the pot and serve it hot.
What To Serve With Lamb Neck Stew?
The best thing you can give to your guest with this heartwarming stew is crispy bread. You may buy such bread at a grocery store or make fresh one at your home. Rice also tastes well with this stew, but the overall choice mainly depends on the consumer's personal preference.
Can You Cook Lamb Neck Stew Without Wine?
It is possible to cook lamb neck stew without wine if you use the right alternative for it. Vegetable or chicken broth are the best options if you want to avoid using wine. This item will add the right flavours to your stew without making much effort.