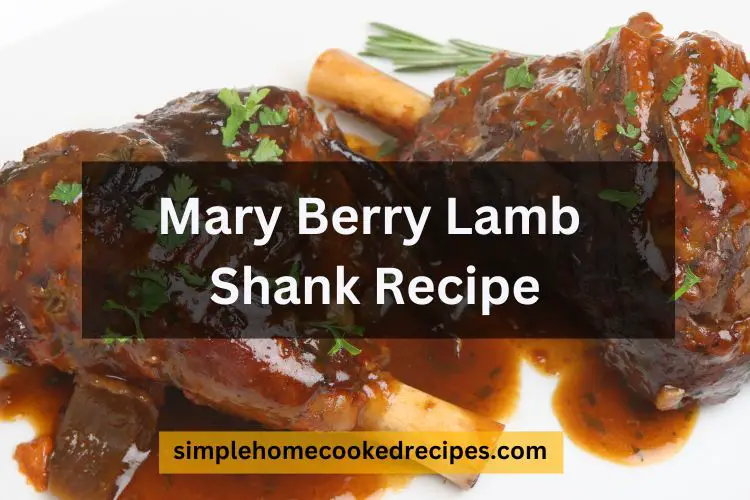 Lamb shanks are one of the best meat dishes that you can enjoy if you cook the cut well. The meat is immersed in a hearty sauce to fulfil your cravings and warm you up.
The Mary Berry lamb shank recipe using the oven is one of the easiest ways to make this dish. So here is what you need to know about it.
Overview Of Mary Berry Lamb Shank Recipe
Typically, people use whole legs for making lamb shanks. However, this recipe will use meat from only the front leg to prevent you from making excessive shanks. You can easily find the meat cuts at a butcher's shop or your nearest supermarket.
The following Mary Berry lamb shanks recipe will yield six servings for a small family. Preparing the ingredients does not take more than 30 minutes. Of course, you must wait at least two hours for this dish to cook.
Nutrition Facts
8 servings per container
---
Amount Per ServingCalories284
% Daily Value *
Total Fat 12.3g

19

%
Cholesterol 30mg

10

%
Sodium 373mg

16

%
Total Carbohydrate 24g

8

%

Dietary Fiber 0g

0

%
Sugars 10.2g

Protein 11.5g

23

%
---
* The % Daily Value tells you how much a nutrient in a serving of food contributes to a daily diet. 2,000 calories a day is used for general nutrition advice.
Ingredients
4 tablespoons olive oil
7 ounces lamb fore shanks
2.5 sliced onions
2.5 crushed garlic cloves
1.25 tablespoon flour
320 ml red wine
460 ml chicken stock
1 tablespoon redcurrant jelly
1 tablespoon chopped rosemary
260 grams baby carrots
260 grams long strips of parsnips
260 grams baby turnips
1 butter knob
Pinch of salt
Pinch of black pepper
Instructions
Preheat your oven to 160°C, 140°C fan, and gas 3
Place a deep ovenproof frying pan on your stove and two tablespoons of oil on it
Heat the oil and use it for browning your lamb shanks for five to six minutes or until their appearance changes to a golden brown. Remember to use high flame for this purpose
Remove the lamb shanks from the pan and keep them aside
Add the rest of the oil to the same pan along with onions and garlic to cook them for three to four minutes to make them tender
Put flour in a large bowl and pour red wine in it to form a paste by whisking
Add this paste to the deep-frying pan to make the gravy thicker. Keep stirring while you add the wine mixture to the pan
Bring the gravy to a boil and then add jelly and rosemary to it
Stir until the gravy thickens more
Return the golden-brown lambs to the pan and season them with salt and pepper
Cover the pan with a lid and transfer it to your preheated oven
Cook the lamb in the oven for two hours until it is tender
When your shanks are ready, take a new pan for boiling carrots, parsnips, and turnips in salted water for eight to ten minutes
Drain the vegetables, add 1/3rd of them to your deep pan and stir
Place the remaining vegetables in a frying pan with melted butter to cook them for four to five minutes
Season the vegetables to serve them on the side with the lamb shanks
Also Try: Finger-Licking Lamb Neck Stew Recipe
Pro Tips
Be sure to cut the parsnips into long strips for a better taste
You can cook the lambs one day before dinner, but the vegetables must be made a few minutes before serving
Nutrient Information
Total Calories – 284
Total Fat – 12.3 grams
Cholesterol – 30 milligrams
Sodium – 373 milligrams
Total Carbohydrates – 24 grams
Total Sugars – 10.2 grams
Protein – 11.5 grams
Also Read: Cheesy Mary Berry Macaroni Cheese Recipe To Warm Your Heart
Frequently Asked Questions
Should I Cook Lamb In Butter Or Oil?
Lamb shanks are better prepared in oil because using butter alone can cause it to burn more easily. You may combine butter with oil if you want a richer taste.
However, remember that this should only be used to sauté the meat. It is better to avoid using butter for making the shanks with this recipe because your vegetables are cooked in this ingredient.
What Is The Best Way To Cook Lamb Shanks?
Remember lamb shanks are best made when cooked slowly. So you must not rush the cooking time. Cooking for at least two hours will allow you to make tender meat.