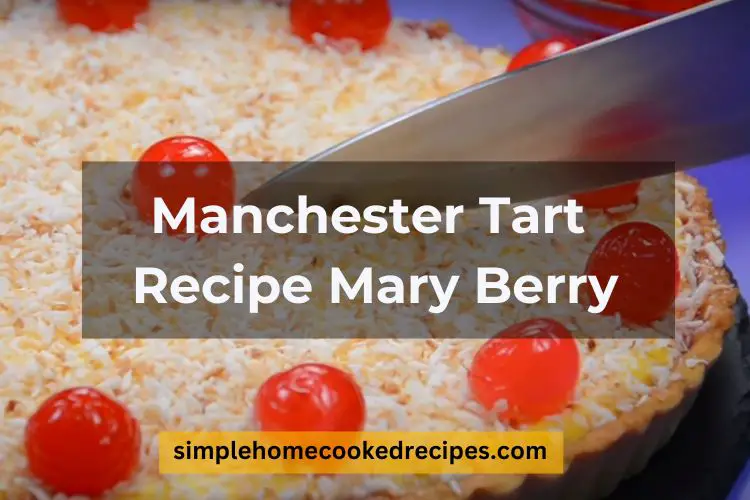 A slice of the Manchester tart will make you feel as if you have stepped right into heaven when you take a bite. While this is not the quickest recipe you will whip up, it is incredibly easy to make. You will not require many ingredients and it will also be friendly for your pocket.
So, if you are looking for the best Manchester tart recipe Mary Berry, you are in the right place. Here is your complete guide.
Also Read: The Only Lemon Posset Recipe Mary Berry You Need In Your Life
Manchester Tart Recipe Mary Berry Overview
The Manchester tart recipe is a delicious British pudding that will serve as an incredible dessert item at your dinner parties. The preparation time for this dish is half an hour and the cooking time is twenty minutes. However, the chilling time is six hours and twenty minutes.
So, it will take you a total of 7 hours and 10 minutes to create this tart. A pro tip to make the most out of this tart is to create it a day before you have to serve it. Doing this will help the tart to remain sturdy and taste even better than before.
Details
Cooking time
6 Hrs. 20 Min.
Nutrition Facts
1 servings per container
---
Amount Per ServingCalories3663
% Daily Value *
Total Fat 188g

290

%
Cholesterol 0mg

0

%
Sodium 1452mg

61

%
Total Carbohydrate 436g

146

%

Dietary Fiber 17g

68

%
Sugars 186g

Protein 61g

122

%
---
* The % Daily Value tells you how much a nutrient in a serving of food contributes to a daily diet. 2,000 calories a day is used for general nutrition advice.
Ingredients
For The Pastry
1 egg
2 tbsp. of cold butter
125g of cold butter
250g of plain flour
For The Custard
3 tbsp. of plain flour
3 egg yolks
1 tsp. of vanilla extract
60g of sugar
450ml of milk
For The Decoration
8 Maraschino cherries
½ cup of strawberry or raspberry jam
½ cup of desiccated coconut
Instructions
1. Make the shortcut pastry by sifting the flour inside a large bowl.
2. Then, add the butter to the bowl by cutting it into cubes. Use your fingertips to rub the mixture until it looks like breadcrumbs.
3. Next, add the water and egg and knead the mixture into a smooth dough.
4. Keep the dough in a bowl, cover it with a film, and keep it in the fridge for twenty minutes.
5. Take a rolling pin to roll the dough to a thickness of half a centimetre.
6. Arrange the pastry in the tart dish and use a fork to make holes in various places.
7. Cover the dish with non-stick paper and fill it with ceramic baking beans.
8. Bake at 200C for ten minutes. Then, remove the non-stick paper and the beans and bake them for another ten minutes or until the pastry is golden.
9. Spread the strawberry or raspberry jam on the pastry shell bottom.
10. Now, you must make the custard by taking a bowl and adding sugar, flour, and egg yolks to it to create a thick paste.
11. Then, bring the milk to a boil and pour it on top of the egg mixture. Keep whisking it to avoid the creation of any lumps.
12. Leave the mixture to cool and then pour the custard over the jam.
13. Sprinkle some coconut on the custard and use the cherries to decorate the tart.
14. Finally, refrigerate the tart overnight or for at least six hours.
15. Serve it with tea or any other meal as dessert.
Also Read: Mary Berry's Creamy Panna Cotta Recipe That Will Surely Make Your Mouth Water
Nutrient Information
The recipe will create one full tart and you can cut it in the way you like to take out any number of servings. The entire tart will have 3,663 calories. Here is the breakdown of the rest of the nutrients in the tart:
Total Fat: 188g
Saturated Fats: 118g
Sugar: 186g
Carbohydrates: 436g
Dietary Fiber: 17g
Sodium: 1452mg
Protein: 61g
Also Read: Amazing Mary Berry Maids Of Honour Recipe That Everyone Will Love
Frequently Asked Questions
Here are some frequently asked questions about the Manchester tart recipe Mary Berry:
Why Is It Called A Manchester Tart?
As the name suggests, this tart is a traditional English custard pie that originates in Manchester. It used to be a popular school pudding that was served between the 70s and 80s.
What Is A Common Variation Of The Manchester Tart?
A common variation of the Manchester tart is using thinly sliced bananas inside the custard. However, you can stick to the original recipe if you don't like bananas.
Also Read: The Perfect Mary Berry Treacle Tart To Warm Your Heart
Why Does Manchester Tart Need Time To Set?
You need to give the tart time to set in the refrigerator or it will fall apart. If you cut it before it sets, the tart will end up becoming messy and the slice will not be appetizing.