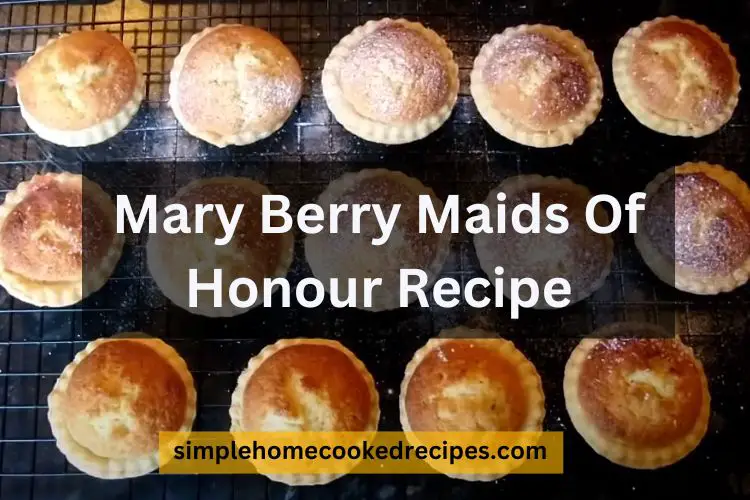 Mary Berry Maids of Honour is an excellent dessert that you can easily make at home. Of course, knowing the correct recipe is necessary for making the item properly. Luckily, you don't have to worry about conducting deep research for a Mary Berry Maids Of Honour recipe.
We have all the information you require and will guide you on how to make amazing Mary Berry Maids of Honour desserts. So continue reading to understand the recipe.
Overview Of Mary Berry Maids Of Honour Recipe
The best part about Mary Berry Maids of Honour is that it is a filling dessert. So you can feed your family members, guests, and friends without making much effort. The primary feature of this recipe is that it will yield at least two dozen pieces of these small cakes.
Besides that, it will take about 30 minutes to prepare the ingredients. Meanwhile, you can enjoy a short cooking time of 15 to 25 minutes. This means that making the entire dessert will not take more than one hour.
So you can easily get back to your other chores after the Mary Berry Maids of Honour dessert.
Nutrition Facts
6 servings per container
---
Amount Per ServingCalories347
% Daily Value *
Total Fat 25.5g

40

%
Cholesterol 186mg

62

%
Sodium 168mg

8

%
Total Carbohydrate 25g

9

%

Dietary Fiber 0g

0

%
Sugars 0g

Protein 5.4g

11

%
---
* The % Daily Value tells you how much a nutrient in a serving of food contributes to a daily diet. 2,000 calories a day is used for general nutrition advice.
Ingredients
1 cup whole milk
2 tablespoons bread crumbs
5 ounces melted butter
3 ounces ground almonds
¼ cup sugar
3 large eggs
Lemon zest of 1 lemon
2 dozen puff pastry shells (round)
Instructions
Place a saucepan on medium flame and milk with breadcrumbs in it
Allow the milk to boil and remove the pan from the flame after that
Let the mixture stand for ten minutes
Add the mixture to a large bowl and put other ingredients inside it too
Mix everything properly using a whisker or other kitchen tools
Preheat your oven to 350 degrees Fahrenheit
Fill every pastry shell with one tablespoon of the earlier filling mixture
Place the filled shells on a baking tray lined with parchment paper
Allow the Maids of Honour to bake for 10 to 15 minutes or until a golden brown appearance is achieved
Transfer the pieces from the baking tray to a wire rack for cooling
You can garnish the dessert with some powdered sugar before serving
Also Read: Mary Berry Meringue Recipe: A Sweet Treat For Your Family
Pro Tips
Be sure to let the pastry filling cool before adding it to the shell to prevent residual heat from affecting the shells
Always line the baking tray with baking paper to prevent the dessert from sticking to the pan
Frequently Asked Questions
Here are the answers to the frequently asked questions about Mary Berry Maids of Honour recipe:
Can You Make Your Own Puff Pastry Shells For The Mary Berry Maids Of Honour?
Many people don't like the premade puff pastry shells from the market. You may also prefer to avoid them. In such a case, you can make your own puff pastry shells at home for this tart.
However, remember that making puff pastry shells at home is a complex procedure. Your cooking time will also increase from minutes to hours. This is why it is more convenient to purchase shells from the market.
How To Store Mary Berry Maids Of Honour?
The Mary Berry Maids of Honour can be kept at room temperature for one to two days. After that, it is preferable to keep the item in the fridge to prevent it from spoiling. The best way to store the dessert is by keeping it in an airtight container.
It is also advisable to use a glass container if possible. This is more efficient at keeping air out and preventing the dessert from becoming soggy due to moisture.
How To Serve Mary Berry Maids Of Honour?
The top way to serve Mary Berry Maids of Honour is by letting it cool before eating. You may also use a sauce with the tart for better taste. This can be made of jam or other ingredients.
Of course, the pastry is also filling without any sauces. So you can also enjoy the plain of Maids of Honour to avoid more hassle.