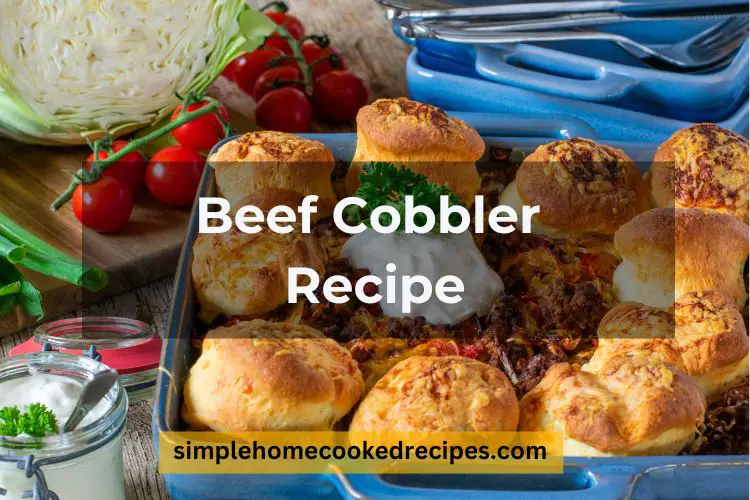 The beef cobbler is a healthy yet hearty dish that is ideal for a cold winter night or a rainy evening. The best part about the beef cobbler recipe Mary Berry is that it is also low in fat. So, you don't have to feel guilty about consuming this delicious recipe with your friends or family.
Here is the complete beef cobbler recipe Mary Berry that will be a hit with your family and friends.
Beef Cobbler Recipe Mary Berry Overview
The beef cobbler recipe will take twenty minutes to prepare and fifty minutes to cook. This is why you should carve out an hour and fifteen minutes to create this delicious recipe. Keep in mind that the recipe is easy to create, so you don't need to be a professional cook to make it.
It will also serve four people, which is why you can make it for your family. A pro tip to take this recipe to another level is to serve it with horseradish sauce. It goes incredibly well with the beef cobbler recipe Mary Berry and your family will keep asking for more.
Nutrition Facts
4 servings per container
---
Amount Per ServingCalories349
% Daily Value *
Total Fat 7g

11

%
Cholesterol 34mg

12

%
Sodium 1mg

1

%
Total Carbohydrate 38g

13

%

Dietary Fiber 4g

16

%
Sugars 5g

Protein 35g

70

%
---
* The % Daily Value tells you how much a nutrient in a serving of food contributes to a daily diet. 2,000 calories a day is used for general nutrition advice.
Ingredients
140g baby chestnut mushrooms
500g beef mince
1 finely chopped onion
500ml beef stock
2 tbsp. of plain flour
140g self-rising flour
Few shakes of Worcestershire sauce
1 tbsp. of thyme, chopped
140g frozen peas
4 tbsp. low-fat yoghurt
Instructions
1. Preheat the oven to gas 4, 160C fan, or 180C.
2. Take a large non-stick frying pan and dry-fry the onion and beef mince over high heat.
3. Keep stirring the beef mince and onion so that it breaks up evenly and let it cook until it is browned.
4. Add the plain flour and mushrooms to the pan along with the Worcestershire sauce and the beef stock. Bring the entire mixture to a simmer and let it cook for ten minutes.
5. Make the cobbler by taking a bowl and mixing the thyme and the self-rising flour. Then, stir in the yoghurt and some cold water to create a dough with scone-like consistency.
6. Lightly flour a work surface and roll the dough to a thickness of 1.5cm. Be sure to utilize a cutter to stamp out rounds of 12 x 5cm.
7. Stir the peas inside the beef mince mixture, and then transfer them onto a baking dish.
8. Then, place the cobbles on top of the beef mince, and bake it for twenty to twenty-five minutes until the cobbles rise up and turn golden brown.
9. Finally, take the beef cobbler out of the oven and serve it with your favorite sauce or sides.
Also Read: A Complete Guide On How To Cook James Martin's Fillet Steak
Nutrient Information
The beef cobbler recipe Mary Berry serves four people, and each serving contains 349 calories. Here is the breakdown of the nutrient information for each serving:
Total Fat: 7g
Saturated Fats: 3g
Sugar: 5g
Carbohydrates: 38g
Dietary Fiber: 4g
Sodium: 1g
Protein: 35g
Frequently Asked Questions
Here are some frequently asked questions about the beef cobbler recipe Mary Berry:
What Can I Serve With Beef Cobbler?
There are many dishes that you can serve with beef cobbler. This includes horseradish sauce, green salad, mashed potatoes, roasted broccoli or asparagus, and much more. The cobber is a hearty dish, which is why you can serve a light side or sauce to complement the dish and keep it light.
Where Does Beef Cobbler Originate From?
The beef cobbler has its origins in the British American colonies. These colonies had a lack of suitable cookware and ingredients to create meals. This is why people felt the need to improvise, which is where the mince beef cobbler came from.
What Are Cobblers Made Of?
Cobblers are biscuits similar to scones that you can create with flour and batter. You have to ensure consistency right before you bake it. Once you do, the crust must be crispy and the inside must be soft yet crunchy.
Can I Overcook The Cobbler?
Yes, it is important to keep the temperature of the oven accurate or you can run the risk of overcooking your cobbler. If it is overcooked, then the top will be incredibly crispy or even burn. So, be sure to keep an eye out for the oven temperature.