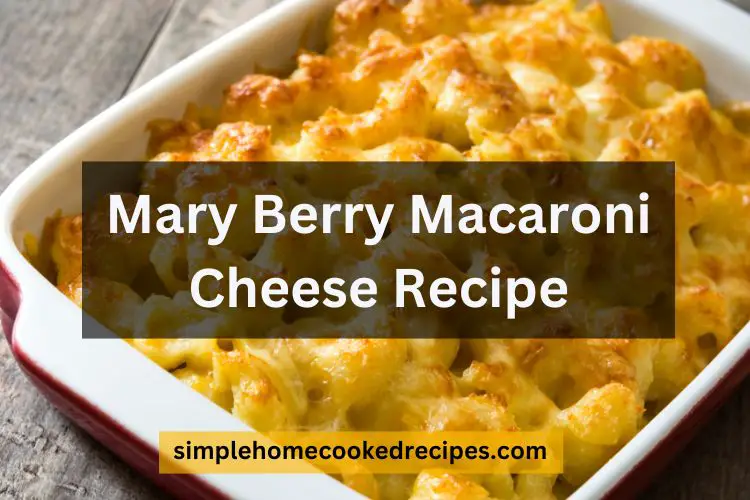 Cheese recipes are one of the best recipes for winter. Such food warms the heart, stomach, and soul in no time. Besides that, they also make an incredible meal that you can enjoy with your family.
So, if you are looking for the Mary Berry cheese macaroni recipe, you are in the right place. Here is your complete guide.
Mary Berry Macaroni Cheese Recipe Overview
The Mary Berry macaroni cheese recipe will take you thirty minutes to prepare. Besides that, it will take you fifteen to twenty minutes to bake the macaroni. So, it will take you forty-five minutes to an hour to make this recipe.
Our recipe serves four people, which is why it is ideal for the entire family. If you want to serve eight people or more, you can simply double the recipe. A great pro tip to boost the flavour of this recipe is to include other ingredients, such as bacon to add some protein.
Nutrition Facts
4 servings per container
---
Amount Per ServingCalories567
% Daily Value *
Total Fat 23.1g

36

%
Cholesterol 0mg

0

%
Sodium 487mg

21

%
Total Carbohydrate 65.5g

22

%

Dietary Fiber 6.3g

26

%
Sugars 18.2g

Protein 27.4g

55

%
---
* The % Daily Value tells you how much a nutrient in a serving of food contributes to a daily diet. 2,000 calories a day is used for general nutrition advice.
Ingredients
6.5oz short-cut macaroni
1oz butter
550ml of hot milk
1oz plain flour
3oz grated cheddar cheese
12 cherry tomatoes, cut in half
2oz grated Parmesan cheese
Salt and pepper to taste
1 tsp. Dijon mustard
1 tbsp. chopped fresh parsley for garnish
Instructions
1. Preheat your oven to Gas 6, 200 Celsius, 400 Fahrenheit, or 180 Celsius fan.
2. Grease a medium-sized and shallow baking dish.
3. Let the macaroni cook in boiling water for ten minutes or according to the instructions on the packet until it is tender. Drain the water and set the macaroni aside.
4. Melt butter inside a large pan, sprinkle it with flour and let it cook, as you stir it between one and two minutes. Remove the heat and let slowly stir in the milk.
5. Turn on the heat again and bring the pan to a boil as you keep stirring until the mixture becomes thick. Reduce the heat, and let it simmer for an additional four to five minutes until the sauce is a smooth and thick consistency.
6. Remove the sauce from the heat and mix the cheddar and parmesan cheese. Stir the mustard in the sauce, then the macaroni, and season it with some salt and pepper.
7. Take out the macaroni cheese in the baking dish, and then scatter the tomatoes and some remaining cheese. Season with some pepper.
8. Bake the dish for fifteen to twenty minutes until it is bubbling and golden brown.
9. Take it out of the oven and let it cool for a few minutes.
10. Garnish the dish with parsley and serve.
Nutrient Information
The Mary Berry macaroni cheese recipe will serve four people. Each serving will have 567 calories. Here is the rest of the nutrient breakdown:
Total Fat: 23.1g
Saturated Fats: 13.8g
Sugar: 18.2g
Carbohydrates: 65.5g
Dietary Fiber: 6.3g
Sodium: 487mg
Protein: 27.4g
Frequently Asked Questions
Here are some frequently asked questions about the Mary Berry macaroni cheese recipe:
What Makes Macaroni And Cheese Taste Better?
You can make the macaroni and cheese taste even better by adding some onion or garlic powder. Besides that, you can use paprika or hot sauce to boost the level of spice in the macaroni and cheese recipe. Be sure to experiment with different spices and flavours to take your recipe to the next level.
How Do I Keep The Mary Berry Macaroni Cheese Recipe Creamy?
The best way to keep the Mary Berry macaroni cheese recipe rich and creamy is to use a rich cream instead of milk. It will help you get an even creamier consistency that will make the recipe more filling. However, if you don't want the recipe to be too heavy, then you can stick to the milk.
What Can I Serve With Mary berry Macaroni Cheese Recipe?
If you are making this dish for your family or guests, you can serve it with unique dishes. Some of our top recommendations include a salad, sloppy joes, meatloaf, BBQ ribs, grilled meats, roasted vegetables, and much more. The dish you select depends on the flavours you prefer.
What Cheese Variations Can I Add?
You don't have to stick to cheddar and parmesan. You can also use brie or camembert cheese, depending on the flavors you prefer.