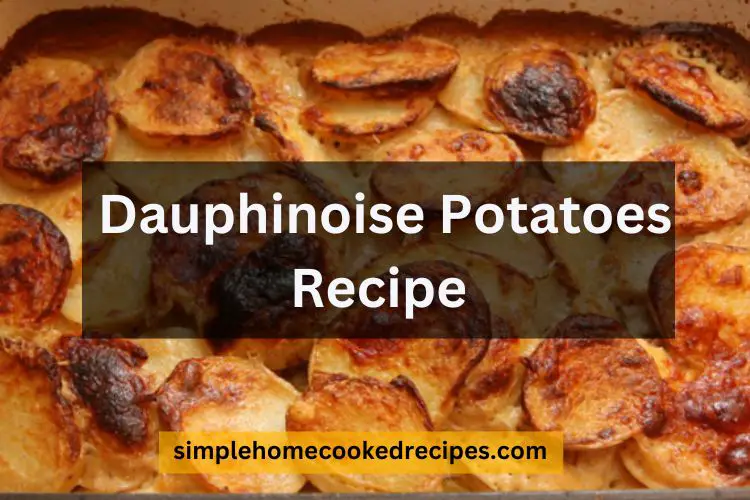 Potatoes are one of the most versatile vegetables in the world. You can boil, fry, mash, bake and roast them, and they will still taste exceptional each time. Dauphinoise potatoes are also rich and creamy potatoes that will go straight to your heart.
So, if you want an excellent dauphinoise potatoes recipe, then you are in the right place. Here is the complete Mary Berry dauphinoise potatoes recipe.
Mary Berry Dauphinoise Potatoes Recipe Overview
The preparation time of this meal is fifteen minutes, and the cooking time is 45 minutes to an hour. As a result, you can make this recipe within an hour and fifteen minutes and enjoy it with your family. The recipe also serves between six and eight people.
You can create it as a dish on its own, or you can have sides with it to make it complete. We recommend that you try them with a meat option, such as ducks, to complement the taste. However, you may choose any other meat you wish.
Cooking time
45-60 Minutes
Nutrition Facts
---
Calories344
Amount Per Serving% Daily Value *
Total Fat 15.9g

25

%
Cholesterol 57mg

19

%
Sodium 176mg

8

%
Amount Per Serving% Daily Value *
Total Carbohydrate 46.4g

16

%

Dietary Fiber 5.5g

22

%
Sugars 1.6g

Protein 5.8g

12

%
* The % Daily Value tells you how much a nutrient in a serving of food contributes to a daily diet. 2,000 calories a day is used for general nutrition advice.
Also Read: Potato Salad Recipe Mary Berry
Mary Berry Dauphinoise Potatoes Ingredients
750grm of peeled sweet potatoes

750grm of peeled King Edward potatoes

150ml of vegetable or chicken stock

300ml of double cream

50grm of grated Parmesan cheese
Mary Berry Dauphinoise Potatoes Instructions
1. You will need a shallow ovenproof dish for this recipe that is between 2 and 2.5 liters. Be sure to butter it.
2. Set your oven to 220C for preheating.
3. Use a sharp knife to thinly slice all the potatoes. You can also use a processor's slicing blade to slice the potatoes.
4. Add one layer of potatoes to the dish. Use salt and pepper to season the dish, and add some stock and cream.
5. Keep repeating this process till you have finished the ingredients.
6. Use your hands to push the potatoes down in the liquid until the dish is packed.
7. Sprinkle some Parmesan cheese on the dish and then cover it with tinfoil.
8. Bake the dish for at least forty minutes.
9. Remove the tin foil and let it cook for another half hour.
10. You can also let them cook until you see that the top is golden-brown.
11. Let th;e dish cool for at least five minutes before you serve.
Frequently Asked Questions
Here are some of the frequently asked questions about Mary Berry's dauphinoise potatoes recipe:
Why Does Cream Curdle In Dauphinoise Potatoes?
If the cream curdles in the dauphinoise potatoes, it means that it happens because of the high heat. That is why it is important to push the potatoes down so that the sauce is intact. You can also make a cheese sauce to put in the dish so that the cream doesn't curdle.
What Is The Difference Between Dauphinoise Potatoes And Potatoes Au Gratin?
Potato au gratin is created in a cream sauce with pre-cooked potato slices. However, dauphinoise potatoes are made in a cream sauce with uncooked potato slices. So, the difference is that one dish uses pre-cooked potatoes while the other uses uncooked potatoes.
What Goes Well With Dauphinoise Potatoes?
Fortunately, there are many dishes that pair well with dauphinoise potatoes. These include roast chicken, garlic-butter chicken, duck breast, roast beef, short ribs, braised chick thighs, steak, baked halibut, and even baked salmon. You can choose any dish you would like to enjoy with potatoes.
Also Read: Salmon And Broccoli Quiche Mary Berry Recipe: A Quick and Healthy Weeknight Dinner Idea
Are Dauphinoise Potatoes A Main Course?
Dauphinoise potatoes are a classic French dish that you can eat with anything you like. Usually, the potatoes are served as a side dish. However, you can also indulge in it as your entrée.
How Do You Keep Dauphinoise Potatoes From Splitting?
The temperature is one of the most important things to cook this dish well. This is why you must bake the potatoes at a medium temperature. 200C is the ideal temperature to cook this dish well without splitting.
Can You Freeze Dauphinoise Potatoes?
Yes, you can seal the potatoes in an airtight dish and freeze them for a month. Keep in mind that if you freeze it with cheese and cream, it will change the texture.