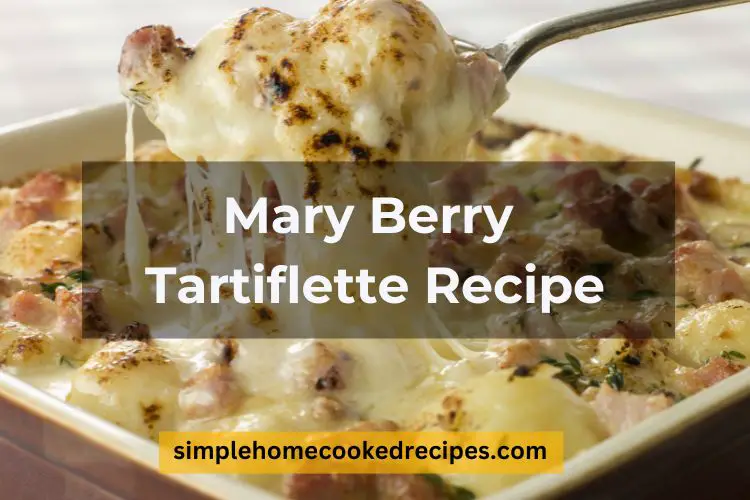 Tartiflette is a filling dish that many people love to have because of its rich ingredients and taste. The best part is that it can be made at home to save money by ordering the dish. Of course, many restaurants may also not offer this delicious food item on their menu.
If you want to learn how to make tartiflette the Mary Berry way, you're in the right place. Here is everything you need to know about making this dish at home.
Overview Of Mary Berry Tartiflette Recipe
The Mary Berry tartiflette recipe is an original recipe that will allow you to enjoy a satisfying dish. Another great thing about the dish is that you don't require complex ingredients to make it. So you can easily cook tartiflette at home without spending much time.
This recipe is designed to serve four individuals, but the exact amount may vary. After all, not every person has the same appetite. You should also remember that the preparation time for this dish is about 30 to 40 minutes.
Meanwhile, the cooking extends up to one hour. Of course, you may take less time to make this dish if you know your way around a kitchen.
Nutrition Facts
Serving Size1g
---
Amount Per ServingCalories514
% Daily Value *
Total Fat 33.6g

52

%
Cholesterol 0mg

0

%
Sodium 1121mg

47

%
Total Carbohydrate 26.5g

9

%

Dietary Fiber 0g

0

%
Sugars 4.5g

Protein 27.2g

55

%
---
* The % Daily Value tells you how much a nutrient in a serving of food contributes to a daily diet. 2,000 calories a day is used for general nutrition advice.
Ingredients
500 grams potatoes
1 tablespoon olive oil
1 large chopped onion
150 grams of chopped bacon
150 grams of button mushrooms
150 grams of Reblochon cheese
150 ml fresh cream
2 tablespoons chopped parsley
Instructions
Slightly brush your baking tray with oil or butter and preheat it in the oven at  200oC with fan temperature at 400oF and gas 6
While the oven heats, boil potatoes in a pot for about ten minutes or until they are tender
Drain the water from the pot and allow the potatoes to cool before slicing them
Arrange the potatoes in your baking tray or dish to form the base for your tartiflette
Heat oil in a large frying pan and use it for frying onions for one to two minutes at a high flame
Add the bacon to the fried onions and cook them for a few more minutes
Reduce the heat to low flame and cover the pan with bacon and onions to cook them for another 20 minutes
Add the mushrooms to the pan and increase the heat to high flame to cook the items for three more minutes
After the mixture has cooked, add it to the potato base in the baking dish
Grate cheese on the mixture for flavour
Pour cream over the cheese mixture and season with a pinch of paprika
Place the tray in the preheated oven and bake the dish for 15 minutes
Let the item cool for a few minutes and serve it
Pro Tips
Remember to stir the mixture occasionally when cooking the bacon with fried onions for 20 minutes
Make sure the bacon and mushrooms are tender before adding them to the baking dish to ensure they are cooked properly
Nutrient Information
Here is the nutritional value of the delicious Mary Berry Tartiflette recipe:
Total Calories – 514
Total Fat – 33.6 grams
Total Carbohydrates – 26.5 grams
Total Sugars – 4.5 grams
Protein – 27.2 grams
Sodium – 1121 milligrams
Also Read: Heavenly Mary Berry Dauphinoise Potatoes Recipe
Frequently Asked Questions
Here are the frequently asked questions about the Mary Berry Tartiflette recipe:
When Should You Eat Mary Berry Tartiflette?
The Mary Berry tartiflette is a winter dish that is mainly eaten on cold nights. It is designed to warm you up to ensure you don't get affected by the chilly weather. Another thing to know about the dish is that it has various ingredients that are helpful for good health.
So you should make this dish during the winter season to enjoy it in the best way. Eating tartiflette in summer may make you feel too hot, which can affect your comfort level. The dish is heavy enough to consume as dinner or lunch.
Of course, some people also have Mary Berry tartiflette as a snack. Remember you can always change the quantity to make more or fewer servings.
Can You Use Any Other Cheese Than The Reblochon Cheese?
Reblochon cheese is the best cheese for enjoying an authentic tartiflette taste. Of course, you can use alternatives if you cannot find this item at supermarkets in your region. The taste may not be as flavorful, but it will still be good enough to offer you tasty cheese.
The Taleggio is a superb alternative to the Reblochon cheese for tartiflette and gives a similar taste. It is necessary to remove the rind before grating the cheese on the potato base.
If you cannot find the Taleggio cheese on the market, you can use other melting cheeses for taste. Of course, remember the flavour may not be the same.
What Type Of Bacon Is Necessary For Mary Berry Tartiflette Recipe?
Many of you may wonder about the bacon for making excellent tartiflette. Typically, you must use smoked meat for a better taste when making this dish. You can easily get such bacon from the market without spending a high amount of money.
Another thing you must ensure is a streaky texture for the best taste. This is the typical meat for tartiflette. If you're a vegetarian, you may replace bacon with some other alternative suitable to your preference.
Of course, the primary nutrients of a tartiflette mainly come from smoked bacon.
Final Words
This is everything you need to know about making Mary Berry tartiflette. The recipe is easy to follow if you understand the instructions in the correct order. Be sure to preheat your oven beforehand to reduce cooking time while you boil and cook other ingredients.
It is also necessary to use salted water for boiling potatoes to enjoy the best taste. The bacon and onions must also be tender to offer you a flavorful tartiflette. You can use the mushrooms as a whole or cut them, depending on your preference.
Remember this dish is best served hot during winter nights to warm you up easily.