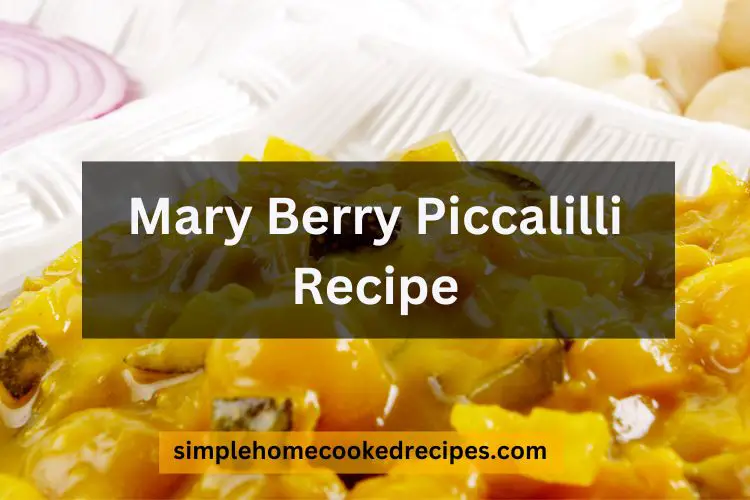 Holiday dinners are something everyone looks forward to months before they happen. That is why you can create the Mary Berry Piccalilli recipe months before the holiday season and then open the jars when the season is near. It will allow you to serve fresh piccalilli with various items, such as cheese and meats.
So, if you are looking for an easy and delicious Mary Berry piccalilli recipe, then you have come to the right place. Here is a complete guide to this easy and delectable recipe.
Mary Berry Piccalilli Recipe Overview
The Mary Berry piccalilli recipe will take you fifteen minutes to prepare plus four hours of salting and pickling and ten minutes of cooking. You will need to take out a few hours to create this recipe. This is why we recommend that you make this piccalilli ahead of time as you can only open the jar after a few weeks or three months.
A tip we would recommend before creating this recipe is to sterilize the jars at your disposal. You can do this by running them through the dishwasher, and then rinsing them dry in a low oven. Doing this will guarantee that the jars are clean to store the piccalilli inside.
Nutrition Facts
---
Amount Per ServingCalories14
% Daily Value *
Total Fat 0.2g

1

%
Cholesterol 0mg

0

%
Sodium 150mg

7

%
Total Carbohydrate 3g

1

%

Dietary Fiber 0g

0

%
Sugars 2g

Protein 0.4g

1

%
---
* The % Daily Value tells you how much a nutrient in a serving of food contributes to a daily diet. 2,000 calories a day is used for general nutrition advice.
Ingredients
150g of courgette, cut into small chunks
450g of cauliflower, cut into small florets
100g of green beans, cut into small pieces
550ml of malt vinegar
200g of shallots, peeled and cut
1 tbsp. of coriander seeds
3 tbsp. of English mustard powder
2 tbsp. of yellow or black mustard seeds
1 tsp. turmeric
2 tsp. cumin seeds
2 tbsp. of sea salt
4 tbsp. of plain flour
2 bay leaves
150g of caster sugar
Instructions
1. Put all the vegetables inside a bowl and toss them with sea salt. Cover the bowl and leave it at room temperature for at least four hours.
2. Then, drain the vegetables and wash them well in cold water. Make sure that the vegetables are drained well.
3. Put 100ml of vinegar inside a bowl with coriander seeds, mustard powder, mustard seeds, turmeric, cumin, and flour. Make sure to mix them well to create a paste.
4. Heat the rest of the vinegar with the bay leaves, sugar, and a pinch of salt until all the sugar dissolves.
5. Next, pour the mustard and vinegar mixture, let it simmer and stir for five minutes until the mixture has thickened.
6. Finally, fold in the drained vegetables, heat them for one minute, and then pack it into sterilized jars.
7. Leave the jars sealed in a cool and dark spot for six weeks or three months before you open them.
8. Once you pen it, keep the jars in the fridge and consume it within four weeks.
Nutrient Information
The serving size is three jars of 500ml. Each serving size, which includes a teaspoon will have 14 calories. Here is the rest of the breakdown of the nutrients:
Total Fat: 0.2
Saturated Fats: 0g
Sugar: 2g
Carbohydrates: 3g
Dietary Fiber: 0.3g
Sodium: 150mg
Protein: 0.4g
Frequently Asked Questions
Here are some frequently asked questions about the Mary Berry piccalilli recipe:
What Goes Well With Piccalilli?
There are many things that you can serve with piccalilli. This includes strong cheeses, ham, pies, and much more. You can also serve different types of meat, depending on what you prefer.
How Long Does A Jar Of Piccalilli Last?
Once you open a jar of piccalilli, it will last you for four weeks inside the fridge. That is why we recommend that you create this recipe and then store the jar in the fridge after opening it. Be sure to consume it within four weeks.
What Does Piccalilli Taste Like?
Piccalilli is a yellow and chunky relish that will taste pungent, tart, vinegary, and tangy. That is why it is a strong-tasting food that goes well with strong cheeses. So, pair it up with the right foods.
What Ingredients Are Usually Added In Piccalilli?
Vegetables such as green beans, carrots, cucumbers, shallots, and cauliflowers are added to the piccalilli. Then, they are cooked in various spices and sealed in jars so that the flavour can develop with time.