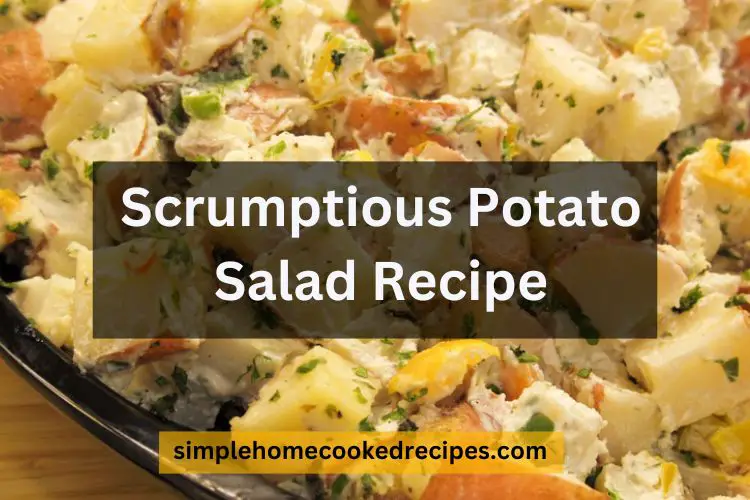 The potato salad recipe Mary Berry is a perfect light yet filling recipe that will provide you with various flavours and textures. You can add it to your next dinner party and wow your guests with this recipe. The best part is that it will not take you too long to create this recipe.
You can also create it ahead and store it to serve later. Of course, we recommend that you serve this dish fresh. Here is the complete recipe.
Potato Salad Recipe Mary Berry Overview
The potato salad recipe by Mary Berry will take you less than thirty minutes to prepare and between 10 and 30 minutes to cook. You will be done in an hour or less. That is why it is the perfect recipe to whip up when you want to wow your guests but don't want to do intensive labour in the kitchen.
Nutrient Information
The recipe will serve 6 to 8 people, and each serving will include 143 calories. Here is the breakdown:
Total Fat: 11.9g
Saturated Fats: 1.7g
Sugar: 2.7g
Carbohydrates: 6.2g
Dietary Fiber: 0.7g
Sodium: 161mg
Protein: 3.8g
Nutrition Facts
---
Amount Per ServingCalories99
% Daily Value *
Total Fat 11.9g

19

%
Sodium 161mg

7

%
Total Carbohydrate 6.2g

3

%

Dietary Fiber 0.7g

3

%
Sugars 2.7g

Protein 3.8g

8

%
---
* The % Daily Value tells you how much a nutrient in a serving of food contributes to a daily diet. 2,000 calories a day is used for general nutrition advice.
Ingredients
For The Fish
4.5oz of salmon fillets
16 cooked tiger prawns
1 lemon juice
For The Potato Salad
2oz baby potatoes
3 tbsp. of Dijon mustard
4 tbsp. of olive oil
3 tbsp. white wine vinegar
1 tbsp. caster sugar
1 bunch of spring onions
6 tbsp. of mayonnaise
5.5oz of radishes
Salt and pepper
1 bunch of chopped parsley
Instructions
1. Preheat your oven to fan/gas 4 or 180C/160C.
2. Take a baking tray and line it with kitchen foil.
3. Time to make the salad by putting the potatoes inside a pan of salted water and bringing it to a boil. Let it cook for fifteen minutes or until the potatoes are tender. Drain the water and slice the potatoes in quarters.
4. Arrange the salmon fillets with the skin facing down on the baking tray with foil.
5. Squeeze half of the lemon juice on the fillets and season them with salt and pepper. Cover the fillets with a sheet of foil and seal them to create a parcel.
6. Bake the fillets for fifteen minutes or until they are cooked through.
7. Remove the tray from the oven and set it aside to cool down. Then, remove the skin of the salmon fillets.
8. Take a large bowl for the salad and mix sugar, mustard, oil, and vinegar. Add the potatoes to the bowl and season with some salt and pepper. Stir the mixture to mix evenly and then set it aside.
9. Add celery, radishes, spring onions, and mayonnaise to mix together. Be sure to add the lemon juice.
10. Start flaking the salmon in large pieces with a fork and stir it in the salad and the prawns with the parsley. You can take out the salad on a platter and sprinkle the remaining parsley on top.
Also Read: Heavenly Mary Berry Dauphinoise Potatoes Recipe
Frequently Asked Questions
Here are some frequently asked questions about the potato salad Mary Berry recipe:
Why Do I Add Vinegar To The Salad?
The vinegar is essential because it adds a tangy flavour to the potatoes. Besides that, it ensures that the potatoes don't dry out. So, you also need to add this to the potato salad recipe.
What Goes Best With Potato Salad?
Many dishes go well with potato salad. These include salmon, prawns, barbecued ribs, corn on the cob, dessert, and much more.
Should Potato Salad Be Served Cold Or Hot?
You can serve the salad hot or cold, depending on what you like. If there is protein in the salad, be sure to serve it hot.