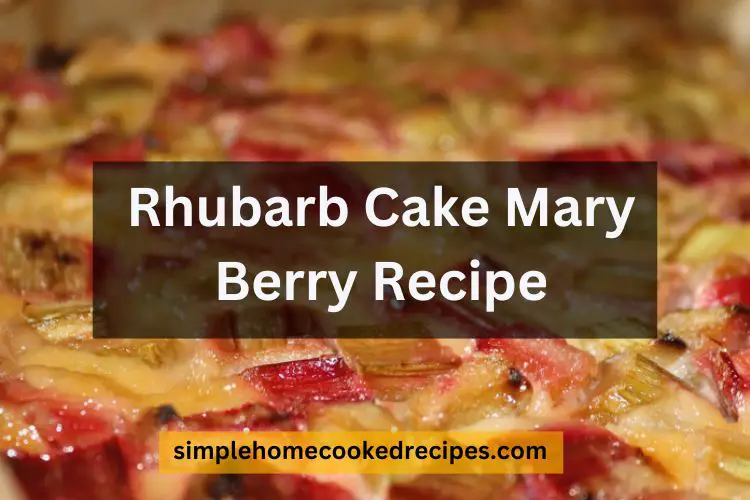 Rhubarb season is one of the best seasons to enjoy this delicious treat and make desserts. You can make endless desserts, and we have the best rhubarb cake Mary Berry recipe for you. The base of the cake is made of rhubarb, and it will melt in your mouth as soon as you have a taste.
So, if you are looking for a delectable rhubarb cake Mary Berry recipe, you are in the right place. Here is your complete guide.
Rhubarb Cake Mary Berry Recipe Overview
The rhubarb cake Mary Berry recipe will take an hour to prepare and cook. It will take you around ten minutes to prepare everything and a maximum of fifty minutes to bake the cake. The cake will serve sixteen people, and the entire family can enjoy it.
Nutrition Facts
---
Amount Per ServingCalories128
% Daily Value *
Total Fat 5g

8

%
Cholesterol 32mg

11

%
Sodium 76mg

4

%
Total Carbohydrate 19.2g

7

%

Dietary Fiber 0.5g

2

%
Sugars 12.5g

Protein 1.7g

4

%
---
* The % Daily Value tells you how much a nutrient in a serving of food contributes to a daily diet. 2,000 calories a day is used for general nutrition advice.
Ingredients
0.5lbs of rhubarb cut into half inches
6 tbsp. of unsalted melted butter
¼ tsp. of salt
½ cup of light brown sugar
1 tbsp. light brown sugar
1 cup all-purpose flour
½ tsp. baking powder
One stick of unsalted butter
Two eggs
½ tsp. vanilla extract
One cup of confectioner's sugar
Instructions
Also Read: Healthy And Delicious Caraway Seed Cake Recipe By Mary Berry
Also Read: Mary Berry's Delicious and Mouth-Watering Carrot Cake Recipe For Carrot Lovers
1. Preheat your oven to 350 degrees Fahrenheit and butter a baking dish of eight inches. Line the dish with non-stick baking paper.
2. Leave a border of two inches on both sides. Whisk the salt, brown sugar, and butter. Mix in the flour until you notice large crumbs.
3. Keep this mixture in the fridge until it is ready to use.
4. Make the cake by taking a medium bowl and mixing brown sugar, rhubarb, and ¼ cup flour.
5. Then, take another bowl and mix baking powder, ¾ cup flour, and salt.
6. Take an electric mixer and beat the confectioner's sugar and butter until it is fluffy and light. Keep adding the egg one at a time.
7. Mix the flour with the mixer on a low setting and then place the batter in the pan.
8. Sprinkle the cake batter with the rhubarb and then top it with the mixture from the fridge.
9. Bake the cake between forty-five and fifty minutes.
10. Allow the pan to cool completely, and then lift it out to cut sixteen bars and serve.
Also Read: Classic And Irresistibly Delicious Rock Cakes Mary Berry Recipe
Frequently Asked Questions
Here are some frequently asked questions about the rhubarb cake recipe by Mary Berry:
How Can I Use Frozen Rhubarb In The Cake?
If you are using frozen rhubarb, we recommend that you defrost it first so that it is easy to separate. Because of this, we would recommend using fresh rhubarbs. They are easy to cut and use.
Why Is My Rhubarb Cake Soggy?
The rhubarb can become soggy if you don't mix the ingredients properly. Because of this, we recommend that you mix the rhubarb and sugar before you bake it.