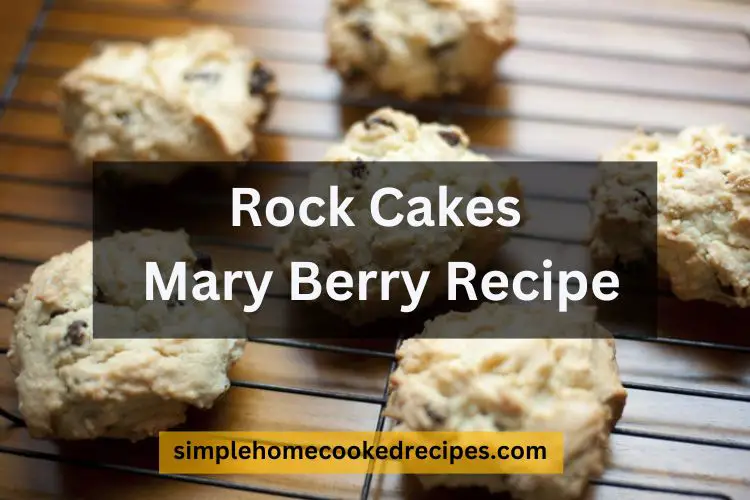 You might wonder what rock cakes are, as the name is intriguing. The name of the cake is because of the rough surface of the cake that feels like a rock. These cakes have a long history, as they were highly popular during the World War II when people had to ration eggs and sugar.
The rock cakes Mary Berry recipe is ideal for consuming with tea or coffee, as the cake is not too sweet. You can also enjoy the cake in the evening or for breakfast. Here is your complete guide to the Mary Berry rock cakes recipe.
Rock Cakes Mary Berry Recipe Overview
It will take you half an hour to create this delicious Mary Berry rock cakes recipe. It will take you fifteen minutes to prepare the ingredient and another fifteen minutes to cook. The recipe is easy to make, and if you have never made such a cake before, you will have no issues.
The Mary Berry rock cake recipe will also ensure twelve servings. So, you can take twelve pieces from the cake and serve it to your friends and family.
Nutrition Facts
12 servings per container
---
Amount Per ServingCalories201
% Daily Value *
Total Fat 0g

0

%
Cholesterol 34mg

12

%
Sodium 68mg

3

%
Total Carbohydrate 29.8g

10

%

Dietary Fiber 1.2g

5

%
Sugars 11g

Protein 3g

6

%
---
* The % Daily Value tells you how much a nutrient in a serving of food contributes to a daily diet. 2,000 calories a day is used for general nutrition advice.
Ingredients
2 teaspoon of baking powder
8oz of self-raising flour
4oz of butter
2oz of sugar
2oz of black currants
1 egg
4oz of dried fruit
1 teaspoon of mixed spice
1 teaspoon of nutmeg
Demerara sugar only for sprinkling
1 tablespoon of milk
Instructions
1. The first thing you need to do is preheat your oven to 425 degrees Fahrenheit.
2. Set your baking tray by lining it with non-stick baking paper.
3. Sift the self-raising flour and the baking powder in a large bowl. Make sure that there are no lumps in this mixture.
4. Add the butter to the baking powder and self-raising flour. We recommend that you use an electric mixer for this if you don't want to use your hands. Keep in mind not to blend the butter completely, and the texture will be similar to that of breadcrumbs.
5. Add the sugar, dried fruit, and currants into the mixture to mix evenly.
6. Add the egg and milk to the mixture to create a rough dough.
7. Then, take a spoon and shape the dough onto your baking tray. Remember that the cake's surface should be rough and bumpy just like a rock.
8. Sprinkle some demerara sugar on the mixture.
9. Put the tray on a wire rack and bake it in the oven for fifteen minutes.
10. The rock will be done in fifteen minutes and it will look crisp from the outside.
Also Read: Try Mary Berry's Coconut Cake Recipe Guaranteed to Satisfy Your Sweet Tooth
Nutrient Information
The Mary Berry rock cakes recipe will yield twelve servings. Each serving will contain 201 calories. Here is the breakdown of the nutrients:
Total Fat: 8.3g
Saturated Fat: 5.1g
Cholesterol: 34mg
Sodium: 68mg
Total Carbohydrates: 29.8g
Dietary Fiber: 1.2g
Total Sugars: 11g
Protein: 3g
Also Read: Try This Coffee And Walnut Cake Recipe By Mary Berry
Frequently Asked Questions
Here are some frequently asked questions about the Mary Berry rock cakes recipe:
Why Are My Rock Cakes Dry?
While the rock cakes may look like rocks, they are not supposed to be dry. This will only happen if you add too much liquid in the recipe. If you are using a large egg, then be sure to adjust the milk accordingly.
On the other hand, even overcooking the rock cakes can make it dry. Keep an eye out while it is in the oven and take it out when it is crisp from the outside. Once you do, the texture of your rock cakes will be perfect.
Why Are My Rock Cakes Flat?
The rock cakes must rise properly for them to have the perfect texture. If that is not the case with your cakes, then it might mean you have used stale baking powder. Be sure to check the expiry date of the baking powder before you use it for this recipe.
That is because stake baking powder will not help your cakes to rise in a proper manner. So, your rock cakes will turn out to be flat.
Can You Reheat Rock Cakes?
You don't have to consume the Mary Berry rock cakes after cooking them right away. Instead, you can store the rock cakes for forty-eight hours inside an airtight container. Then reheat the cakes in the oven for three to four minutes to ensure they are crisp again.
You can also freeze the rock cakes in an airtight container for three months. If you decide to do this, then be sure to defrost it properly before you reheat the cakes. It will help you get a soft and fluffy cake.
Can I Change The Fillings In The Rock Cakes?
You can change the fillings of the rock cakes with any flavors you like. For example, you can add white chocolate, cranberries, strawberries, chocolate chips, and much more. There are endless ways you can enhance the flavor.