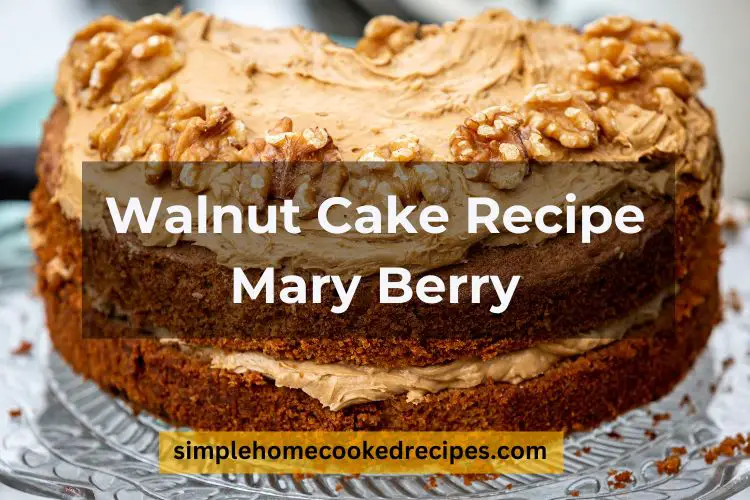 What is the first food that comes to your mind when you think about celebration food? For many people, that food item is cake. Cakes are the ultimate celebration food. Whether it is a birthday, wedding, mother's day or anniversary, cakes can be an ideal thing to be on the list.
When you are looking to celebrate a special day for someone else, you might think of a gift that you can give them. This part can be confusing for many people, but for people who know how to cook a lot of different things, the best gift they can give someone is a delicious Mary Berry Coffee and walnut cake baked by them.
Mary Berry Coffee and Walnut Cake Recipe
Mary Berry's coffee and walnut cake recipe is one of the best cake recipes you will find. If done right, you will have one of the most mouthwatering and presentable cakes that you have ever seen. The recipe is simple yet flavoursome, and it will serve around 6 to 8 people.
You will need two 7-inch sandwich tins for this recipe. The preparation time for Mary Berry's coffee and walnut cake recipe is around 30 minutes, whereas cooking will take an additional 30 minutes.
Nutrition Facts
8 servings per container
---
Amount Per ServingCalories512
% Daily Value *
Total Fat 30.2g

47

%
Cholesterol 98mg

33

%
Sodium 22mg

1

%
Total Carbohydrate 58.1g

20

%

Dietary Fiber 1.3g

6

%
Sugars 46.3g

Protein 5.4g

11

%
---
* The % Daily Value tells you how much a nutrient in a serving of food contributes to a daily diet. 2,000 calories a day is used for general nutrition advice.
Ingredients
Butter (Unsalted) – 110g
Eggs – 2 Large
Baking Powder – 1 ¾ Teaspoon
Caster Sugar – 110g
Coffee Essence – 1 ¾ Tablespoon
Walnuts (Chopped) – 55g
Self-Raising Flour – 110g
Additional Ingredients For Toppings and Fillings For The Mary Berry Coffee and Walnut Cake
Butter (Unsalted) – 80g
Milk – 2.5 teaspoon
Walnut Halves – 8 pieces
Icing Sugar – 235g
Coffee Essence – 2.5 tsp
Instructions
The oven should be preheated to a temperature of 180C.
Take two 7-inch sandwich tins and grease them with butter. Then use baking paper to line the base of the tins.
Take a large bowl and add all major ingredients, including eggs, butter, flour, coffee essence, sugar, baking powder and walnuts.
Mix all these ingredients until they are well combined. As there are multiple ingredients, It is better to use an electric hand whisk instead of doing it manually.
Now add the mixture to both sandwich tins. Make sure that the mixture is placed evenly in both tins. Use a spatula to level the top of the batter.
Place the tins in the preheated oven and let them bake for around 25 to 30 minutes. Once done, take both the tins out and let them cool for 5 minutes. Use a butter knife on the edge of both sponges to remove the baking paper. Let it cool down for a few more minutes.
In the next step, you have to start working on preparing the fillings and toppings of your Mary Berry coffee and walnut cake.
Take the butter that you had kept for the fillings. Place it in a small bowl and start beating it while also adding the icing sugar to the bowl. The icing sugar has to be added gradually. Then add the remaining ingredients (coffee essence and Milk) and keep beating the mixture until it is smooth.
Now take one of the sponges, and add the mixture from step 7 on top of it. Spread the mixture so that the top of the sponge is covered. Now place the other sponge on top of it so that the mixture gets sandwiched in.
Make sure to only use half of the mixture between the two sponges, as the remaining half will be used as the topping.
Start decorating the top of the cake with the same mixture and also add the walnut halves for decoration.
Also Read: Light And Fluffy Madeira Cake Recipe Mary Berry For Your Next Tea Party
Pro Tip For The Baker
Using three sandwich tins will help you make a bigger three-layered cake; however, you will also have to adjust the ingredients to make the additional batter and one additional sponge. Adding cream and chocolate chips in the fillings or on the top will also give the cake a unique look and an absolutely amazing taste enhancement.
Also Read: Mary Berry Scrumptious French Madeleines Recipe That Is Out Of This World
Nutritional Information
Calories: 512
Total Fat: 30.2g
Saturated Fat: 13.5g
Cholesterol: 98mg
Sodium: 22mg
Total Carbohydrate: 58.1g
Dietary Fiber: 1.3g
Total Sugars: 46.3g
Protein: 5.4g
Frequently Asked Questions (Answered)
These are some of the questions that you might have about the coffee and walnut cake.
How Long Will The Coffee and Walnut Cake Last?
It only takes around an hour for the entire process, so it is best to bake the cake on the day that you plan to eat it. However, if you want to bake it ahead of time, then you should know that the cake can stay edible for three days if it is stored at room temperature in an air-tight container. After three days, the cake will start to go bad, and you will feel the change in taste and texture of the cake.
How Can I Make My Coffee and Walnut Cake Last Longer?
If you want your coffee and walnut cake to last longer, you have to carefully store it in a refrigerator. This will help to maintain the quality of the cake for more than three days; however, it is still ideal to eat it within a week.
Which Fruit Can I Use For Topping On A Coffee and Walnut Cake?
Fruits are a perfect item to add as a topping on top of a cake. If you are looking to enhance the flavour of your coffee and walnut cake, then you can add fruits like cherries, figs, pineapple, berries and plums in the fillings and as topping on the cake. One thing to keep in mind is to limit the amount of such toppings. Adding large quantities of fruits can affect the original 'coffee' flavour of the cake.
Can Instant Coffee Be Used In Place Of Coffee Essence in A Coffee and Walnut Cake?
If you don't have coffee essence, then you can use instant coffee in the cake. Remember to mix the instant coffee with water and then use that mixture in place of the coffee essence.