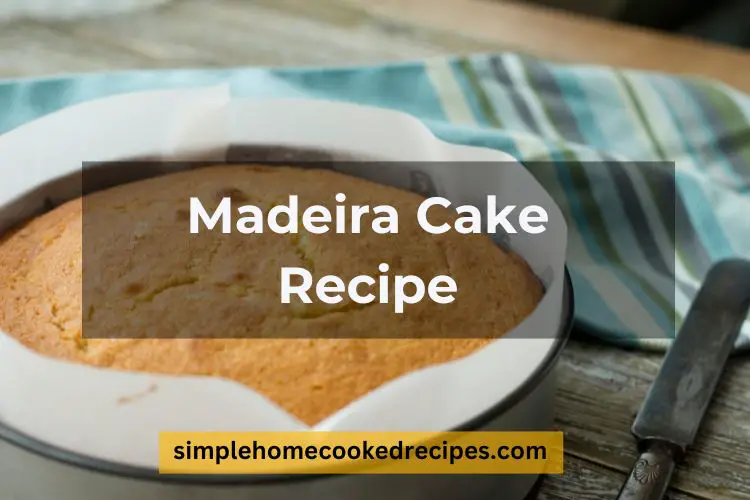 The Madeira cake has been consumed for a long time now, as people love having it with their afternoon or evening tea. The best part about this Madeira cake recipe Mary Berry is that it has been made with the simplest ingredients that you will already have in your pantry. Because of this, you can create this recipe any time you like for your family. 
Here is a complete recipe for you to follow. 
A Brief Overview Of The Madeira Cake Recipe Mary Berry 
The Madeira cake recipe Mary Berry will take you forty minutes to create. It will take ten minutes to prepare the ingredients and thirty minutes to cook the recipe. Once you are done, you can cut the cake into eight pieces, as it will serve eight people. 
Nutrition Facts
---
Amount Per ServingCalories402
% Daily Value *
Total Fat 23g

36

%
Sodium 180mg

8

%
Total Carbohydrate 44g

15

%

Dietary Fiber 1g

4

%
Sugars 22g

Protein 7g

15

%
---
* The % Daily Value tells you how much a nutrient in a serving of food contributes to a daily diet. 2,000 calories a day is used for general nutrition advice.
Ingredients 
170g of softened butter 
170g of granulated sugar 
220g of self-rising flour 
Three eggs 
One lemon zest 
45g of almonds (grounded)
Instructions
1. Take out a large mixing bowl, and add the sugar and butter to it. Then, use an electric mixer to whisk both the ingredients till the texture is creamy and light. 
2. Next, you need to start adding the eggs individually. You have to beat every egg well in the mixture as you keep adding. 
3. Add the almonds, flour, and lemon zest to the mixture. 
4. Mix the entire mixture properly until you get a thick yet smooth and soft batter. 
5. Take a round baking pan of nine inches and pour the mixture. 
6. Preheat the oven to 180C or 350F. 
7. Add the baking pan and let it be for half an hour till the cake is baked. 
8. Take out the baking pan and place it on the counter for 15 minutes so that the cake can cool down. 
9. Then, remove the cake from the pan and put it on a wire rack so that it can cool down. 
10. Cut the cake into pieces and serve it to your family or guests. 
Also Read: Classic Mary Berry Sponge Cake Recipe That Will Leave You Asking For More
Nutrient Information 
The Madeira cake recipe Mary Berry will create eight pieces. The nutrient breakdown is as following: 
Calories: 402 per piece
Total Fat: 23g
Saturated Fats: 12g
Sugar: 22g
Carbohydrates: 44g
Dietary Fiber: 1g
Sodium: 180mg
Protein: 7g
Also Read: The Easiest Mary Berry Light Fruit Cake Recipe That You Will Ever Try
Pro Tip: Make sure that the butter and the rest of the ingredients are at room temperature when you make this dish. For example, if the butter is cold, it will be hard, and the mixture will not be creamy. In the same way, all other ingredients should also be at room temperature. 
Frequently Asked Questions 
Here are some frequently asked questions about the Madeira cake recipe Mary Berry:
Is It Necessary To Add Lemon Zest?
Yes, you have to add lemon zest so that your cake can have a little bit of a kick, or it can be bland. However, if you want a stronger kick of flavor, you can add lemon juice instead. It will add a powerful kick to the cake that will boost the flavor profile in no time. 
By the time you are done, you can also garnish the Madeira cake with lemon zest. However, this is not necessary, and you can skip this step if you wish. 
How Do I Make This Cake More Flavorful?
You can make this cake more flavorful by adding vanilla icing to it. Doing this will make the cake sweeter, and everyone from kids to adults will enjoy the taste of the cake in this way. You can also top it with sprinkles, chocolate chips, and other such things. 
Remember that these items are ideal if you are serving this cake for a party or kid's event. Most kids will not like a plain-looking cake, which is why you can decorate it with anything of your choice. 
Why Is The Madeira Cake Turning Out Dry?
Make sure that you add the ingredients according to the instructions given. If you are not following the correct instructions, then your Madeira cake will be dry. 
This will mostly happen if the butter rationing is not ideal. So, follow the recipe accurately, and your Madeira cake will not turn out to be dry or dense. 
What Do I Serve With Madeira Cake?
There are many things that you can serve with Madeira cake if you want to make it a flavorful cake. For example, you can serve it with tea, coffee, hot chocolate, ice cream, and many other such things. All of these items will go well with the cake and create a nice balance of flavors. 
Most people love to eat this cake with their evening tea. So, you can bake it, refrigerate it, and then enjoy it with your tea daily.