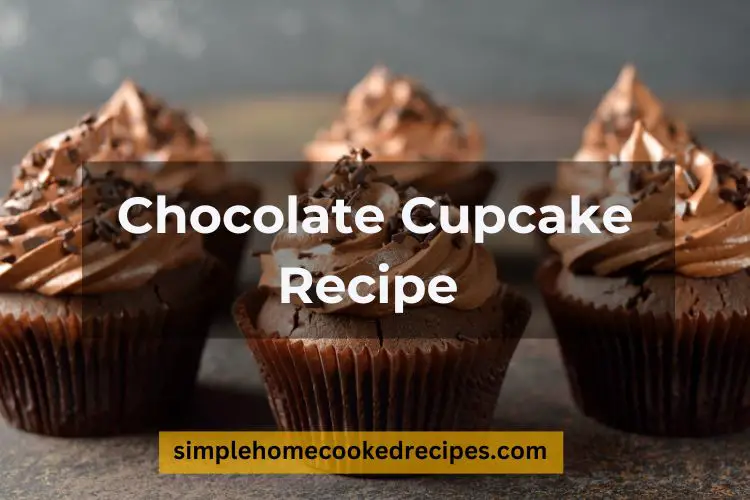 Cupcakes are some of the most delicious desserts that both adults and kids love to indulge in. This is why you need to have the perfect chocolate cupcake recipe at your disposal to create for events such as dinner parties and more. Fortunately, we have just the solution for you with the rich Mary Berry chocolate cupcake recipe. 
Keep reading for an in-depth recipe guide. 
A Short Overview Of The Mary Berry Chocolate Cupcake Recipe 
The Mary Berry chocolate cake recipe is a rich cupcake recipe that will take you a total of thirty-five minutes to cook. It will take you twenty minutes to prepare this delicious recipe and fifteen minutes to bake the cupcakes. Besides that, the recipe will yield twelve cupcakes that you can feed your entire family. 
Total Fat: 15.2g
Saturated Fats: 9.6g
Sugar: 33.1g
Carbohydrates: 42.2g
Dietary Fiber: 1.5g
Sodium: 106mg
Protein: 1.9g
Nutrition Facts
---
Amount Per ServingCalories295
% Daily Value *
Total Fat 15.2g

24

%
Sodium 106mg

5

%
Total Carbohydrate 42.2g

15

%

Dietary Fiber 1.5g

6

%
Sugars 33.1g

Protein 1.9g

4

%
---
* The % Daily Value tells you how much a nutrient in a serving of food contributes to a daily diet. 2,000 calories a day is used for general nutrition advice.
Ingredients 
Buttercream Ingredients
50g of softened and unsalted butter 
Two tablespoons of whole milk 
20g of cocoa powder
240g of icing sugar
You can also include any toppings or decorations if you wish 
Cupcake Ingredients 
Three tablespoons of boiling water
One teaspoon of baking powder 
30g of cocoa powder
105g of self-rising flour
155g of caster sugar
165g of softened and unsalted butter
Instructions
Making The Cupcakes
1. The first thing you need to do is take out a cupcake tin and line it with butter or paper. 
2. Then, take a mixing bowl. Add cocoa powder and boiling water and keep mixing till you create a thick paste of it. 
3. Add the rest of the ingredients for the cupcakes and mix them all by using a wooden spoon or an electric mixer. 
4. Once everything is mixed thoroughly, you need to divide the mixture equally between all twelve cupcakes. 
5. Preheat the oven to 400F or 200C. 
6. Put the cupcakes inside the oven for at least twelve to fifteen minutes until the cupcakes have risen. You can also touch them to check if they have been cooked. The cupcakes will be bouncy if they are cooked perfectly. 
7. Then, keep the tin on a wire rack to cool the cupcakes down. 
Making The Buttercream Frosting 
8. Now, you need to create the chocolate buttercream frosting for the cupcakes. The first thing you must do is melt the butter and add it to a mixing bowl. 
9. Then, sift the cocoa powder inside the mixture and keep pouring the icing sugar slowly and gradually to create a buttercream of the right consistency. 
10. If the buttercream turns out to be thick, you can add the whole milk till the consistency of the buttercream is fine. 
11. Finally, add the buttercream inside the piping bag and pipe it over all the cupcakes. 
12. You can decorate the cupcakes with many decorations as you wish. 
13. Let the buttercream set properly before you serve the cupcakes to your family or guests. 
Pro Tip: If you are serving this recipe to your kids, then make sure to keep lots of decorations and toppings to make the cupcakes fun. For example, you can add sprinkles, funky toppers, and many other such items. These will make the cupcakes a huge hit at any party. 
Nutrient Information 
The best part about the Mary Berry chocolate cupcake recipe is that it will create twelve servings. Each serving will have 295 calories. The remaining nutrient breakdown is as follows:
Total Fat: 15.2g
Saturated Fats: 9.6g
Sugar: 33.1g
Carbohydrates: 42.2g
Dietary Fiber: 1.5g
Sodium: 106mg
Protein: 1.9g
Also Read: Turn Your Favorite Drink Into A Delicious Cake by Following Mary Berry's Coffee Cake Recipe
Frequently Asked Questions 
Here are all the frequently asked questions that people ask about this Mary Berry chocolate cupcake recipe:
Can I Make The Mary Berry Chocolate Cupcake Recipe With My Kids?
The best part about the Mary Berry chocolate cupcake recipe is that you can create these cupcakes with your kids and let them be a part of the baking process. They can also help you decorate the cupcakes with various toppings you have chosen. 
If you are making cupcakes for a kid's birthday or any such event, it is best to include them during the baking. They will feel included, and you will bond with your kids in no time. 
How Long Will The Chocolate Cupcakes Stay Good In The Fridge?
If there are leftover cupcakes from this recipe, then you can store them in the fridge for later consumption. You can store the cupcakes inside an airtight container and keep them in the refrigerator for a few days. They will last a week like this. 
On the other hand, they will also be fine at room temperature in an airtight container for two to three days. Of course, if you want them to stay good for longer, then it is best to store them in the fridge. Just make sure you consume them within a week. 
Is It Necessary To Make Chocolate Buttercream For The Cupcakes?
Just because the cupcakes are chocolate, it doesn't mean that you also have to create chocolate buttercream. Instead, you can create any other flavor of buttercream if you wish. There are many other flavors of buttercream that you can experiment with and pour over your cupcakes. 
These include flavors such as vanilla, mint, coffee, and many others that will go well with chocolate. The recipe of each of these flavors will differ, so make sure you select a fantastic recipe to create the buttercream of your choice. 
What To Do If The Chocolate Cupcakes Are Dry?
If the chocolate cupcakes have turned out dry, it means that you left them inside the oven for too long. Besides that, another reason could be that the oven temperature was too high. You can check both of these things to determine what the issue behind this was. 
Once you figure this out, make sure that you don't repeat the mistake the next time you make cupcakes. As you follow the instructions, the cupcakes will turn out to be moist, rich, and delicious. They will be a hit at your event.