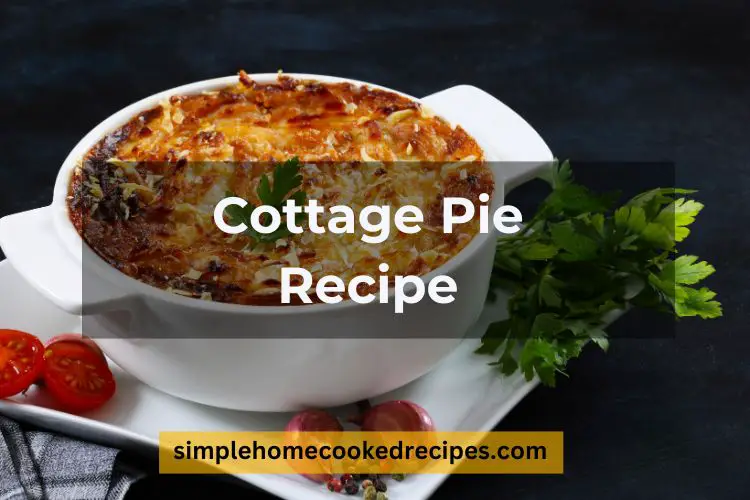 Sometimes, all you need is a hearty and creamy dish to fill your heart and soul with comfort and deliciousness. The Mary Berry cottage pie recipe is the creamiest dish that will elevate your next dinner party or event. It is an easy recipe to make that you can make for your family any time they want comfort food. 
Here is an in-depth guide for this recipe. 
A Look Into The Mary Berry Cottage Pie Recipe 
The Mary Berry cottage pie is a treat for the heart and soul, and it will take between one and two hours to prepare and cook. The preparation time is less than half an hour, and the cooking time is between one and two hours. Once the recipe is cooked, you can easily serve this to six or eight people. 
Nutrition Facts
---
% Daily Value *
Total Fat 218.7g

337

%
Sodium 319mg

14

%
Total Carbohydrate 40.3g

14

%

Dietary Fiber 5.4g

22

%
Sugars 7.8g

Protein 38.7g

78

%
---
* The % Daily Value tells you how much a nutrient in a serving of food contributes to a daily diet. 2,000 calories a day is used for general nutrition advice.
Ingredients 
800g of beef mince 
40g of plain flour
240g of chestnut mushrooms (slice them)
1400g of peeled and sliced potatoes (slices should be 4mm)
Two chopped onions 
240ml of red wine 
90g of grated cheddar cheese 
140ml of double cream 
Salt and pepper to taste 
One tablespoon of chopped thyme 
Two tablespoons of light muscovado sugar 
Two tablespoons of Worcestershire sauce 
290ml of beef stock 
Four sticks of diced celery 
One tablespoon of oil 
Gravy browning to taste (optional)
How To Make Mary Berry Cottage Pie Recipe 
1. Take a frying pan and heat some oil on it. Then, pour the beef on high heat and keep stirring until the beef is golden-brown. 
2. Take out the minced beef from the frying pan and keep it aside. 
3. Add celery and onions to the same pan and let them fry until they become a little soft. When the texture is soft, you can add the beef back to the pan again. 
4. Then, take a mixing bowl and pour red wine and flour into it. Make sure you whisk the ingredients till you have a smooth paste. 
5. Next, you need to add the stock to the paste and whisk that too. Add this mixture to the pan along with thyme, muscovado sugar, and the Worcestershire sauce. 
6. Bring all of these ingredients to a boil and keep stirring until the mixture is thick. 
7. Once it is thick, you need to add the mushrooms and some gravy browning if you wish. 
8. Season the mixture using salt and pepper. Then, cover the pan and let everything simmer for at least forty-five minutes. 
9. Next, boil salted water and cook the potato slices in this water for four to five minutes. 
10. Drain the potatoes and let them cool for a while. Keep in mind that the potatoes should be soft because if they are hard, the cream will not adhere to them. 
11. Preheat your oven to 425F or 220C. 
12. Take an ovenproof dish of 2.4 liters and add the beef mince to this dish. 
13. Then, add a layer of potatoes to the beef mince and add half the cream. After you have added the cream, you need to layer the remaining potatoes on top of it. 
14. Make sure that you add seasoning between the layers, and in the end, pour the cream and then cheese on top. 
15. Keep the prepared dish in the oven for at least half an hour or until the potatoes are bubbling and golden brown. 
Also Read: The Perfect Corned Beef And Rice Recipe To Enjoy On St. Patrick's Day And All Year Round
Pro Tip: You can create the mixture of the beef mince a few days or a day before you have to cook. Doing this will help you save time on the day you need to serve this dish. Besides that, you can also freeze the beef mince for three months and keep making cottage pies from time to time. 
Nutrient Information 
This creamy Mary Berry cottage pie recipe will serve between six and eight people. Each serving will have a calorie count of 507 calories. Here is the remaining breakdown of nutrients:
Total Fat: 18.7g
Saturated Fats: 9.1g
Sugar: 7.8g
Carbohydrates: 40.3g
Dietary Fiber: 5.4g
Sodium: 319mg
Protein: 38.7g
Frequently Asked Questions 
Here are the top frequently asked questions about the Mary Berry cottage pie recipe:
Is The Cottage Pie A Healthy Recipe?
The cottage pie is not the best recipe for people that want something healthy to watch their weight. That is because there is a lot of cream, milk, and cheese in this recipe which provides it with a heavy element. So, you will find that the dish is rich and creamy. 
It is the perfect recipe for when you want to indulge in a cheat day and enjoy the joys of a creamy and delicious dish. So, forget about the calories when making this dish and enjoy it in all its glory. 
How Long Will The Mary Berry Cottage Pie Last In The Fridge?
You can keep the leftover Mary Berry cottage pie in an airtight container and store it in the fridge. Keep in mind that this dish has a lot of cream and cheese, which is why it will only last in the fridge for three days. Be sure to consume it before this. 
On the other hand, we recommend that you don't store this in the freezer. That is because the pie will not remain creamy, or the cheesy sauce will disintegrate in the freezer. So, the best way to store it is in the fridge and eat it within three days. 
How Do I Reheat The Mary Berry Cottage Pie?
The best way to reheat the Mary Berry cottage pie is in the oven at 180C. You can pop the cottage pie into an ovenproof dish and bake it for forty-five minutes. This will do the trick and ensure that everything is creamy and runny again. 
Just make sure you use foil to cover the dish so that the top doesn't get too crunchy. Besides that, you don't have to let it be in the oven for forty-five minutes. You can pick the foil up and check if it is thoroughly warm for consumption.