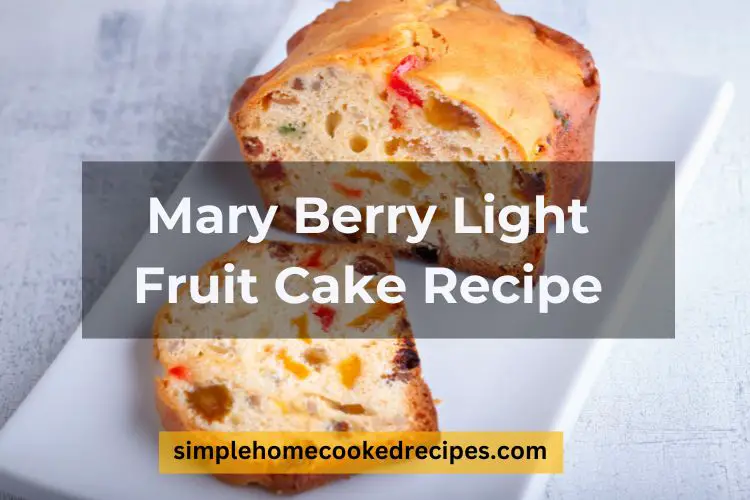 Creamy cakes can be very dense, meaning you only get to eat a little bit of them. On the other hand, fruit cakes are light, airy, and fluffy so that you can enjoy them as much as you like without the added heaviness. The Mary Berry light fruit cake recipe is perfect for this purpose. 
Here is everything you must know about it. 
A Glimpse Into The Mary Berry Light Fruit Cake Recipe
The Mary Berry light fruit cake recipe will take you two hours to make. It will take you half an hour to prepare the ingredients and 1.5 hours to bake the cake. Once it is done, you can cut the cake into fourteen pieces. 
Total Fat: 16.6g
Calories: 331 per serving
Saturated Fats: 7.8g
Sugar: 12g
Carbohydrates: 42.9g
Dietary Fiber: 3.3g
Sodium: 106mg
Protein: 5.4g
Nutrition Facts
---
Amount Per ServingCalories331
% Daily Value *
Total Fat 16.6g

26

%
Sodium 106mg

5

%
Total Carbohydrate 42.9g

15

%

Dietary Fiber 3.3g

14

%
Sugars 12g

Protein 5.4g

11

%
---
* The % Daily Value tells you how much a nutrient in a serving of food contributes to a daily diet. 2,000 calories a day is used for general nutrition advice.
Ingredients 
Four eggs 
200g of salted butter at room temperature 
One teaspoon of vanilla extract 
Half a teaspoon of almond extract 
165g of fine sugar
20g of almonds (flaked)
425g of mixed dry fruits
75g of grounded almonds
200g of self-rising flour
Instructions
1. Take a large mixing bowl and sift the ground almond and flour. 
2. Then, take two tablespoons of the mixture and toss it inside the mixed dry fruits. Set this mixture aside. 
3. Take out an electric mixer and whisk the sugar and butter together till the mixture is creamy, pale, and light. 
4. Start beating the eggs inside the mixture one at a time till all of them have been completely incorporated. Next, mix all of it for two minutes and beat the vanilla extract and almond inside.  
5. Utilize a spatula and fold the flour mixture inside until it has been mixed properly. Then, you also need to fold in the dry fruits. 
6. Take a spoon and pour the mixture into an eight-inch round pan that has been lined with a baking sheet. Make sure that you level the top and then sprinkle flaked almonds. 
7. Preheat the oven to 160C.
8. Bake the cake inside the oven for one and a half hours. 
9. Take the cake out of the oven and let it cool. Then, serve it to your guests or family. 
Also Read: Light And Fluffy Madeira Cake Recipe Mary Berry For Your Next Tea Party
Pro Tip: Make it a day before, as it tastes best if it has been baked a day before. You can also use other types of dry fruits to top the cake. For example, you can also add walnuts and other such items. 
Nutrient Information 
The Mary Berry light fruit cake recipe will serve fourteen people. 
Total Fat: 16.6g
Calories: 331 per serving
Saturated Fats: 7.8g
Sugar: 12g
Carbohydrates: 42.9g
Dietary Fiber: 3.3g
Sodium: 106mg
Protein: 5.4g
Frequently Asked Questions 
Here are some frequently asked questions about the Mary Berry light fruit cake recipe: 
What Is The Difference Between A Light And Dark Fruit Cake?
The light fruit cake is light in color, and because of this, you can see the colors of the fruit pop from the batter. On the other hand, the dark fruit cake includes strawberry jam, spices, molasses, and more. Because of these ingredients, the color of the cake is dark. The cake you decide to make depends on your preferences. 
The light fruit cake is also lighter and fluffier to eat, as the mixture is airy and light. So, keep this in mind before you decide which cake to bake. 
How Do I Ensure That The Light Fruit Cake Stays Moist The Next Day?
If you want to serve the light fruit cake the next day, and then make sure you wrap the cake in plastic before you put it inside an airtight container. Once it is in the fridge, the cake will also remain fresh for at least two months. 
Make sure that you consume the cake within this time frame to enjoy its soft and moist flavor. Your guests and family will also enjoy this light and soft cake. 
What Do I Serve With The Light Fruit Cake?
There are many ways you can serve light fruit cake. For example, it pairs well with ice cream, coffee, tea, cheese, or even a carbonated drink. The choice is yours because what you serve it with depends on your tastes and preferences. If you serve it with ice cream, make sure that the cake is hot so that it can create a nice balance of hot and cold. 
Is A Light Fruit Cake Healthy?
A light fruit cake is not the healthiest option for you because of the high-fat content in the cake. It includes a high amount of syrup, sugar, and butter, making it high in calories. So, if you want to consume this, make sure that you have a moderate amount so that you don't load up on calories.