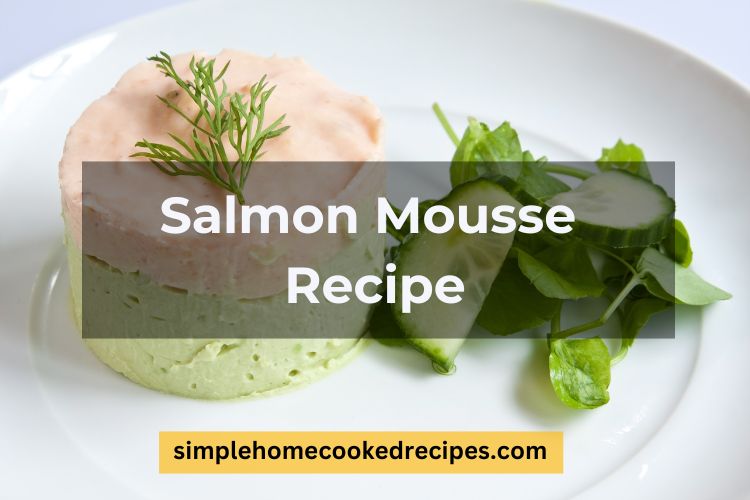 You can make various light starters for yourself or your loved ones. Salmon mousse is a healthy appetizer that you can pair with different things. It is also best for those who love enjoying the taste of salmon.
If you want to know the Mary Berry salmon mousse recipe in the UK, you don't have to look anymore. Here is everything you need to know about making this starter at home.
Overview Of Mary Berry Salmon Mousse Recipe
It is easy to make salmon mousse if you follow the steps without changing things much. The best thing is you don't have to spend much time cooking the starter. Preparation for the item will take 10 minutes to offer you the best mousse texture.
The exact cooking time is about 5 minutes for this dish. You can serve about four to six people with this salmon mousse. Another great thing is you can enjoy the paste for many other dishes, such as salmon terrine.
Calories – 242
Total Fat – 21.8 grams
Cholesterol – 74 milligrams
Sodium – 188 milligrams
Total Carbohydrate – 2 grams
Dietary Fiber – 0.1 grams
Total Sugars – 0.3 grams
Protein – 10.6 grams
Nutrition Facts
4 servings per container
---
Amount Per ServingCalories242
% Daily Value *
Total Fat 21.8g

34

%
Cholesterol 74mg

25

%
Sodium 188mg

8

%
Total Carbohydrate 2g

1

%

Dietary Fiber 0.1g

1

%
Sugars 0.3g

Protein 11g

22

%
---
* The % Daily Value tells you how much a nutrient in a serving of food contributes to a daily diet. 2,000 calories a day is used for general nutrition advice.
Ingredients
Cold water – 3.5 tablespoons
Flavourless gelatin – 1.5 teaspoon
Cooked salmon – 5 ounces
Sour cream or cream cheese – 1.5 cups
Lemon juice – 2.5 tablespoon
Salt – a pinch
Dill (chopped) – 1 tablespoon
Mary Berry Salmon Mousse Instructions
Here are the steps you must follow for this dish:
Place water in a saucepan, then add gelatin
Let the items soften for about five minutes, then turn on the stove to low heat
Stir gently on low heat until all the gelatin mixes in the water
Take a bowl of a food processor and add salmon to it
Then add cream cheese and lemon juice
Start the machine to form a creamy mixture
Once a smooth texture appears, add salt to season
Let the machine continue running while you add gelatin to the mixture of the mousse
Blend again to form a flavorful mousse
Transfer the mousse to a bowl and wrap it with clingfilm
You can serve the starter as a dip by garnishing it with dill and serving it with crackers or bread
Pro Tips: Refrigerate the mousse for about two hours or until it becomes firm before serving
Nutritional Information
Calories – 242
Total Fat – 21.8 grams
Cholesterol – 74 milligrams
Sodium – 188 milligrams
Total Carbohydrate – 2 grams
Dietary Fiber – 0.1 grams
Total Sugars – 0.3 grams
Protein – 10.6 grams
Also Try: Salmon And Broccoli Quiche Mary Berry Recipe: A Quick and Healthy Weeknight Dinner Idea
FAQs
Here are the answers to the commonly asked questions about the Mary Berry salmon mousse recipe:
Is Sour Cream Better For The Recipe Or Cream Cheese?
You may use both items for making the mousse, but your first preference should be cream cheese. It will help you get the right thickness more easily. However, if you want to add more flavour to the mousse, sour cream will be a better option.
So the main item will depend on your personal preference. If you add cream cheese to the dish, you may serve it with crackers and sour cream separately. This will allow you to enjoy the best of both worlds.
How To Cook Salmon For The Mousse?
Preheat your oven to 200 degrees temperature and 400 degrees fan. Keep the gas level at six. Season some salmon fillets using salt and black pepper. You may add some lemon rind to the fish.
Place your fillets on a greased baking tray. Cook the item in the oven for 15 minutes. If you don't want to make this much effort for the mousse, you may also buy cooked salmon from the supermarket.
How To Store Salmon Mousse?
Storing salmon mousse in the fridge is a breeze because not much effort is necessary. You should take a glass dish and place the leftovers in it. Then, wrap the dish with plastic wrap or clingfilm.
You may even use an airtight container for this purpose. This will allow you to keep the item in the fridge for at least one week. Before serving again, you can allow the mousse to reach room temperature and then serve.
If you want to reheat the mousse before serving it again, it is best to use an oven. Preheating the tool to about 280 degrees will be good for reheating. However, a colder version or room temperature is better for serving if you want to retain the taste.