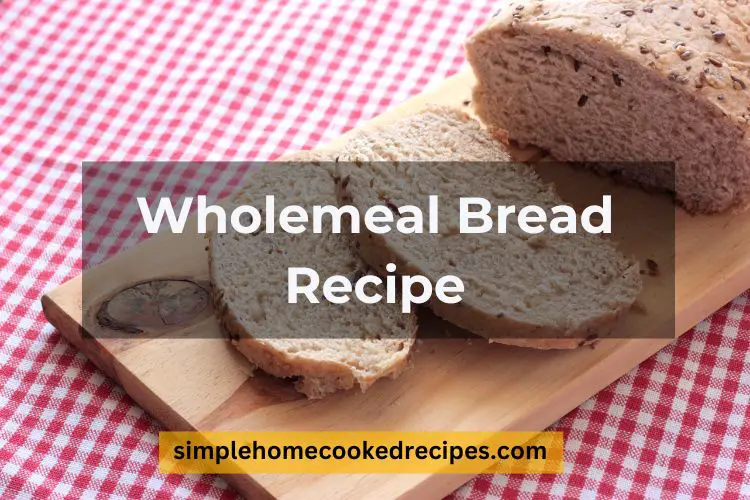 We want the best for our family, which is why it is crucial to create healthy items so the entire family can enjoy them. The Mary Berry wholemeal bread recipe is a healthy breakfast addition that will ensure you are eating more whole grains. You can also create this recipe with your kids so they can also have fun in the kitchen. 
Here is a detailed guide to this recipe. 
An Overview Of Mary Berry Wholemeal Bread Recipe 
The Mary Berry wholemeal bread recipe is a healthy option for the entire family that will create twelve servings. It will take you ten minutes to prepare the ingredients and an hour to cook, while it will take an hour and forty-five minutes for the bread to rise. So, make sure you set aside at least three hours for this. 
Details
Cooking time
1 hour 45 Minutes
Nutrition Facts
---
Amount Per ServingCalories123
% Daily Value *
Total Fat 1.9g

3

%
Sodium 196mg

9

%
Total Carbohydrate 21.7g

8

%

Dietary Fiber 3.8g

16

%
Sugars 0.6g

Protein 4.7g

10

%
---
* The % Daily Value tells you how much a nutrient in a serving of food contributes to a daily diet. 2,000 calories a day is used for general nutrition advice.
Ingredients 
75g white bread flour 
375g wholemeal bread flour
300ml warm water 
One tablespoon of olive oil 
One teaspoon of caster sugar 
One teaspoon of salt 
7g of fast-action yeast
Process To Make The Healthiest Mary Berry Wholemeal Bread Recipe
1. You must begin by mixing the dry ingredient together. Measure the wholemeal and white flour and put them together in a mixing bowl. 
2. Then, on one side of the bowl, add the yeast, while on the other side, add the sugar and salt. Then, add olive oil to the mix. 
3. Measure the warm water and make sure the temperature is correct so that it can work well with the yeast. You have to ensure it is not too hot, or that will lead to the yeast not activating. 
4. Make a well in the middle of your dry ingredients in the bowl. 
5. Gradually begin adding the water to the bowl and mix it all up. 
6. If your dough is a little dry at this point, then we recommend that you add some more water. You have to stop adding the water once your dough comes together. 
7. Start kneading the dough for five to ten minutes. 
8. Then, lightly oil a bowl and add your dough inside this bowl. Take out a cling film and use it to cover the bowl. Let it be for an hour or until the dough turns double in size. 
9. Now that the dough is ready, it is time to make the loaf. You can begin doing this by lightly oiling a loaf tin of two pounds. 
10. Then, create a work surface by lightly putting flour on it. Keep the dough on this surface and knock the air out of it. 
11. Make sure that you shape the loaf in such a way that it easily fits inside the loaf tin without any issues. 
12. The best way to do this is by creating a long cylinder out of the dough and then tucking the ends underneath.  
13. Roll the dough smoothly and then put it inside the tin. 
14. Cover the tin with a film and then keep it in a warm place for forty minutes until the size doubles. 
15. Preheat the oven to 180C or 200C. 
16. Bake the bread for at least an hour. The bread will be ready when it rises properly. 
17. Take it out of the tin and check the bottom by tapping it. If the sound turns out hollow, then it means it has baked properly. 
18. Keep the bread on a wire rack so that it can cool down properly.
Also Try: Mary Berry Soda Bread Recipe For The Best Breakfast
Pro Tip: Serve this bread with your favourite jam or tea to enjoy it in the best way possible. You can also spread some butter on it to enjoy with your breakfast. This healthy bread will be a treat for your entire family. 
Nutrient Information 
The Mary Berry wholemeal bread recipe will create twelve slices. Each slice will have 123 calories. Here is the remaining nutrient breakdown: 
Total Fat: 1.9g
Saturated Fats: 0.2g
Sugar: 0.6g
Carbohydrates: 21.7g
Dietary Fiber: 3.8g
Sodium: 196mg
Protein: 4.7g
Also Try: Delicious Homemade Turkish Flatbread Recipe: A Taste of Authentic Cuisine
Frequently Asked Questions
Here are some frequently asked questions about the Mary Berry wholemeal bread recipe:
How Can I Balance Out The Flavor In The Wholemeal Bread?
If you don't want the bread to taste like too much flour, then you can add a tablespoon of honey or brown sugar to the bread. Doing this will also provide the yeast with a boost to help your dough rise in the best way possible. Besides that, it will also balance out the flavour of the flour. 
You don't have to add standard sugar to your bread to achieve this. You can use these substitutes for the best results, and this will give a lift to your bread too. So, try this trick and see how it works for your wholemeal bread. 
Are Wholemeal And Wholewheat The Same Thing?
Yes, wholemeal and wholewheat are the same, and you can use these terms interchangeably. Both of them are made with whole grains and provide a healthier alternative to white bread. So, they mean the same thing, which is why it is also known as whole wheat bread. 
So, if you want to add more whole grains to your diet, then you can opt for this recipe. It will provide you with a healthy option that you and your family can enjoy for a long time to come. 
What Equipment Will I Need When Creating The Mary Berry Wholemeal Bread Recipe?
Here are some of the top items that you should keep with you before you begin creating this recipe. These include a digital scale, wire rack, measuring spoons and cups, mixing bowl, and a freestanding electric mixer if you don't want to mix with your hands. 
All of these are essential items that will help you accurately measure the ingredients. If you don't have a freestanding electric mixer, you can always use your hands to mix the dough. However, a mixer will make the process easier. 
How Do I Make The Wholemeal Bread A Little Less Dense?
If you want the wholemeal bread to stay less dense, then we recommend that you brush a little bit of melted butter on the top of your bread after baking. Doing this will keep the bread moist and soft. On the other hand, you can also add a dash of milk to the recipe. 
It will result in fluffier and softer bread that will also last longer in your kitchen. So, use these tips to create light and fluffy bread that will be a healthy option for all your meals. 
How Long Should I Knead The Dough For?
As a general rule of thumb, you can knead the wholemeal dough for six to eight minutes. The key is to ensure that the dough is soft and supple after you are done kneading it. On the other hand, if you are using a mixer, then put it on low speed and let it knead the dough for five to seven minutes. 
Again, regardless of the method you use, the consistency of the dough should be soft and smooth. Once it is like that, you will get the perfect bread texture. Then, you can enjoy the bread with anything you like.