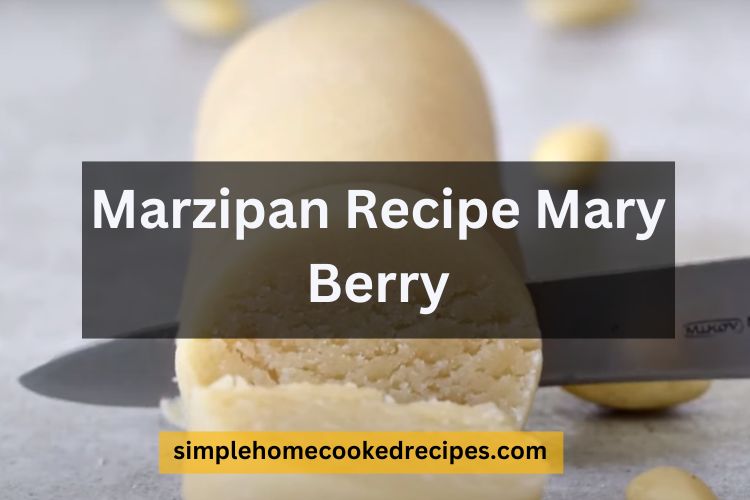 Marzipan is one of the most versatile mixtures that you can use for any dessert you like. These include pralines, cakes, cookies, truffles, and much more that will tantalize your taste buds. You can also use it to decorate cakes and other desserts so that they can look beautiful. 
Here is a quick and effective marzipan recipe Mary Berry.
An Overview Of The Marzipan Recipe Mary Berry 
The marzipan recipe will create more than ten servings. It will also take less than fifteen minutes to make, which is why it is a quick yet effective recipe. You can also create it beforehand and use it whenever you like.
Calories: 166kcal
Total Fat: 7.5g
Saturated Fats: 0.6g
Sugar: 21.5g
Carbohydrates: 24.1g
Dietary Fiber: 1.9g
Sodium: 0mg
Protein: 3.2g
Nutrition Facts
10 servings per container
---
Amount Per ServingCalories166
% Daily Value *
Total Fat 7.5g

12

%
Sodium 0mg

0

%
Total Carbohydrate 24.1g

9

%

Dietary Fiber 1.9g

8

%
Sugars 21.5g

Protein 3.2g

7

%
---
* The % Daily Value tells you how much a nutrient in a serving of food contributes to a daily diet. 2,000 calories a day is used for general nutrition advice.
Ingredients 
150g of caster sugar
150g of almonds (grounded)
50ml of honey 
20ml of water 
One teaspoon of pure almond extract 
Instructions
1. Take out your food processor and add the almonds inside it to create an almond meal. 
2. Then, take a saucepan, and heat water, sugar, and honey till the mixture is boiling. 
3. Pour the mixture inside the food processor and blend it all till the marzipan has a smooth consistency. 
4. Make sure the marzipan is warm so that you can create a log and wrap it in plastic. 
5. Then, let the marzipan cool down, and you can use it in any way you wish. 
Also try: Amazing Paradise Slice Recipe For Dessert Lovers
Nutrient Information 
This marzipan recipe Mary Berry will be adequate for around ten servings.
Calories: 166kcal
Total Fat: 7.5g
Saturated Fats: 0.6g
Sugar: 21.5g
Carbohydrates: 24.1g
Dietary Fiber: 1.9g
Sodium: 0mg
Protein: 3.2g
Pro Tip: You can also dip the marzipan in chocolate to coat it and create chocolate-dipped marzipans. In the same way, you can experiment with various flavors of marzipan to enhance this recipe. Just make sure you follow the right method so that you can get the perfect marzipan. 
Frequently Asked Questions 
Here are the most frequently asked questions about the marzipan recipe Mary Berry:
What Can I Use The Marzipan For?
You can use marzipan in many versatile ways. The best way to use them is as decoration pieces on various desserts, such as cakes. That is because you can shape the marzipan in any way you like and even dye it with food coloring. 
Besides that, you can also use marzipan for many candy and dessert recipes. Many people use them to fill truffles, chocolates, cookies, pralines, and much more. So, the possibilities for using marzipan are endless. 
What Does Marzipan Taste Like?
The main ingredient of marzipan is almond, which is why you will get an almond and nutty flavor from marzipan. Besides that, you will notice that the texture is chewy and soft. There are also varieties of it that have a bitter taste because some countries produce bitter almonds. 
So, if this flavor profile fits what you want from the marzipan, then make sure that you create this recipe. Once you do, it will give you use for a long time to come. 
How Do I Store The Marzipan In The Fridge?
The good thing about marzipan is that it lasts a long time in the fridge. You can keep the marzipan inside an airtight container with plastic wrap, and it will stay good for a month. On the other hand, you can also freeze the marzipan if you like. 
You must follow the same method to freeze the marzipan, and it will last in the freezer for three months. Be sure to use it before this time to get the best taste out of it.