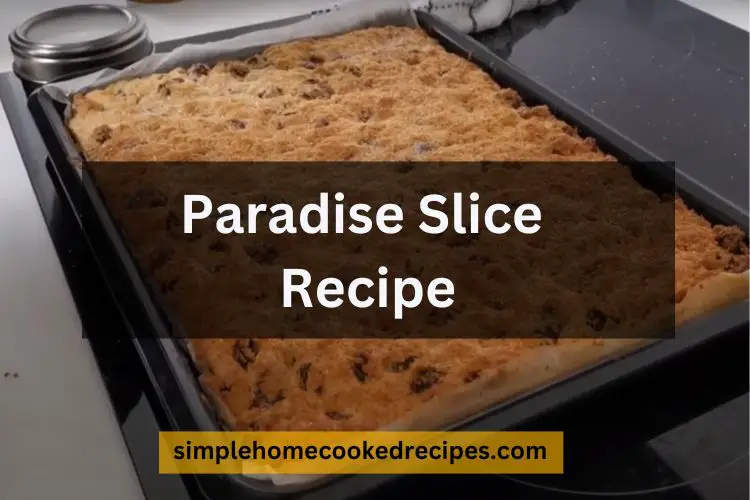 Paradise slice is an amazing sweet treat that you can serve as dessert after dinner or a snack at a tea party. The dish has a crispy base of the pastry with a soft inner sponge and filling to offer you a flavorful treat.
If you want to know how to make a paradise slice, you don't have to search any further. Here is an easy recipe to help you prepare this amazing sweet treat.
Overview Of Paradise Slice Recipe
A paradise slice is a great blend of fruited sweetness that all kids and adults love in the UK. The best thing about this Scottish item is that you can serve it to your guests within an hour. So it is also a great option if your friends or relatives show up unannounced for a meetup.
Preparing the ingredients will take about 30 minutes, while the cooking time will take additional 30 minutes. Within one hour, you can enjoy a serving of 16 to feed a large number of guests easily.
Nutrition Facts
16 servings per container
---
Amount Per ServingCalories282
% Daily Value *
Total Fat 17.7g

28

%
Cholesterol 53mg

18

%
Sodium 95mg

4

%
Total Carbohydrate 28.4g

10

%

Dietary Fiber 2g

8

%
Sugars 14g

Protein 4.5g

9

%
---
* The % Daily Value tells you how much a nutrient in a serving of food contributes to a daily diet. 2,000 calories a day is used for general nutrition advice.
Ingredients
Plain flour – 230 grams
Butter – 240 grams
Caster sugar – 155 grams
Egg – 2
Raspberry jam – 5 tablespoons
Glace cherries – 85 grams
Currants – 125 grams
Ground almonds – 155 grams
Instructions
Preheat your oven to 190 degrees centigrade, and grease a baking tray with some butter.
Take a large bowl and add plain flour to it.
Separate 120 grams of butter and use your fingers to rub it with flour. The overall butter and flour mixture should resemble breadcrumbs.
Add 35 grams of sugar to the bowl and stir it thoroughly.
Pour one lightly beaten egg into the mixture.
Mix the ingredients well to form a soft pastry dough.
Roll the pastry to the size of your greased baking tray.
Transfer the accurately sized pastry to the tray and push it into the edges.
Trim the pastry that is coming out of the tray from the edges.
Use a fork and push it in the dough slightly throughout the tray. This will create small holes to allow air to pass during baking.
Place greaseproof paper on the pastry and add some baking beans to it.
Blind-bake your dough for five minutes.
Remove the baking beans and greaseproof paper.
Spread raspberry jam on the pastry and keep it aside to prepare your filling.
Take a large clean bowl and add the remaining 120 grams of butter to it.
Add 125 grams of sugar to the bowl and cream it with butter to prepare a fluffy mixture.
Put one lightly beaten egg in the bowl and mix thoroughly.
Add quartered cherries, currants, and almonds to the mixture and combine them well to prepare a good filling.
Take a spoon to spread the filling evenly on the pastry with jam.
Bake for 30 minutes and allow it to cool.
Cut the paradise slice into equal pieces and serve it to your guests.
Pro Tips For The Chef
Make sure to soften the butter for filling before combining it with sugar.
If your cherries are in liquid, you must dry them first.
Also Try: The Mary Berry Tiramisu Trifle Recipe That Will Wow Your Guests : A Breakfast Essential You Need
Nutritional Information
Below is the nutritional value of this paradise slice recipe:
Total Calories – 282
Total Fat – 17.7 grams
Saturated Fat – 8.3 grams
Cholesterol – 53 mg
Sodium – 95 mg
Total Carbohydrates – 28.4 grams 
Dietary Fiber – 2 grams
Total Sugars – 14 grams
Protein – 4.5 grams
Frequently Asked Questions
Here are the FAQs for this paradise slice recipe:
How Long Does Paradise Slice Last?
You can store paradise slices for three days by keeping them in an airtight container. However, it is best to consume the item within the first two days to enjoy the best taste and texture.
Can I Refrigerate Paradise Slice For Cooling?
It is ideal to allow your paradise slice to cool on a wire rack before serving. However, you may not want to wait for long before serving the dessert. So you can also refrigerate the item for a few minutes.
Cooling on a wire rack is better because it will maintain the soft sponge of the dish. Keeping the item in a fridge may cause the sponge to become a bit dry.