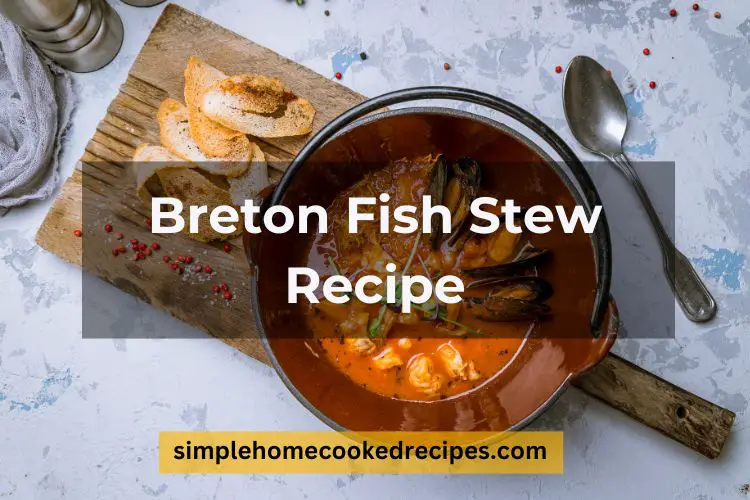 Fish stews are hearty meals. They make for a fulfilling dinner and can be enjoyed with home-baked bread. It is always a great idea to make fish stew when you have family over. Now, coming to the Breton fish stew, it's a bit special, you see. Since its part of French cuisine that became part of Britain, everyone has adapted the fish stew recipe a bit differently. I will give you my recipe that I have perfected over the years and my family seems to enjoy it to the fullest. 
Every time I make the Breton fish stew, I am guaranteed some clean plates. 
I personally like this recipe because it adds that fanciful element to regular old meals, yet is easy and quick enough that you do not need to empty out your pantry. It is, however, not very practical as you need a bunch of herbs. 
But then again all recipes have their pros and cons and I am only the messenger.
What Makes Breton Fish Stew Different from Regular Fish Stew 
Breton fish stew is of course made from a specific kind of Fish and the most unique feature about this stew is the cut of the fish. Usually, you would make the fish into little fillets and stew that in some kind of stock. But with Breton fish stew you need some kind of white fish, like cod or Haddock, you would slice the fish whole and stew it with vegetable stock. 
It can seem odd if you're not used to it but it makes for a much richer and flavorful stew. There's also a kick of wine, for those who dare. Okay, let's get you that recipe now.
Details
Prep. + Cooking time
35 Minutes
Nutrition Facts
6 servings per container
---
Amount Per ServingCalories238
% Daily Value *
Total Fat 7.9g

13

%
Cholesterol 111mg

37

%
Sodium 130mg

6

%
Potassium 899mg

26

%
Total Carbohydrate 16.6g

6

%

Dietary Fiber 2.3g

10

%
Sugars 4.2g

Protein 30.6g

62

%
---
Calcium

88

%
Iron

6

%
Vitamin D

64

%
* The % Daily Value tells you how much a nutrient in a serving of food contributes to a daily diet. 2,000 calories a day is used for general nutrition advice.
List of Ingredients
1 tbsp butter
450 g cod fish (I personally favor Cod over other white fish. But you can alter this) 
1 Large Onion
1 Shallot
1 clove garlic
1 stalk celery
1 3/4 litres vegetable stalk
2 bay leaf
2 springs of fresh thyme leaves
120 ml white wine
2 spring of parsley 
227 g baby potatoes
112 g Raw Squid 
450 g mussels
1 lemon
Instruments You May Need
This is optional but I make my stews in a cast-iron casserole. You can use just about any regular pot that is deep enough. But if you're someone who makes stews often, I'd invest in a cast-iron pot and set myself up for success every time.
Process
Okay, let's begin with the prep. Slice your onion, shallot, leek, celery, and ring of squid tube. Once you have done all the chopping start on the stew.
If you are choosing to put in wine (yes, it is optional, but it enhances the flavor. Highly recommended), pour in the wine first and let it reduce to about half. Make sure it's on a low flame.
Once your wine has reached the desired thickness, stir and mix in the vegetable stock slowly. Don't put it in all at once. Make sure to keep stirring so nothing burns or sticks. Let that reduce down to half and then add in the potatoes and other ingredients that you chopped. Add in your thyme and bay leaves and cook for another ten minutes.
Finally, add in the fish and cook for another 10 minutes and then add the mussels
Cook until the mussels have opened up and then cook for another 2-4 minutes.
Finally, take it off the flames and serve it hot with lemon wedges.
Also try: A Low-Calorie Corned Beef Stew For Health-Conscious People
FAQ
What should I serve with Breton Fish Stew?
The perfect pairing with Breton Fish Stew is warm bread
Can I store it and reheat it?
Absolutely! But, reheating the stew may make the consistency a bit different.
Conclusion
Try out the recipe and leave a comment for me. I encourage you to keep tasting the stew as you go so you can adjust the seasoning and make it to your taste. One serving is enough for 6 people, you can adjust the portions accordingly.