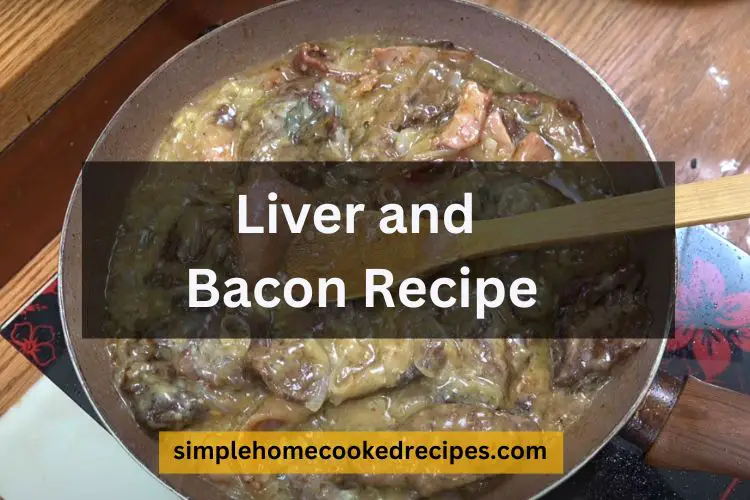 Liver and bacon in gravy is a hearty meal that will enlighten your taste buds and take you to a new realm. Some people love to have this meal in winter, while others enjoy it throughout the year.
If you're bored of your usual meals and want to try something new, this liver and bacon recipe is perfect for you. So let's dive into the specifics of making this tasty dish.
Overview Of Liver And Bacon Recipe
The best way to cook liver and bacon is by making them in an onion gravy. This will allow you to enjoy a meal that will satisfy your hunger. The best thing is that this recipe is quick, so you will not have to spend much time in the kitchen.
It will take you about 15 minutes to prepare the things for this dish. You will also have to spend about 20 minutes cooking the meal. So it will take you 35 to 40 minutes to make five servings of this dish. 
Details
Cooking time
35-40 Minutes
Nutrition Facts
---
Amount Per ServingCalories259
% Daily Value *
Total Fat 15.3g

24

%
Cholesterol 13mg

5

%
Sodium 564mg

24

%
Total Carbohydrate 6.8g

3

%

Dietary Fiber 1g

4

%
Sugars 2.5g

Protein 23.2g

47

%
---
* The % Daily Value tells you how much a nutrient in a serving of food contributes to a daily diet. 2,000 calories a day is used for general nutrition advice.
Ingredients
Sliced lambs' liver – 500 grams
Plain flour – 5 teaspoons
Butter – 30 grams
Sunflower oil – 2 teaspoons
Sliced onion – 2 onions
Bacon strips – 120 grams
Beef stock – 600 ml
Ketchup – 2.5 teaspoons
Salt – a pinch
Black pepper – a pinch
Liver And Bacon Recipe Instructions
Wash the liver using cold water and dry it well
Place three teaspoons of flour in a large bowl, along with salt and pepper
Put the liver in the same bowl and mix it to coat it with flour slightly
Take out a non-stick pan, add oil and melt 15 grams of butter in it
Use a tong to place slices of liver on the pan
Cook each side for two minutes on medium heat
Transfer the slices to a plate when they are light brown
Reduce the heat level and melt the remaining butter in the same pan
Add onions to the pan and cook for one minute while stirring
Place your bacon strips on the pan and cook them for five minutes
Add the remaining two teaspoons of flour to the pan while stirring
Pour beef stock into the pan and bring it to a simmering state
Add ketchup and stir the mixture to form a thick gravy
Return the lightly cooked liver to the pan and cook it in the gravy for four minutes
Continue stirring as the liver cooks before turning off the stove
Serve the piping hot dish to your guest with vegetables
Pro Tips For The Chef
Do not cook the liver completely in step six to avoid overcooking the slices when you return them to the pan later
Remove excess flour from the coated liver slices by tapping on them before adding them to the pan
Nutritional Information
Here is the nutritional value of our liver and bacon recipe:
Total Calories – 259
Total Fat – 15.3 grams
Saturated Fat – 4.1 grams
Cholesterol – 13 mg
Total Carbohydrates – 6.8 grams
Dietary Fiber – 1 gram
Total Sugars – 2.5 grams
Protein – 23.2 grams
Sodium – 564 mg
Also Read: How Can You Reheat Bacon and Keep The Crispy Texture Intact
Frequently Answered Questions
Here are some FAQs that will help you with this liver and bacon recipe:
What To Do If My Liver Tastes Bitter?
Many people who like to make liver and bacon often complain about the meat being bitter. This meat has a naturally bitter taste, but it is not as significant unless your taste buds are highly sensitive. If you find liver bitter, you should soak the slices in milk before cooking.
Placing the liver pieces in milk for about 1.5 hours will help you remove the bitter taste. Another reason why your liver slices may be too bitter is because of overcooking. So avoid changing the cooking time as per your preference when following this liver and bacon recipe.
What To Serve With Liver And Bacon?
Most people serve cooked green vegetables with their liver and bacon dish. However, the better option is mashed potatoes. This item allows the consumer to enjoy a heartwarming combination.
Mashed potatoes are also better if you want to make the portion more filling for the guests. Rice may also taste good with the thick gravy.