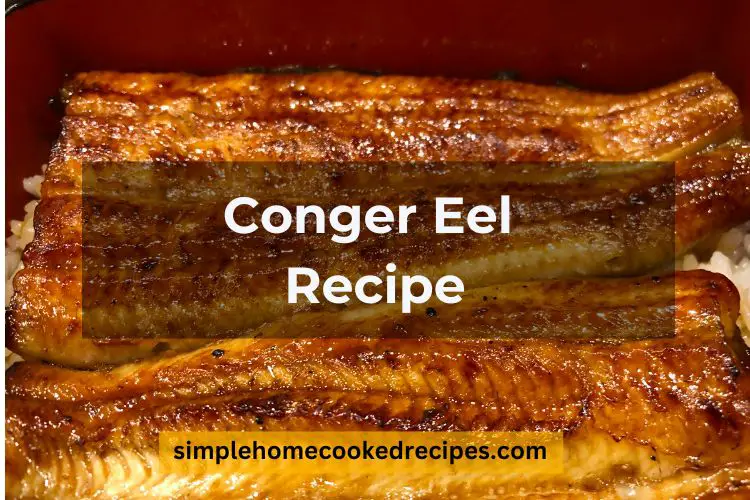 Conger eel is one of the largest species of eel you will encounter in the European oceans. It is firm with a meaty texture that will please your taste buds. The pork-like taste of this eel also offers an excellent meal.
If you want to know how to cook conger eel for your next lunch or dinner in the UK, you're in the right place. Here is everything you need to know.
Conger Eel Recipe Overview
Many people think conger eel is hard to cook because it is seafood, but that is not true. The difficulty level of this recipe falls under the easy category. It will take up to 30 minutes to prepare the ingredients and marinate your eel.
Meanwhile, it will take additional 30 minutes to cook the item to perfection. The best thing is that this conger eel recipe will help you enjoy a serving of five.
Nutrition Facts
---
Amount Per ServingCalories511
% Daily Value *
Total Fat 57.2g

88

%
Cholesterol 0mg

0

%
Sodium 0mg

0

%
Total Carbohydrate 4.4g

2

%

Dietary Fiber 0.4g

2

%
Sugars 0.6g

Protein 0.9g

2

%
---
* The % Daily Value tells you how much a nutrient in a serving of food contributes to a daily diet. 2,000 calories a day is used for general nutrition advice.
Conger Eel Recipe Ingredients
Steaks of conger eel – 1.5 kilograms
Lemon slices – 1.5 lemons
Lemon juice – ¼ cup
Black pepper – a pinch
Salt – a pinch
Parsley – 1 teaspoon
Garlic – 5 cloves
Thyme – a pinch
Breadcrumbs – 3 tablespoons
Olive oil – 300 ml
How To Cook Conger Eel
Place your conger eel steaks on a baking tray and season them using lemon slices, lemon juice, pepper, and salt
Leave the seasoned pieces for 20 minutes to allow proper marination
Preheat your oven to 350 degrees Fahrenheit
Apply 200 ml of olive oil on your steaks and bake them for at least 20 minutes
Place parsley and garlic cloves in a food mixer. Start the machine and make sure all pieces are well-chopped
Transfer the mixture to a medium bowl
Add breadcrumbs and thyme to the bowl
Mix all the ingredients properly
Take out the conger eel tray from the oven and apply the breadcrumb mixture to it
You should also pour the remaining 100 ml of olive oil on the steaks
Return the tray to the oven and bake for another 10 minutes before serving
Pro Tips For The Chef
If you're using fresh conger eel that you may have caught at sea, you can use the tail end for making stock
Adding some smoked paprika can enhance the dish's taste significantly
Nutritional Information
Here is the nutritional value of this conger eel recipe:
Total Calories – 511
Total Fat – 57.2 grams
Saturated Fat – 8.3 grams
Cholesterol – 0 mg
Total Carbohydrates – 4.4 grams
Dietary Fiber – 0.4 grams
Total Sugars – 0.6 grams
Protein – 0.9 grams
Sodium – 0 mg
Also Try: Mary Berry's Fish Pie Recipe That Every Seafood Lover Should Try
Frequently Answered Questions
Here are the answers to some FAQs about the conger eel recipe:
What Is The Best Item To Serve With Conger Eel?
It is often difficult for people to decide what to serve with seafood because not all things offer a good taste. The best item you can give to guests with this eel is roasted potatoes.
You may also serve white or red wine with conger eel because the meaty flavour pairs well with such beverages.
How To Get Conger Eel In The UK?
There are various ways to get conger eel in the UK. You may visit coastal fish markets to get the entire eel. This is not the best option if you don't want to spend hours skinning the fish and cutting it into steak pieces.
The good news is that many grocery stores sell frozen or freshly cut steak pieces of conger eel.
Is It Necessary To Bake Conger Eel?
The earlier conger eel recipe allows you to enjoy this item with a crispy crust. However, you don't always have to bake this seafood. Conger eel also tastes well if you grill it using a smoker or an electric grill.
You can also pan-fry the item for an excellent taste. Some people also make conger eel casserole or stew for a fulfilling meal.
What Is The Difference Between Regular And Conger Eel?
Conger eels are different from standard eels because they grow to a larger size. This seafood item also tastes better than other eels due to its meaty flavour. The texture of this species is also firmer.
Final Words
This is your complete conger eel recipe. It will not take you more than one hour to prepare and cook the dish. Most people eat this item in the winter to warm themselves easily.