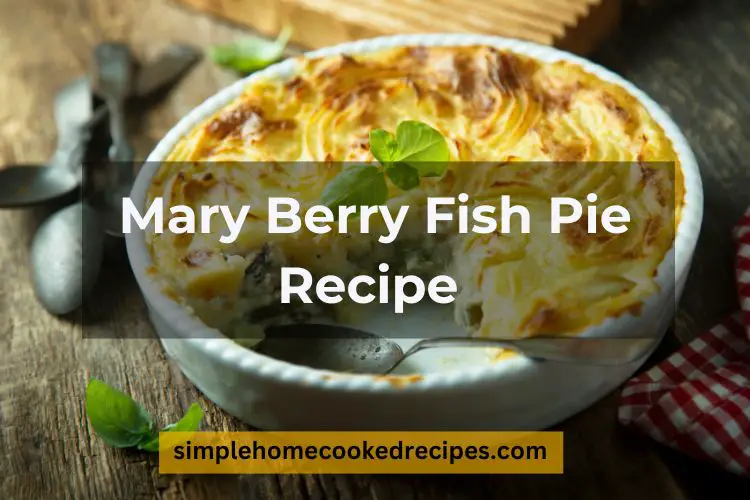 A fish pie is one of the most comforting and warm meals you can serve on a cold day. Many people associate this pie with their childhood, which is why it will take you back to the good old times. So, if you want a delicious yet simple Marry Berry fish pie recipe, you are in the right place.
Mary Berry Fish Pie Recipe Overview
The Mary Berry fish pie recipe will take thirty minutes to an hour to prepare. In addition, it will also take one to two hours to cook this recipe. You can set out between two and three hours to make this recipe.
It will serve six people, making it ideal for the entire family. A pro tip is that you make it at least thirty-six hours before you want to cook it and keep it in the fridge to save time.
Nutrition Facts
---
Amount Per ServingCalories526
% Daily Value *
Total Fat 23.6g

37

%
Cholesterol 0mg

0

%
Sodium 724mg

31

%
Total Carbohydrate 37.8g

13

%

Dietary Fiber 4.2g

17

%
Sugars 8.2g

Protein 40.2g

81

%
---
* The % Daily Value tells you how much a nutrient in a serving of food contributes to a daily diet. 2,000 calories a day is used for general nutrition advice.
Ingredients
For The Pie
75g butter
50g plain flour
One chopped onion
570ml milk
2 tbsp. lemon juice
Four hard-boiled chopped eggs
350g smoked haddock cut into half-inch pieces
350g of fresh haddock cut into half-inch pieces
Salt and pepper to taste
For The Pie Topping
50g butter
8 tbsp. hot milk
900g potatoes
Instructions
1. Preheat the oven to 200C.
2. Take a shallow dish of 2.5 litres and grease it with some butter.
3. Take a pan, turn on the high heat, and melt the butter while frying the onion for a few minutes. Lower the heat and then cover the onion to leave it to soften for fifteen minutes.
4. Remove the lid of the pan and increase the heat to eliminate any moisture from the pan.
5. Then, sprinkle the flour, add milk, and stir it well to allow the sauce to thicken until you have added all the milk.
6. Add raw fish, lemon juice, and salt and pepper to taste to cook for a few minutes as you keep stirring until the fish is cooked. Then, add the smoked fish.
7. Next, add the mixture to the baking dish and let it cool as you top it with the eggs.
8. It is time to make the topping by boiling the potatoes in a pan of salt water until they are tender.
9. Drain the water and let the potatoes stay dry in the pan. Then, add butter and milk as you mash the potatoes till they are free of lumps. Add salt and pepper to taste.
10. Spread the potatoes over the fish.
11. Bake it in the oven for thirty minutes or until the potatoes are golden-brown.
Also try: Delicious Conger Eel Recipe
Nutrient Information
The Mary Berry fish pie recipe will serve six people. Each serving will have 526 calories. Here is the rest of the nutrient breakdown:
Total Fat: 23.6g
Saturated Fats: 13.4g
Sugar: 8.2g
Carbohydrates: 37.8g
Dietary Fiber: 4.2g
Sodium: 724mg
Protein: 40.2g
Also Read: Easy Mary Berry Cheese And Onion Pie Recipe For Beginners
Frequently Asked Questions
Here are some FAQs about this fish pie recipe:
What To Serve With Fish Pie?
You can serve French baguettes, garlic bread, roasted asparagus, and minted greens with the fish pie. It will add a refreshing yet light taste to the dish.
Why Is My Fish Pie Sloppy?
Too much liquid in the potatoes can make them sloppy. So, make sure that they are dry once you mash them.