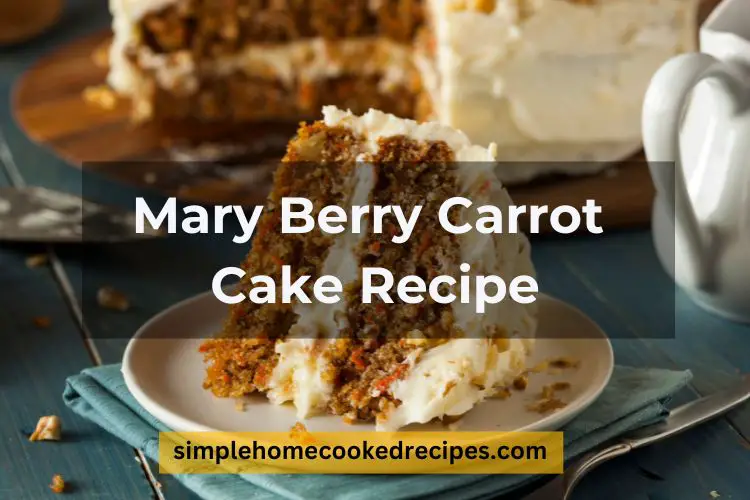 Carrot is a versatile vegetable that is not only used in savoury dishes. Instead, you can also use it in sweets and desserts to enhance the flavour of a dish. Carrot cake is one of the most beloved items that you can make throughout the year.
You can opt for traditional toppings, or you can serve them plain, depending on what you like. So, if you want a delicious Mary Berry carrot cake recipe, keep reading to find out.
Mary Berry Carrot Cake Recipe Overview
The Mary Berry carrot cake recipe will take you fifteen minutes to prepare and fifty minutes to bake. As a result, it will take you one hour and five minutes to create this recipe from scratch. The cake will easily serve ten people, and it is a beginner recipe.
You don't need to have any baking experience or knowledge to create this delicious cake. A pro tip is that we recommend you use low-fat soft cheese. It will drop down the calorie count and taste just as good.
Nutrition Facts
---
Amount Per ServingCalories443
% Daily Value *
Total Fat 27.7g

43

%
Cholesterol 178mg

60

%
Sodium 99mg

5

%
Total Carbohydrate 44g

15

%

Dietary Fiber 2.1g

9

%
Sugars 20.1g

Protein 7.5g

15

%
---
* The % Daily Value tells you how much a nutrient in a serving of food contributes to a daily diet. 2,000 calories a day is used for general nutrition advice.
Ingredients
For The Carrot Cake
250g self-rising flour
150ml of sunflower oil
150g of Muscovado sugar
2 tsp. baking powder
150g of grated carrots
60g of chopped walnuts
Two free-range eggs
Two ripe bananas
1 tbsp. whole milk
For The Topping
250g cream cheese
1 tsp. lemon juice
2 tsp. honey
Chopped walnuts and pistachios for garnish
Instructions
1. Take a cake tin of seven inches, lightly grease it, and line the bottom using a baking sheet.
2. Use a large mixing bowl, and combine all the ingredients for the cake. Ensure you thoroughly mix all these ingredients until they are completely blended.
3. Turn the mixture into the baking tin and level the surface using the back of a spoon or a spatula.
4. Preheat the oven to 180C. Then, bake the cake in it for fifty minutes or until you can see that the cake has risen and is firm to the touch.
5. Take out the cake and let it cook for a few minutes. Next, turn out the cake on a wiring rack and peel off the baking sheet.
6. Let the cake cool while you make the topping.
7. Mix the honey, cheese, and lemon juice together to make the topping.
8. Spread this topping on the cake and then sprinkle it with some pistachio and walnuts.
9. Keep the cake in the fridge till you are ready to serve.
Also Read: Mary Berry Scrumptious French Madeleines Recipe That Is Out Of This World
Nutrient Information
The Mary Berry carrot cake recipe will serve ten people. Each serving will have 443 calories. Here is the rest of the nutrient breakdown:
Total Fat: 27.7g
Saturated Fats: 4.7g
Sugar: 20.1g
Carbohydrates: 44g
Dietary Fiber: 2.1g
Sodium: 99mg
Protein: 7.5g
Frequently Asked Questions
Here are some frequently asked questions about our Mary Berry carrot cake recipe:
Why Don't We Use Butter In Carrot Cake?
Carrot cake uses oil as fat rather than butter. That is because the butter keeps the cake moist and ensures it lasts for a few days.
Why Is My Carrot Cake Dry?
It is important to balance the ratio of wet and dry ingredients in a carrot cake. Make sure that you are not adding too much flour to keep it balanced. On the other hand, don't add too much milk, or it will turn out wet.
Is Carrot Cake Healthy?      
Carrot cake is loaded with sugar and fats. Because of this, we recommend that you don't eat too much of it if you want to be healthy. However, one slice will not make much of a difference to your health goals.