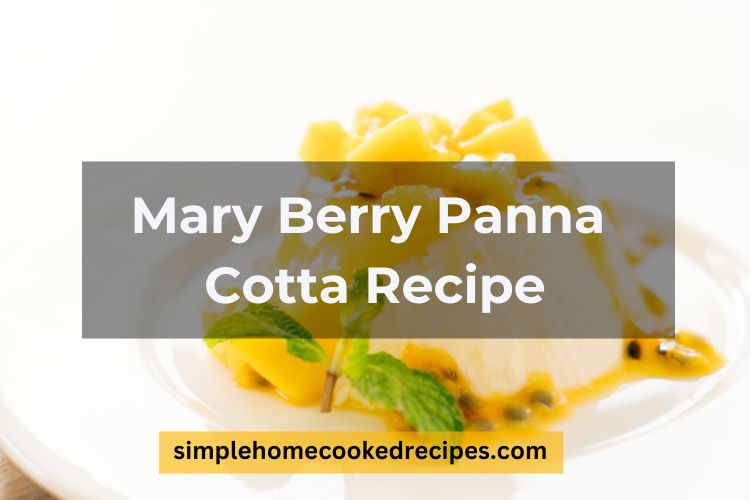 A panna cotta is a beautiful dessert that you can serve with all kinds of meals. The Mary Berry panna cotta recipe is ideal for completing a dinner or lunch meal. So, here is your complete guide for this delectable dessert.  
Mary Berry Panna Cotta Recipe Overview
The Mary Berry panna cotta recipe will take five minutes to cook and six hours to chill. You can make the recipe a day before you have to serve it. Our recipe will serve six people.
A pro tip we recommend is that you must turn the panna cotta out of the mould by dipping it in hot water for a few minutes until the panna cotta becomes loose. Then, you can take it out on a plate.  
Details
Prep +Cooking Time
15 Min.
Total Fat: 34.2g
Saturated Fats: 19.6g
Sugar: 21.9g
Carbohydrates: 47.2g
Dietary Fiber: 1.7g
Sodium: 125mg
Protein: 8.3g
Nutrition Facts
6 servings per container
---
Amount Per ServingCalories529
% Daily Value *
Total Fat 34.2g

53

%
Cholesterol 0mg

0

%
Sodium 125mg

6

%
Total Carbohydrate 47.2g

16

%

Dietary Fiber 1.7g

7

%
Sugars 21.9g

Protein 8.3g

17

%
---
* The % Daily Value tells you how much a nutrient in a serving of food contributes to a daily diet. 2,000 calories a day is used for general nutrition advice.
Ingredients
For The Panna Cotta
600ml single cream
Six sheets of gelatin leafs
75g caster sugar
300ml double cream
1 tbsp. vanilla extract
Some sunflower oil to grease
For The Sweet Salsa
6 tbsp. ginger syrup
200g of ripe pineapple flesh cut into half-inch pieces
75g ginger bulbs cut into quarter-inch pieces
Instructions
1. Take six metal pudding basins (moulds) and oil each of them with sunflower oil.
2. Turn the moulds upside down and place them on kitchen paper to drain excess oil.
3. Soak the gelatin leaves in a small bowl of cold water for five minutes or until it is soft.
4. Take a saucepan and pour the double and single cream inside the pan. Then, add the sugar and bring it to a boil as you stir the mixture to dissolve the sugar until it starts boiling. Remove from heat.
5. Take out the gelatin leaves from the water and squeeze them to eliminate excess water. Then, add them to the cream and keep stirring till the gelatin has dissolved.
6. Stir the vanilla extract into the mixture and pour it inside a jug.
7. Divide the mixture between the six moulds, and make sure you fill it to the top.
8. Let the mixture cool, and then cover it with a cling film.
9. Place them inside the fridge for at least six hours or overnight until they are firm to touch.
10. Make the salsa by mixing the ingredients in a bowl. Take out each panna cotta from the mould and spoon some salsa on each one.
Also Read: Delectable Manchester Tart Recipe Mary Berry For Your Next Event
Nutrient Information
The Mary Berry panna cotta recipe will serve six people. Each serving will have 529 calories. Here is the rest of the nutrient breakdown:
Total Fat: 34.2g
Saturated Fats: 19.6g
Sugar: 21.9g
Carbohydrates: 47.2g
Dietary Fiber: 1.7g
Sodium: 125mg
Protein: 8.3g
Frequently Asked Questions
Here are some FAQs about our panna cotta recipe:
How To Prevent Skin Forming On Panna Cotta?
You can cover each of the moulds in a cling wrap to prevent the skin from forming. It will ensure that your panna cotta has a perfect shape and texture.
How Long Does Panna Cotta Last In The Fridge?
The panna cotta will last ten days or more in the fridge. Of course, you have to wrap it properly to protect it from any outside elements.