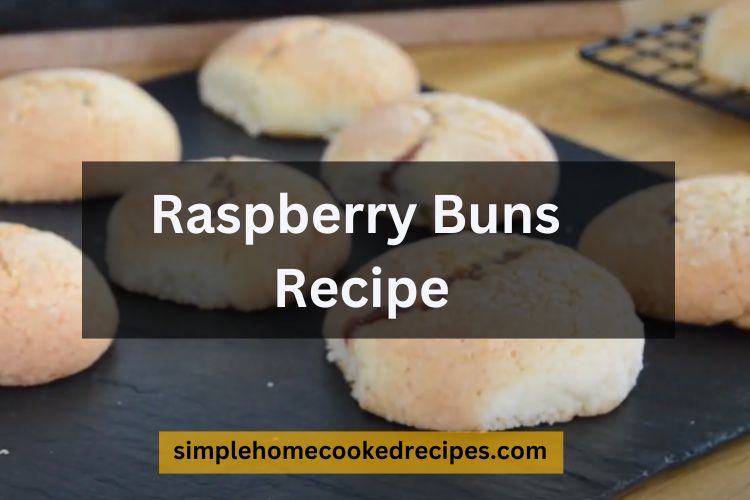 Raspberry buns recipe are easy to make because they don't require many skills or ingredients. Many people in the UK and other regions make these buns to serve as a snack during tea parties. You may also prepare this simple treat to satisfy your midnight cravings.
If you want to know more about making raspberry buns, you don't have to look any further. Here is a simple recipe that will help you make this item in less than an hour.
Overview Of Raspberry Buns Recipe
Most raspberry buns are filled with raspberry jam inside, but some people may not prefer them. You may like to add raspberry on top of the buns after baking them, or you may serve them with jam as a dip. Whatever the case, the process of making the buns remains the same.
It will take you about 20 minutes or less to prepare the ingredients. The cooking time will vary from 10 to 15 minutes. The best thing is this recipe will allow you to obtain 13 servings. 
Details
Cooking time
10-15 Minutes
Nutrition Facts
13 servings per container
---
Amount Per ServingCalories174
% Daily Value *
Total Fat 7.4g

12

%
Cholesterol 31mg

11

%
Sodium 66mg

3

%
Total Carbohydrate 25.1g

9

%

Dietary Fiber 0.5g

2

%
Sugars 11.1g

Protein 2.3g

5

%
---
* The % Daily Value tells you how much a nutrient in a serving of food contributes to a daily diet. 2,000 calories a day is used for general nutrition advice.
Ingredients
Self-raising flour – 220 grams
Butter – 110 grams
Caster sugar – 110 grams
Milk – 1 tablespoon
Salt – a pinch
Egg (medium-sized) – 1
Raspberry jam – 55 grams
How To Make Raspberry Buns?
Preheat your oven to 200 degrees Celsius.
Prepare the baking tray by greasing it slightly.
Add flour and salt to a medium or large bowl.
Cut butter into cubes and add to the bowl.
Rub the butter with flour using your fingers until the mixture achieves an appearance similar to breadcrumbs.
Add the caster sugar to the bowl and stir it well.
Make a well in the centre of the flour mixture to pour the egg into it.
Whisk the eggs a bit and mix the ingredients using a spoon.
Pour milk into the bowl and continue to mix.
Take a floured working board and place the dough mixture on it.
Knead the dough and make 13 balls of equal sizes.
Use your finger to depress the centre of each dough ball.
Add about one teaspoon of jam in the middle of every piece.
Pull the dough over from the sides to close the depression filled with jam.
Place the buns on a baking tray and glaze them with some whole milk.
Transfer the tray to the oven and bake for 10 to 15 minutes.
Take out the buns from the oven and shift them to a wire rack for cooling.
Let the raspberry buns reach room temperature before serving them with tea or eating plain.
Also Try: Delicious And Filling Mary Berry Cheese Scones Recipe
Pro Tips For The Chef
If you don't have self-raising flour, you can add plain flour to a bowl with 2.5 teaspoons of baking powder and 1.5 teaspoons of salt.
Cubes of butter are easier to rub in the mixture if they are cold.
Nutritional Information
Here is the nutritional value of this raspberry bun recipe:
Total Calories – 174
Total Fat – 7.4 grams
Saturated Fat – 4.5 grams
Cholesterol – 31 milligrams
Sodium – 66 milligrams
Total Carbohydrates – 25.1 grams
Dietary Fiber – 0.5 grams
Total Sugars – 11.1 grams
Protein – 2.3 grams
Frequently Asked Questions
Here are answers to some FAQs about raspberry buns:
How To Store My Raspberry Buns?
It is easy to store raspberry buns at room temperature by keeping them in an airtight container. You should eat the pieces within three to four days to avoid them from getting spoiled.
Why Do You Need To Glaze Raspberry Buns With Whole Milk?
Glazing mainly means using a brush wet with milk and applying it to the buns. This process will allow each piece to achieve a deep golden colour after baking.
Why Are My Raspberry Buns Dry?
Raspberry buns may feel a bit dry on eating if you use too much flour during the dough preparation. So avoid changing the measurements as per your preference. If you follow the earlier recipe metrics, your raspberry buns will never be dry.
How To Make My Raspberry Buns Softer?
Using a brush to apply some butter on your hot raspberry buns as soon as you remove them from the oven can help them remain soft. You should cover the buns with paper towels to retain the moisture content.