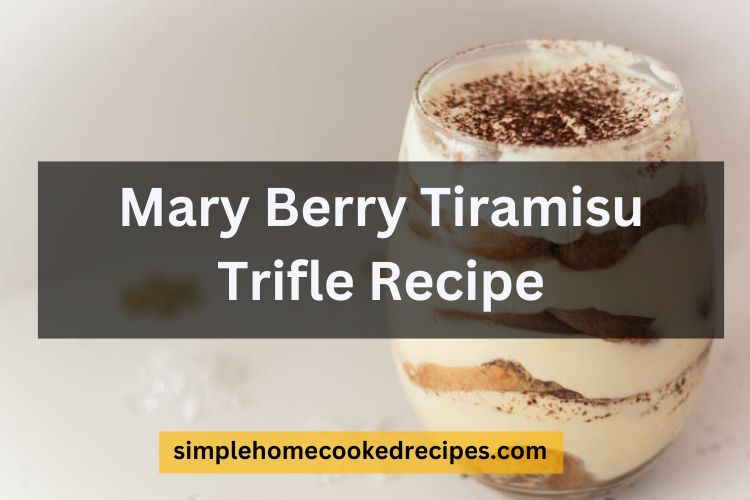 Are you looking for a new trifle recipe that will wow your guests at your next dinner party? Well, it doesn't get better than the Mary Berry tiramisu trifle recipe. It contains fruit, coffee, chocolate, and other items that will be full of sugary goodness. 
Here is the complete Mary Berry tiramisu trifle recipe you can create today. 
Mary Berry Tiramisu Trifle Recipe: What You Must Know 
The Mary Berry tiramisu trifle is perfect for all dessert lovers, as it will take an hour or two to prepare and less than ten minutes to cook. The recipe will create twelve delicious trifle pieces that you can serve your entire family. 
Tips: Make sure that you have a shallow trifle dish made of glass. We recommend that this dish should be at least three inches high and one inch in diameter. 
Nutrition Facts
---
Amount Per ServingCalories325
% Daily Value *
Total Fat 22.7g

35

%
Sodium 40mg

2

%
Total Carbohydrate 25.4g

9

%

Dietary Fiber 2.9g

12

%
Sugars 112.9g

Protein 4.6g

10

%
---
* The % Daily Value tells you how much a nutrient in a serving of food contributes to a daily diet. 2,000 calories a day is used for general nutrition advice.
Ingredients 
Trifle Ingredients
225g of mascarpone (full-fat)
75g of grated plain chocolate 
12 sponges of trifle (halved)
30ml of brandy 
425ml of strong coffee
One tablespoon of vanilla extract 
Six tablespoons of icing sugar 
575ml double cream
Fruit Ingredients
One tablespoon of corn flour 
475g frozen red berries 
45g of caster sugar 
Instructions
1. Begin by making the fruit. For this, you must take a saucepan, turn the heat on, and stir the caster sugar and red berries together. Keep on stirring until the sugar has completely dissolved.
2. Sieve your berries over a bowl. Make sure that you keep them whole and don't press on them. Then, put the liquid back inside the pan. 
3. Take out a small bowl, and mix two tablespoons of cold water with cornflour until you get a smooth consistency. Add this mixture to the saucepan and mix. 
4. Stir this mixture on medium heat until it is thick and boiling. 
5. Add the berries to the pan. Turn off the heat. Keep it on the side and let it cool. 
6. Begin making the trifle by taking a large mixing bowl and adding vanilla, sugar, cream, and mascarpone. Whisk it all together using an electric mixer until there are soft peaks. You must make sure that you don't mix it too much. 
7. Take a shallow dish and mix the brandy and coffee inside it. 
8. Take out half of the trifle sponges and soak them in the brandy and coffee. 
9. Use a glass dish and arrange the sponges on the base of this dish. Spread some of the mixture of cream on the top and sprinkle it with some grated chocolate. 
10. Take out the berries and create an even layer on the top. 
11. Keep the rest of the sponges in the brandy and coffee and create another layer. Add half of the cream on the top and then sprinkle all the chocolate that is left. 
12. Some of the mixtures will still be left. Make sure you add it to a piping bag and pipe a few blobs on the trifle's edge. Let it chill for an hour or two before you serve. 
Also Try: A Quick And Effective Marzipan Recipe By Mary Berry
Nutrient Information 
The Mary Berry tiramisu trifle recipe, will create twelve servings. Each serving will have 325 calories. Here is the breakdown of the remaining nutrients:
Total Fat: 22.7g
Saturated Fats: 14.1g 
Sugar: 12.9g
Carbohydrates: 25.4g
Dietary Fiber: 2.9g
Sodium: 40mg
Protein: 4.6g
Also try: Amazing Paradise Slice Recipe For Dessert Lovers
Frequently Asked Questions
Here are some frequently asked questions about the Mary Berry tiramisu trifle:
What Should I Serve With The Tiramisu Trifle?
If you want to complement the tiramisu trifle, then you can serve it with many things. For example, you can serve it with chocolate-coated almonds, a cup of coffee, fruits, chopped dry fruits, and much more.
How Long Will The Tiramisu Trifle Last In The Fridge?
The tiramisu trifle will last for four days inside your fridge. Make sure you serve it before this time. You can also make this a day before you plan on serving it to your guests. 
Can I Freeze The Tiramisu Trifle?
Yes, you can also freeze the tiramisu trifle if you want. We recommend that you wrap the glass dish in double layers of plastic wrap and one layer of foil. Keep it in the freezer, and it will last for three months.