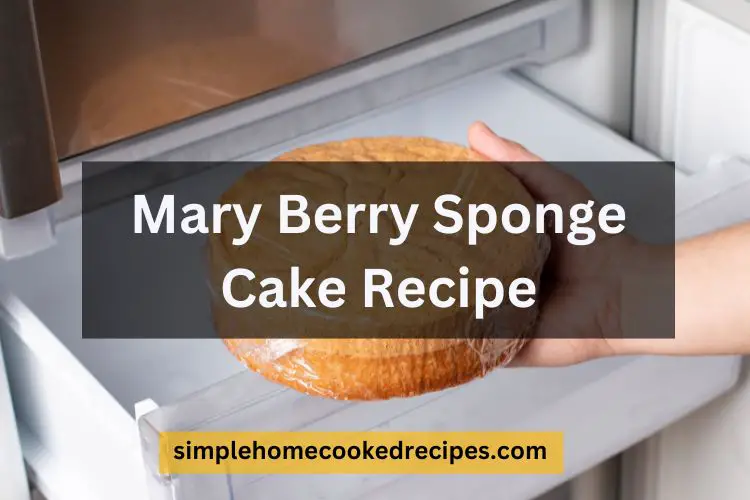 The Mary Berry sponge cake is a classic treat that many people love to have as dessert. You can also make this item for a tea party with friends.
If you want to learn how to make the Mary Berry sponge cake, you're in the right place. Here is a complete recipe to help you.
Mary Berry Sponge Cake Recipe Overview
The Mary Berry sponge cake is an elite dessert which you can serve with jam. You may also improvise the dish if you want to cover the cake in cream or other ingredients. The best part about this recipe is that it will offer you 12 servings.
It will take you 10 to 20 minutes to prepare the batter for the cake. The cooking time will take 15 to 30 minutes. So you can easily enjoy your Mary Berry sponge cake within one hour.
Nutrition Facts
12 servings per container
---
Amount Per ServingCalories301
% Daily Value *
Total Fat 17.2g

27

%
Cholesterol 96mg

32

%
Sodium 132mg

6

%
Total Carbohydrate 34.4g

12

%

Dietary Fiber 6.3g

26

%
Sugars 19.3g

Protein 4g

8

%
---
* The % Daily Value tells you how much a nutrient in a serving of food contributes to a daily diet. 2,000 calories a day is used for general nutrition advice.
Ingredients
4 eggs
230 grams of caster sugar
230 grams flour
2.5 teaspoons baking powder
230 grams of butter (room temperature)
Instructions
Preheat your oven to 180°C with fan temperature at 160°C and gas 4
You must also line two cake tins using silicone paper or a baking sheet to rub butter slightly on the inner side of the tins and the base
It is also necessary to place circular baking paper on the bottom
Put the eggs into a large bowl and add sugar, flour, baking powder, and the rest of the butter to the same bowl
Mix all the ingredients using a wooden spoon or an electric beater
The properly made mixture must be able to drop from a spoon easily
Pour the mixture into the two tins evenly
Use a spatula to smooth out the batter in the tins
Bake the cakes in your oven for about 25 minutes
The cakes will be cooked when the surface turns golden brown and is springy to touch
Allow your cakes to cool in tins for five minutes
Transfer the slightly cooled cakes to a cooling rack by using a palette knife
Assemble the cakes by keeping them on top of one another. Remember the bottom cake must be upside down, while the second cake must be top-side up
Pro Tips
Applying jam on one of the cakes and making a sandwich will offer a better taste to the dessert
Keep a damp cloth under your bowl when mixing the contents to keep it in a firm position
Nutrient Information
Here is the nutritional value of your Mary Berry sponge cake recipe:
Total Calories – 301
Total Fat – 17.2 grams
Cholesterol – 96 milligrams
Sodium – 132 milligrams
Total Carbohydrate – 34.4 grams
Protein – 4 grams
Frequently Asked Questions
Here are the answers to the frequently asked questions about the Mary Berry sponge cake recipe:
Can You Freeze Mary Berry Sponge Cakes?
You can easily store your Mary Berry sponge cake by freezing it after it has cooled completely at room temperature. It is necessary to wrap the cake in clingfilm or a freezer bag. Remember to wrap the cakes separately if you have not applied any cream or filling to them.
Typically, you can freeze the plain sponge cakes for up to six months. Remember to defrost the pieces completely before applying filling on them the next time you want to enjoy the cake.
How To Prevent Wire Rack Marks On Your Mary Berry Sponge Cake?
Place a clean paper towel over your tin and put your hand on it. Turn the tin to the opposite side so that the cake comes out on the towel in your hand.
You can transfer the cakes to the wire rack now so that no marks develop. Allow the cake to cool completely before serving.
What Makes The Mary Berry Sponge Cake Moist And Fluffy?
The primary ingredient that will make your cake moist and fluffy is baking powder. It is a necessary item when cooking baking goods. So you should not avoid this ingredient at any cost.
If you don't have baking powder in your home, you can take the same quantity of baking soda and add a teaspoon of vinegar to it before adding it to the cake batter. This will also ensure that your sponge cake is fluffy and soft to eat.