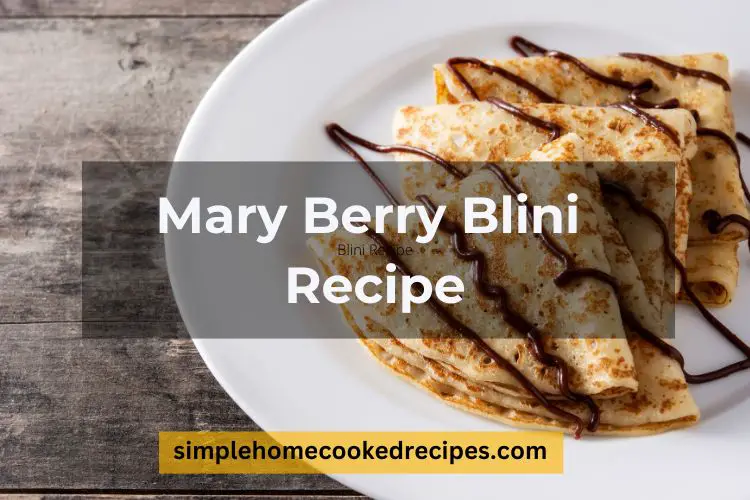 Blini is a type of Russian or European pancake that many people love to eat as a starter. You can use the blini as a base with various toppings for a better taste.
If you interested to learn Mary Berry Blini Recipe with different toppings to keep it as a starter at your next dinner party, you're in the right place. Here is a complete recipe guide to help you.
Overview Of Mary Berry Blini Recipe
Blinis are easy to make because their base itself does not take time. Of course, you may have to invest a few more minutes if you want to enjoy these thin pancakes with toppings. The following recipe is perfect for a dinner party because it will yield you 60 blinis.
Besides that, every topping will be able to fill 20 blinis. So you can offer guests and family members more variety. Preparing the ingredients for this dish will take about 20 to 30 minutes.
Meanwhile, the cooking time ranges from 10 to 30 minutes, depending on how fast you are making the blinis and filling them.
Nutrition Facts
60 servings per container
---
Amount Per ServingCalories15
% Daily Value *
Total Fat 0.6g

1

%
Cholesterol 8mg

3

%
Sodium 21mg

1

%
Total Carbohydrate 1.9g

1

%

Dietary Fiber 0g

0

%
Sugars 0.1g

Protein 0.6g

2

%
---
* The % Daily Value tells you how much a nutrient in a serving of food contributes to a daily diet. 2,000 calories a day is used for general nutrition advice.
Ingredients For Blini
140 grams of flour
¾ teaspoons of baking soda
3 eggs
120 ml milk
3 teaspoons of fresh snipped chives
1.25 tablespoons of oil
Pinch of salt
Pinch of grounded black pepper
Ingredients For Feta Topping
100 grams of peas
1 chopped banana shallot
1 tablespoon of mayo
50 grams of crumbled feta cheese
5 sliced small, sliced radishes
Ingredients For Chilli Prawn Topping
2.5 tablespoons of chilli sauce
1 teaspoon of grated ginger
20 cooked prawns
3.5 tablespoons of cream cheese
1.5 tablespoons of snipped chives
Ingredients For Vegan Topping
2 tablespoons of lemon zest
10 cherry tomatoes cut in half
10 black olives cut in half
Instructions For Blini
You must add the flour and baking soda to a large bowl
Make a well in the bowl's centre to add the eggs and add milk to the bowl
Whisk the items properly to form a mixture
Add chives to the batter with salt and pepper for seasoning
Stir the mixture again to mix the new ingredients
Heat oil at the medium flame in a pan
Add teaspoons of the batter in the pan in a circular shape to make small pancakes
Cook the blinis for one to two minutes or unit you have small bubbles on the batter's surface
Once the first side is cooked, flip the blini and cook the other side for one to two minutes
Keep the cooked blinis on a wire rack for cooling
Instructions For The Toppings
Feta Topping
Cook the peas and banana shallots in a pan using boiling water for 3 to 4 minutes
Drain the cooked items in a new bowl without any water and season them using mayo and a pinch of salt or pepper
You must mash the items to form a puree-type topping mixture
Add the filling to 20 blinis accordingly
Finally, put feta cheese and radish pieces on every blini
Chilli Prawn Topping
Mix chilli sauce and ginger in a bowl
Add prawns to the bowl with a pinch of salt
Spread the cream cheese evenly on 20 blinis
Add the prawn mixture to the blini and cheese base
Top the starter with some chives
Vegan Topping
Add the olives and cherry tomatoes to a small bowl
Pour the lemon zest into the bowl and mix the vegetables
You may also add some salt and pepper for taste
Add the vegan topping to the remaining blinis
Pro Tips
Avoid making the blinis too thick by taking too much batter in one teaspoon
You should cut the blini horizontally from the middle if it's too thick to make it thinner and increase the number of pancakes
Nutrient Information
The nutritional value of each blini without any toppings is stated below:
Total Calories – 15
Total Fat – 0.6 grams
Cholesterol– 8 milligrams
Total Carbohydrates – 1.9 grams
Total Sugars – 0.1 grams
Protein – 0.6 grams
Sodium – 21 milligrams
Also Read: Classic Mary Berry Sponge Cake Recipe That Will Leave You Asking For More
Also Read: Mary Berry Scrumptious French Madeleines Recipe That Is Out Of This World
Frequently Answered Questions
How To Keep Blinis Warm?
Some people worry about the blinis getting cold while making the toppings. To avoid the issue, you can make all the toppings first and then cook the blinis. You can also keep the pancakes warm by putting them in aluminum foil and keeping them in the oven until the party.
How Are Blinis Served?
You can serve blinis cold or hot, depending on your personal preference. Plain blinis are mainly served with melted butter, fruits, or berries. You can also add fillings to the blini to offer more taste.