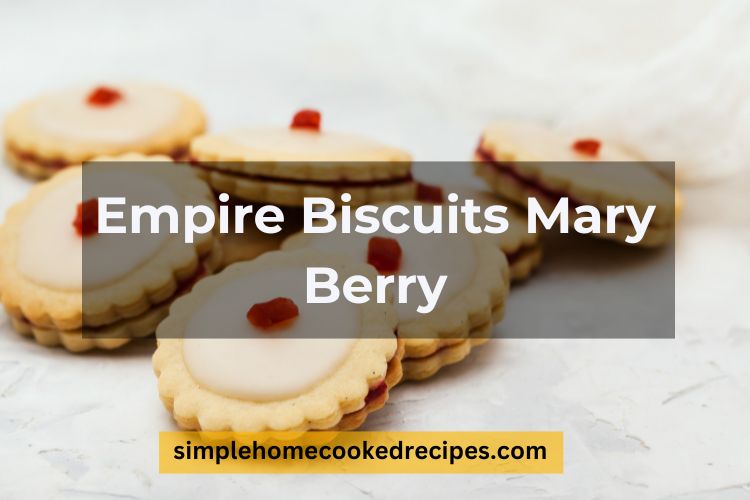 Empire biscuits are famous sweet biscuits that have a high demand in Scotland. Of course, people in many other countries also like to have these shortbread biscuit sandwiches for a light snack.
You may even want to make these treats for your children on Christmas or other holidays. Whatever the case, an easy recipe will make your cooking experience worthwhile. So, here is an original empire Mary Berry biscuits recipe for your sweet tooth.
Overview of Empire Biscuits Mary Berry Recipe
This Mary Berry recipe will allow you to make the biscuits without spending much time. The best part is that you can also bake these shortbread sandwiches with your kids by giving them easy tasks such as decorating the pieces.
Typically, this recipe is designed to make six servings. The preparation time will take about 30 minutes. Meanwhile, you can bake the biscuits within 10 to 20 minutes, depending on the number of batches.
The primary thing to remember is that it will not take more than one hour to make Mary Berry empire biscuits.
Nutrition Facts
6 servings per container
---
Amount Per ServingCalories384
% Daily Value *
Total Fat 25g

39

%
Cholesterol 78mg

26

%
Sodium 174mg

8

%
Total Carbohydrate 37g

13

%

Dietary Fiber 0g

0

%
Sugars 0g

Protein 3.9g

8

%
---
* The % Daily Value tells you how much a nutrient in a serving of food contributes to a daily diet. 2,000 calories a day is used for general nutrition advice.
Ingredients
180 grams of softened butter
175 grams of plain flour
50 grams of icing sugar
50 grams of corn flour
Raspberry jam
6 cherries
Instructions
Preheat your oven to 180C with a fan temperature of 160C and gas 4. Remember to line a baking tray with parchment paper
Add the flour and corn flour into a large bowl with icing sugar and butter
Use your hands to mix the ingredients and form a dough
Add a bit of flour to your working surface and roll the dough on it
You must achieve a 0.5 cm thickness when rolling the dough
Use a circular cookie cutter to cut 12 pieces from the dough and place them on the baking tray
Place the baking tray in the oven to allow the biscuits to bake for ten minutes or just before a golden brown appearance is achieved
Allow your biscuits to cool on a wire before decorating them
Lay six pieces in front of you and spread raspberry jam on each one of them
Get the other six pieces to make six biscuits sandwiches
For decoration, you can mix some icing sugar with water and sprinkle it on the cookies
Add the cherry on the top of each biscuit once you've spread the icing
Pro Tips
To prevent the dough from sticking on your rolling pin, you can place baking paper on your worktop
Typically, you should use a cutter of 8 mm thickness for creating the cookie discs, but you may also opt for a smaller cutter to get more biscuits from one batch
Nutrient Information
Here is the nutritional value of the Mary Berry empire biscuits recipe:
Total Calories – 384
Total Fat – 25 grams
Total Carbohydrate – 37 grams
Total Sugars – 8.3 grams
Protein – 3.9 grams
Sodium – 174 milligrams
Also Read: Mary Berry Macaroons Recipe For A Delicious Light Snack
Frequently Asked Questions
Here are the answers to the frequently asked questions about Mary Berry empire biscuits:
Why Do My Mary Berry Empire Biscuits Go Soft?
Many people follow the exact recipe while making Mary Berry empire biscuits, but they may still face issues such as softening of the biscuits after cooling. Remember this problem indicates that your cookies are undercooked or have too much liquid.
The latter issue occurs when you add water to the mixture while forming the dough. So avoid adding ingredients that are not mentioned in the recipe to enjoy a good crispy texture even after cooling.
Stretching the dough while cutting it may also cause the Mary Berry empire biscuits to lose some of their shapes. This can affect the biscuit's ability to remain crispy. So be sure to avoid stretching the dough during cutting or when transferring it to the baking tray.
How To Keep Mary Berry Empire Biscuits From Becoming Soggy?
Mary Berry empire biscuits can become soggy if you don't store them properly. Typically, you should leave the biscuits at room temperature for one or two days. This will allow them to retain their crispiness and taste.
Of course, you must cover the biscuits with aluminum foil and keep them in an airtight container. You can also wrap the empire biscuits using cling film and place them in a plastic bag. These methods will prevent your biscuits from becoming dry and soggy.
You can also store the biscuits for about one week in the fridge. Ideally, it is better to finish freshly baked biscuits within one or two days to enjoy the best taste.
What Is The Best Flour For Making Mary Berry Empire Biscuits?
Many types of flours are present on the market, which may confuse you. Remember that plain flour is the best for making different biscuits such as Mary Berry empire biscuits. The ingredient will allow the dough to rise well during baking and help the biscuits be dense.
Some people may also tell you that all-purpose flour is better for making biscuits. Remember that all-purpose and plain flours are the same thing, so you should not get confused when the terms are interchanged. You can get any branded flour as long as it has plain or all-purpose labelling.
Should You Brush Empire Biscuits With Butter Before Baking?
It is a typical practice to brush biscuits before baking them in the oven. However, this step is mainly performed for those biscuits that must turn golden brown during baking. You don't need your empire biscuits to have such an appearance, so you can skip this step.
Of course, you can still apply melted butter to your empire biscuits to make them crispier. A pastry brush can be used for slightly greasing the cookies. Whether you want to apply butter on your empire biscuits before baking depends mainly on your personal preference.
Final Words
This is your complete Mary Berry empire biscuits recipe for sweet cravings. You can use icing sugar for decorating the pieces, but other ingredients can also be used. Of course, raspberry jam is a must for making traditional empire biscuits.