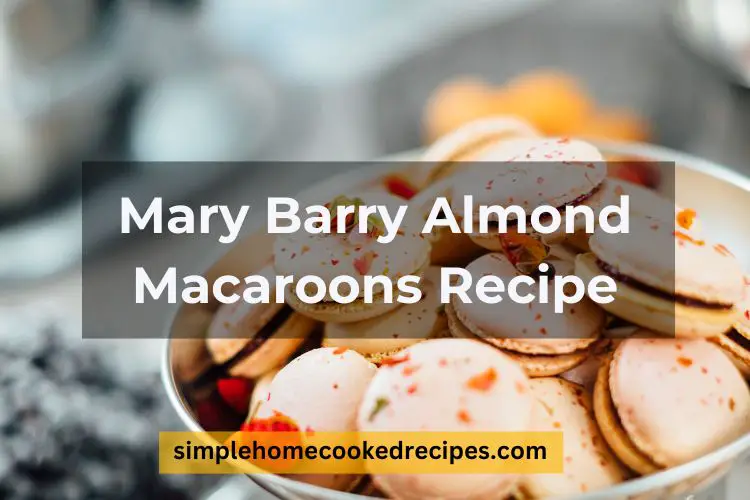 Are you a sweet tooth looking for some of the best desserts to satisfy your cravings? If you are, then you can create the famous almond macaroons recipe by Mary Berry. These macaroons will prove to be incredibly delicious and serve your guests well.
Here is the complete Mary Barry Almond Macaroons recipe to help you create some delicious macaroons.
Mary Barry Almond Macaroons Recipe Overview
The Mary Berry Almond macaroons recipe will serve forty people. The preparation time is between one and two hours. Besides that, the cooking time can vary between half an hour to an hour.
That is why you need to carve out time to create this delicious recipe for your party, dinner, or event. You can also store these macaroons to consume later. A pro tip is to make the macaroons ahead of time and then create the filling before you have to serve them for a fresh taste.
Nutrition Facts
---
Amount Per ServingCalories100
% Daily Value *
Total Fat 4.3g

7

%
Cholesterol 78mg

26

%
Sodium 4mg

1

%
Total Carbohydrate 14.8g

5

%

Dietary Fiber 0.6g

3

%
Sugars 13.8g

Protein 1.4g

3

%
---
* The % Daily Value tells you how much a nutrient in a serving of food contributes to a daily diet. 2,000 calories a day is used for general nutrition advice.
Ingredients
For The Macaroons
175g of icing sugar
175g of caster sugar
175g of ground almonds
4 separated large eggs
4 tbsp. of cold water
Red food colorings
1 tsp. of almond extract
For The Filling
150g of sifted icing sugar
90g of soft butter
Raspberry jam
Instructions
1. Begin the process by lining two large baking trays with a baking sheet.
2. Combine the almonds and icing sugar inside a bowl and set them aside.
3. Take a stainless steel pan, and add the water and caster sugar. Heat them gently on low flame, and keep stirring until the sugar dissolves.
4. Bring the water to a boil and let it boil for a few minutes without mixing until the syrup is clear and shiny with a creamy consistency. Take a thermometer to check the temperature, and it should be 110C. Remove from heat and leave the water to cool.
5. Put two of the egg whites inside a bowl and beat it with an electric whisk on high speed until it is stiff, but it should not be dry.
6. Then, gradually pour in the sugar syrup in a steady stream as you beat constantly until you have a shiny consistency.
7. Add the remaining two egg whites to the sugar and almonds and mix it to create a thick paste.
8. Pour in the almond extract and stir enough food coloring to make it pink. Add a tablespoon of the shiny sugar and egg mixture to beat it well. Then, add the remaining mixture until the pink is even, and make sure that you don't over-mix it as that will lead to a runny mixture.
9. Fill the mixture inside a piping bag and pipe forty small rounds, each of them around 2.5cm on the baking tray. You can also use a spoon for this.
10. Set these rounds aside for an hour until there is a skin on top.
11. Bake in the oven at 150C for around twenty-five minutes until the top is glossy and firm. Be sure to turn the oven off and let the macaroons cool for an hour. Transfer them to a wire rack and let them cool.
12. Make the filling by creaming the butter and half the icing sugar in a bowl until you beat it till it is fluffy and pale.
13. Beat the remaining sugar one at a time until the mixture has a smooth consistency.
14. Then, use a small palette knife to spread some jam and buttercream on the bottom of the macaroons.
15. Sandwich the macaroons together and serve.
Nutrient Information
The recipe will create forty macaroons. Each macaroon will have 100 calories. Here is the rest of the breakdown:
Total Fat: 4.3g
Saturated Fats: 1.4g
Sugar: 13.8g
Carbohydrates: 14.8g
Dietary Fiber: 0.6g
Sodium: 4mg
Protein: 1.4g
Also Read: Mary Berry Macaroons Recipe For A Delicious Light Snack
Frequently Asked Questions
Here are some frequently asked questions about the Mary Berry almond macaroons recipe:
Are Macaroons Difficult To Make?
Yes, it can be a little challenging to make macaroons for the first time. That is because you need to follow the instructions accurately and not overmix any of your ingredients. Besides that, you must ensure that the tops don't crack to get the perfect macaroons.
Do I Need To Let The Macaroons Rest Before Baking?
Yes, you must let the piped macaroons rest before you bake them. That is because it will allow them to bake well with a cracked yet soft top. As the rest of the macaroons, they should not be tacky.
What Is The Right Texture For Macaroons?
Perfect macaroons will have an overall chewy texture with a slight crunch as you bite through them. Besides that, the shell should protect the filling on the surface. So, be sure to make sure you get this texture when you are creating the Mary Berry almond macaroons recipe.