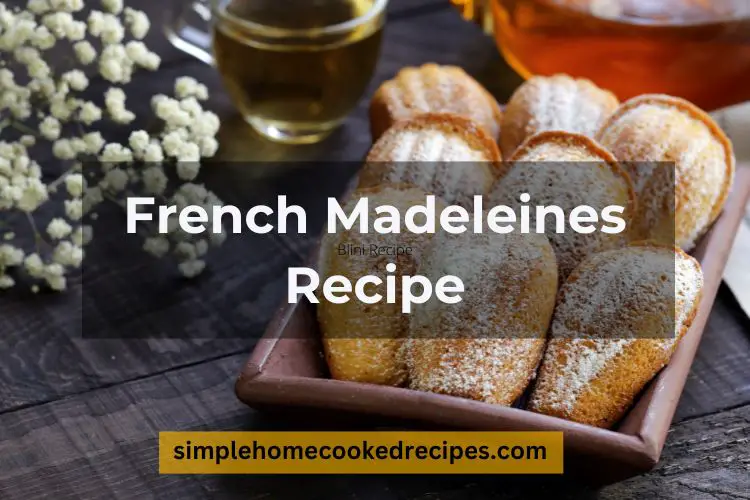 It is no secret that Mary Berry recipes can help you make various delicious main courses, desserts, and snacks. Of course, you may not want to buy a huge cookbook for one recipe. Luckily, you don't have to worry about that with our help.
If you want to make French Madeleines the Mary Berry way, you're in the right place. Here is a complete recipe for this dessert straight from Mary Berry's baking book.
Mary Berry French Madeleines Recipe Overview
French Madeleines are moist cakes with a thin crispy outer shell for better taste. The lemony taste can help you indulge your sweet tooth without making much effort. Remember the following recipe will allow you to make 25 to 30 Madeleines in one batch.
The best part is that the preparation time for this recipe is less than 30 minutes. Meanwhile, it can take 1 to 1.5 hours to bake cakes from the entire batter. Of course, you save some time if you decide to save some of the baking mixtures for another day.
Another thing you must remember is to buy a Madeleine tray for baking the cakes. This dessert requires you to buy a special tin to ensure the same pattern and texture as the standard French Madeleines.
Nutrition Facts
30 servings per container
---
Amount Per ServingCalories75
% Daily Value *
Total Fat 4.3g

7

%
Cholesterol 29mg

10

%
Sodium 0mg

0

%
Total Carbohydrate 8.3g

3

%

Dietary Fiber 0g

0

%
Sugars 4.7g

Protein 1.2g

3

%
---
* The % Daily Value tells you how much a nutrient in a serving of food contributes to a daily diet. 2,000 calories a day is used for general nutrition advice.
Ingredients
140 grams of butter
3 large eggs of the free-range category
140 grams of caster sugar
140 grams of flour (self-raising)
0.5 teaspoon of baking powder
1 lemon's grated rind
Instructions
Preheat your oven to 220°C with the fan at 200°C and gas 7
Grease your Madeleine tray and then dust it with some flour
Take a small pan for melting the butter and let the melted item cool a bit
Add the eggs and caster sugar into a large bowl to whisk them until a pale mixture is formed
Sift your self-raising flour into the bowl with the grated rind and baking powder. Be sure to fold in the mixture gently
Pour half your melted butter around the bowl's edges and fold inwards
Repeat steps five and six with your leftover flour and butter
Once the mixture is ready, take some batter into a spoon and pour it into the molds on your Madeleine tray
Bake the batter in your oven for about 8 to 10 minutes or until the cakes rise well with a golden shell
Transfer the cakes from the tray to a cooling rack by taking them out using a knife
Grease and flour the tray again to bake the rest of the mixture in the same manner
Also Read: A Creamy and Savory Tiramisu Cake Recipe By Mary Berry
Pro Tips
Shake the Madeleine tray after dusting it with flour to remove excess of it
Adding a bit of honey will help you make the cakes moister and contribute to a pleasant aroma
Nutrient Information
The Mary Berry French Madeleine recipe has the following nutritional value per serving:
Total Calories: 75
Total Fat: 4.3 grams
Cholesterol: 29 milligrams
Total Carbohydrates: 8.3 grams
Total Sugars: 4.7 grams
Protein: 1.2 grams
Also Read: Classic And Irresistibly Delicious Rock Cakes Mary Berry Recipe
Also Read: Rhubarb Cake Mary Berry Recipe
Frequently Asked Questions
Here are the answers to the frequently asked questions about the Mary Berry Madeleines recipe:
How To Prevent Madeleines From Sticking To The Tray?
Some people do not grease their trays well, which is the cakes may stick to the pan during the baking process. Of course, you may be doing everything right but the item may still stick to the tray. In such a case, you should use softened butter to enjoy a hassle-free experience.
Use a pastry brush to lightly grease the Madeleine tray's crevices with softened butter. This will ensure that the cakes do not stick to the tins and can be taken out easily. The ingredient also helps to achieve a more golden shell.
Can You Freeze Madeleines For Storage?
Many people make Madeleines for their large families, but you may not have many mouths to feed. If you intend to consume the extra cakes slowly, you can easily freeze them to improve their shelf-life. After cooling the Madeleines properly, you can freeze them for about one month.
The best way to freeze Madeleines is by wrapping them in wax paper and aluminium foil. You should place the wrapped cakes in an airtight container for better storage. Remember to allow the Madeleines to thaw completely before serving them the next time after unfreezing.
How Do You Keep Madeleines Crispy?
Another common issue that some cooks face while making Madeleines is a non-crispy texture. The cakes may be crispy after baking, but they may lose that texture after being at room temperature for a few hours. Luckily, the problem is easily solvable by improving your storage methods.
Store your Madeleines in glass containers with an airtight mechanism to keep them crispy after baking. Be sure to avoid plastic jars or boxes for storage because they soften the cakes. Placing a paper towel at the container's bottom will also get rid of excess fat and keep the Madeleines crispy.
What Type Of Knife Should You Use To Take Out Madeleines From The Tray?
The best way to take out Madeleines from the tray is by using a knife so that you don't ruin the cakes. However, you must only use a palette knife for this purpose because of its supportive shape. Using your standard kitchen blades will cause you to break the cakes while removing them from a tray.
A palette knife is mainly used by artists for painting a blank canvas. However, they are equally useful for removing baking goods from closed trays easily. The best part is that your Madeleines will not suffer any damage because of the palette knife.
How Do The French Eat Madeleines?
Most French eat Madeleines with tea because the cake may be dry for some people. A beverage also enhances the dessert's taste and allows you to enjoy a more fulfilling snack. Remember that the shell of the Madeleines is primarily the base, so you should eat the cakes by keeping the hump side up.
Of course, some people also eat plain Madeleines to enjoy the lemony taste in the best way. You may also apply a cream to your cakes if you prefer to enjoy a sweeter taste.