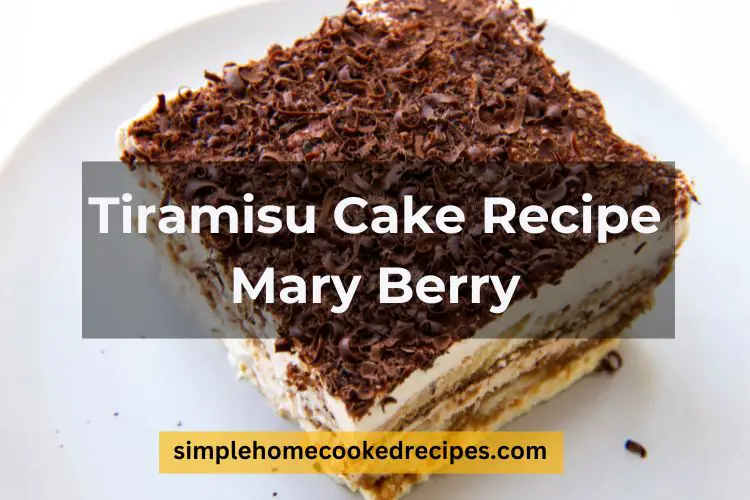 The tiramisu cake recipe by Mary Berry is a great way to serve your guests some delectable desserts. It is served in individual tumblers so that everyone can enjoy their own tiramisu cake. If you are looking for an easy tiramisu cake recipe Mary Berry, you are in the right place.
Here is your complete guide to a delicious tiramisu recipe.
Tiramisu Cake Recipe Mary Berry Overview
The tiramisu cake recipe from Mary Berry will take you between one and two hours to prepare. The best part about this recipe is that there is no cooking time. It will also serve between four and six people.
A pro tip is that you must give the sponge fingers a good dunk in the brandy and coffee mixture. It will ensure that the fingers absorb all the flavour making your tiramisu even more delicious.
Nutrition Facts
6 servings per container
---
Amount Per ServingCalories382
% Daily Value *
Total Fat 24.8g

39

%
Sodium 47mg

2

%
Total Carbohydrate 20.6g

7

%

Dietary Fiber 0.4g

2

%
Sugars 9.8g

Protein 5.2g

11

%
---
* The % Daily Value tells you how much a nutrient in a serving of food contributes to a daily diet. 2,000 calories a day is used for general nutrition advice.
Ingredients
250g full-fat mascarpone cheese
125ml strong and cooled coffee
300ml of double cream
6 tbsp. brandy
50g grated dark chocolate
4 tbsp. sifted icing sugar
2 tsp. vanilla extract
Instructions
1. Take 50ml of the double cream and mascarpone into a large mixing bowl and keep whisking until you reach a smooth consistency.
2. Gradually add the remaining cream and keep whisking until you see soft peaks forming when you remove the whisk. Make sure that you don't mix too much, or it will turn out to be thick.
3. Mix the icing sugar and vanilla extract.
4. Take another bowl and combine the brandy and coffee.
5. Break six sponge fingers and dip them in the brandy and coffee mix. Then, arrange these sponge fingers at the base of the tumbler.
6. Next, spoon half of the double cream and cheese mixture on the top while you level it.
7. Break the remaining six sponge fingers and soak them in the brandy and coffee mixture.
8. Add the layer of cream, and spoon it to make sure it is level.
9. Let it chill in the fridge for a few hours.
10. Sprinkle some chocolate before you serve the tiramisu cake at room temperature.
Also Try: Mary Berry's Coffee Cake Recipe
Nutrient Information
The Mary Berry tiramisu cake recipe will serve between four and six people. Each serving will have 382 calories. Here is the rest of the nutrient breakdown:
Total Fat: 24.8g
Saturated Fats: 15.5g
Sugar: 9.8g
Carbohydrates: 20.6g
Dietary Fiber: 0.4g
Sodium: 47mg
Protein: 5.2g
Frequently Asked Questions
Here are some frequently asked questions about the tiramisu cake recipe Mary Berry:
What Can I Use In Tiramisu Instead Of Mascarpone?
If you don't want to use mascarpone cheese, you can always mix some cream cheese, whipping cream, and sour cream. It will mimic the smooth texture of the mascarpone with great flavour.
How Many Hours Does Tiramisu Need To Set?
We recommend that you let the tiramisu set for at least six hours or overnight. You can also make this a few days ahead before you want to serve, as it will last for a week in the fridge.