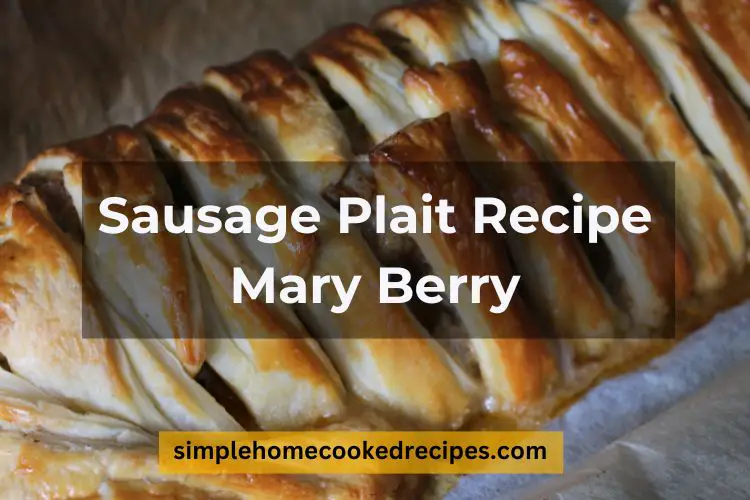 The Mary Berry sausage plait recipe is a great alternative to the filo pastry pie that you can easily make at home. It will surely satisfy all your savoury cravings. Here is the complete recipe you can follow.
Sausage Plait Recipe Mary Berry Overview
It will take you fifteen minutes to prepare the ingredients and 45 minutes to bake the pastry. Because of this, it will take you a total of an hour to create this recipe. The recipe is easy to make and it will serve six people.
A pro tip we would recommend is to prepare the baking dish eight hours ahead and then cook before serving. You can also cook four hours ahead and then reheat in the oven to serve.
Nutrition Facts
6 servings per container
---
Amount Per ServingCalories250
% Daily Value *
Total Fat 7.4g

12

%
Cholesterol 0mg

0

%
Sodium 311mg

13

%
Total Carbohydrate 25.2g

9

%

Dietary Fiber 1g

4

%
Sugars 0.7g

Protein 5.8g

12

%
---
* The % Daily Value tells you how much a nutrient in a serving of food contributes to a daily diet. 2,000 calories a day is used for general nutrition advice.
Ingredients
1 small finely chopped leek
5oz of baby spinach
A knob of butter
1 crushed garlic clove
2oz of pork sausages
50g of melted butter
4 sheets of filo pastry
1 tbsp. of sesame seeds
Instructions
Start by preheating the oven. The ideal preheating temperature for this recipe is around 220C. Next, take an 8-inch cake tin and grease the sides so that the cake doesn't stick to it.
Then take a saucepan and melt a small piece of butter in it. Add in leak and let it fry. Gradually decrease the heat and cover the sauce pan with a lid. You will see that after some time the leek will become softer.
In the next step you have to add more vegetables like spinach and garlic in the sauce pan. Turn up the heat and let it fry. Stop when you think that spinach has started to wilt. 
Transfer the mixture from the saucepan to a bowl and let it cool down.
Now add sausages to this bowl. Make sure the skin has been removed off the sausages and that you only have sausage meat left. Use black pepper for seasoning.
Mix all the vegetables and the sausages.
In the next step you have to brush the phyllo pastry sheets with melted butter. The sheets should then be stuck together in two layers.
Now take the sausage and vegetable mixture and roll it in the phyllo sheet. This will make it look like a big sausage.
Now swirl this big sausage roll followed by small amounts of butter brushed on the top of the roll. If you want, you can also sprinkle sesame seeds on the roll.
Once baked, cut it up and serve it.
Also Read: Mary Berry's Sweet Banana Bread Recipe To Enjoy With Your Afternoon Tea
Nutrient Information
This sausage plait recipe will serve six people. Each serving will have 250 calories. The rest of the nutrients include:
Total Fat: 14.4g
Saturated Fats: 7.4g
Sugar: 0.7g
Carbohydrates: 25.2g
Dietary Fiber: 1g
Sodium: 311mg
Protein: 5.8g
Also Read: Mary Berry Macaroons Recipe For A Delicious Light Snack
Frequently Asked Questions
Here are some frequently asked questions about the Mary Berry sausage plait recipe:
How Can I Reheat The Sausage Plait?
You can reheat it in the microwave. However, if you want it to remain crispy, you can reheat it in the oven on a baking tray.
How To Ensure That The Sausage Plait Is Crisp?
Ensure the temperature of the oven is accurate when you bake. It will help you get a crispy texture.