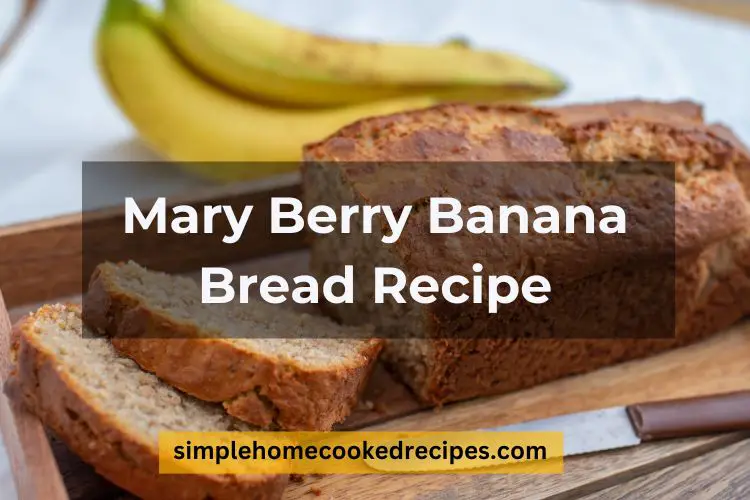 If you are looking for an authentic recipe to make banana bread, then who better to ask than the great Mary Berry herself? Over the years, Mary Berry has shared some amazing recipes for a range of different foods, and fortunately, Banana bread recipe is one of them. 
Are you planning to bake banana bread for yourself and your family? Well then, we have the complete recipe for you.
Mary Berry Banana Bread Recipe Overview
Banana bread can be baked in many different ways, but the recipe shared by Mary Berry gives it a unique touch. It has a soft texture with just the right amount of crunch. The dark chocolate chips add an exquisite flavour to the bread and also make it look more presentable.
The best thing about this recipe is that it is extremely easy and only takes about 30 minutes to 1 hour to cook. Don't forget to get a loaf tin to make the bread.
Details
Prep + Baking time
30 -60 Min.
Nutrition Facts
1 servings per container
---
Amount Per ServingCalories259
% Daily Value *
Total Fat 12.9g

20

%
Cholesterol 40mg

14

%
Sodium 28mg

2

%
Total Carbohydrate 36.8g

13

%

Dietary Fiber 3.4g

14

%
Sugars 21.9g

Protein 3.9g

8

%
---
* The % Daily Value tells you how much a nutrient in a serving of food contributes to a daily diet. 2,000 calories a day is used for general nutrition advice.
Ingredients
Banana (Ripe and Peeled) – 5oz (1 Piece)
Milk – 1 to 1.5 tablespoons
Flour – 4oz
Butter 2.5oz
Baking Powder – ¾ teaspoon
Caster Sugar – 3.5oz
Bicarbonate of Soda – ¾ teaspoon
Dark Chocolate Chips – 60 grams
Egg – 1 piece
Dark Chocolate (For decoration purposes)- 60grams
Instructions For Mary Berry Banana Bread Recipe
The first thing you have to do is set up the oven to the right heat settings. The oven should be preheated to a temperature of 160C.
Now take a 500g loaf tin and line it with a nonstick baking parchment. Don't forget to grease the tin before you place the parchment.
Peel the banana and place it in a bowl. Mash the banana and add the rest of the ingredients in the same mixing bowl. The best way to smoothen the mixture is to use an electric hand whisk. Use the hand whisk to beat the mixture until it has a smooth texture.
Add the dark chocolate chips and transfer the mixture to the loaf tin. Make sure the top is levelled. This will give your banana bread an ideal loaf shape.
Now place the tin in the oven and let it bake for around 45 minutes. 
When the 45 minutes are completed, take the bread out and let it cool for 10 minutes. Then carefully take it out from the loaf tin and place it on a wire rack to cool down further.
Your Banana bread is ready at this point; however, Mary Berry also uses chocolate to decorate the banana bread.
Take a piece of chocolate and place it in a heat-proof bowl. You have to melt this chocolate, but the way to do it is by placing this heat-proof bowl over a pan with simmering water in it. The bowl should not be in contact with the simmering water.
Keep stirring until the chocolate has completely melted.
Pour this melted chocolate into a piping bag and use it to decorate the top of the banana bread loaf.
Slice and serve the delicious bread. The banana bread baked by following this recipe can serve around eight people.
Pro Tip
You can add more flavour to your banana bread by adding dried fruits, nuts, cocoa or peanut butter to it.
Nutritional Value
Total Calories: 259
Total Fat:  12.9g
Saturated Fat: 7.8g
Cholesterol: 40mg
Sodium: 28mg
Total Carbohydrates: 36.8g
Dietary Fiber: 3.4g
Total Sugars: 21.9g
Protein: 3.9g
Frequently Asked Questions
Why Does My Banana Bread Feel Damp In The Center?
This happens when bakers use more bananas than what is mentioned in the recipe. You should always use the number of bananas mentioned in the recipe; otherwise, your banana bread will feed damp and undercooked from the centre. This is a very common mistake that first-time bakers make.
Can I Follow This Recipe If I Want To Bake A Bigger Loaf?
Yes, you can follow the same recipe for a bigger loaf of banana bread, but you will need a bigger loaf tin. You will also have to adjust the ingredients based on the size of the bread you want to bake. The recipe mentioned above is for eight servings. If you want to service 16 people, then you can double all the ingredients and use a loaf tin that is double in size. Make sure to adjust all ingredients accordingly; otherwise, your banana bread will come out undercooked.
How Long Does The Banana Bread Last?
At room temperature, the banana bread can last for four days; however, it should be wrapped in parchment paper to keep it moist. It can last over a month if it is kept in the refrigerator.
Can I Use Moldy Bananas In The Banana Bread?
Bananas can sometimes go bad if they aren't stored properly. They start getting moldy, which not only affects the taste of the fruit but also becomes inedible. You should never use a moldy banana for baking banana bread. It will ruin your entire baking experience and also cause your banana bread to have an unpleasant taste.
Can Banana Bread Get Moldy?
Yes, if you don't store your banana bread properly, then after a few days, green or white-coloured mould will start growing on it.
How Can I Store My Banana Bread?
The best way to store the banana bread is to put it in the refrigerator. If you don't want to put it in the refrigerator, then place it in an air-tight container and let it stay outside. However, it should be noted that at room temperature, the bread will only be good for four days, even if it is placed in an air-tight container.
How Do I Know That My Banana Bread Is Done?
When the banana bread starts to turn brown and the mixture has risen up, then you can check it with a toothpick. When you take the toothpick out and see that it has some of the mixture content on it, then that means the bread needs a few more minutes in the oven; however, if the toothpick comes out clean, then your banana bread is done.
Which Oven Rack Is Best For Baking Banana Bread?
The Centre rack of the oven is the ideal rack to bake banana bread.