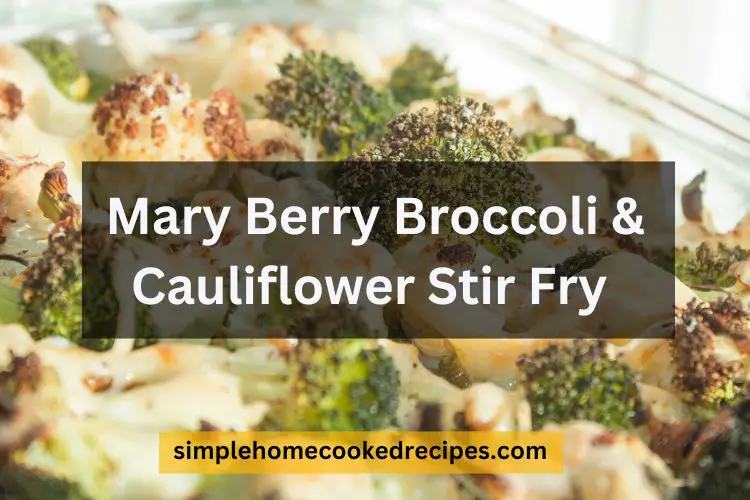 Many vegetarians don't have the luxury to order dishes from a restaurant every day because of the lack of options and high prices. You may also want a simple snack to keep you full during the day before a proper dinner.
The Mary Berry broccoli and cauliflower stir fry is an excellent vegan recipe for a light snack. It will offer you rich nutrients without spending much time in the kitchen.
So here is a simple Mary Berry everyday broccoli and cauliflower stir fry recipe.
Mary Berry Everyday Broccoli And Cauliflower Stir Fry Overview
The Mary Berry everyday broccoli and cauliflower stir fry is a good dish if you're tired of having boiled vegetables daily. The recipe allows you to enjoy crunchy broccoli and cauliflower. You may also season the dish with black pepper or chilli flakes for a spicy taste.
An excellent thing about this recipe is that its preparation time is 5 to 10 minutes, depending on how fast you cut the vegetables. Meanwhile, the cooking time is 10 to 15 minutes. The best part is that this recipe will offer you a good serving enough to feed eight to ten people.
Nutrition Facts
8 servings per container
---
Amount Per ServingCalories88
% Daily Value *
Total Fat 5.7g

9

%
Cholesterol 0mg

0

%
Sodium 38mg

2

%
Total Carbohydrate 9.6g

4

%

Dietary Fiber 0g

0

%
Sugars 6.5g

Protein 1.7g

4

%
---
* The % Daily Value tells you how much a nutrient in a serving of food contributes to a daily diet. 2,000 calories a day is used for general nutrition advice.
Ingredients
2 small cauliflowers
2 small heads of broccoli
4 tablespoons olive oil
4 sliced banana shallots
4 crushed garlic cloves
3 tablespoons runny honey
Pinch of salt
Pinch of black pepper
Instructions
Cut the cauliflowers and broccoli into small florets
Heat oil in a wide frying pan and add shallots to it
Stir fry the shallots for 4 minutes at high heat
Add the other vegetables to the frying pan and stir fry for 4 more minutes
Once a golden-brown appearance is achieved, place a lid on the pan and decrease the flame
Cook for another 3 minutes and then remove the cover
Increase the flame to high heat and fry for a few more minutes
Remove the vegetables when they have softened but still have some crunchy texture
Season the vegetables with salt, pepper, and honey
Pro Tips
You can use the leftover stalks and leaves from the vegetables to make soup some other day instead of throwing them away
Remember to use two wooden spoons to stir fry the broccoli and cauliflower evenly by tossing them around the pan
Nutrient Information
Here is the nutritional value of this Mary Berry broccoli and stir fry recipe:
Total Calories – 88
Total Fat – 5.7 grams
Cholesterol – 0 milligrams
Sodium – 38 milligrams
Total Carbohydrate – 9.6 grams
Total Sugars – 6.5 grams
Protein – 1.7 grams
Also Read: Salmon And Broccoli Quiche Mary Berry Recipe: A Quick and Healthy Weeknight Dinner Idea
Frequently Asked Questions
Here are the answers to the frequently asked questions about Mary Berry broccoli and cauliflower stir fry recipe for vegans:
Why Is Mary Berry Broccoli And Cauliflower Stir Fry Soggy?
Many beginners making broccoli and cauliflower stir fry end up getting soggy vegetables instead of crunchy ones. This happens because of a common mistake of overcrowding the ingredients in your pan. You can resolve this issue by using a wide pan and keeping the different vegetables slightly apart.
Another reason behind soggy stir fry is using too much oil. You should avoid changing the recipe measurements because of your estimations. Typically, you must use enough oil to fry the vegetables without completely immersing them in the oil.
Following these tips will offer your vegetables a crunchy texture instead of a soggy one. You should also ensure your pan is large while being wide.
Which Oil Is Not Suitable For Making Mary Berry Broccoli And Cauliflower Stir Fry?
The primary thing you must avoid when making Mary Berry broccoli and cauliflower stir fry is extra virgin olive oil. Remember this oil is different from standard or refined olive oil.
Most vegans use this extra virgin oil for cooking vegetables, but the oil is unsuitable for stir-frying because of its low smoke point. It will also impart a strong oily flavour to the dish, reducing its taste.
You must use oils with high smoke points for making all types of stir fry. These fluids are thinner than standard oils for a better dish. Canola oil is one of the best oils you can use to make Mary Berry everyday broccoli and cauliflower stir fry.
Refined olive oil is also suitable for making Mary Berry broccoli and cauliflower stir fry.
How To Make Stir-Fry Taste Like Restaurant?
You may have had stir fry at a restaurant before and liked it. Because of this, you may want to make the same dish at home. Remember to use aromatic ingredients if you want to make broccoli and cauliflower stir fry with the same taste as a high-end restaurant.
Following this Mary Berry stir fry recipe will help you get an exquisite flavour. This is because the ingredients include different aromatics, such as shallots and garlic. Spices can also help you get a restaurant-like taste at home.