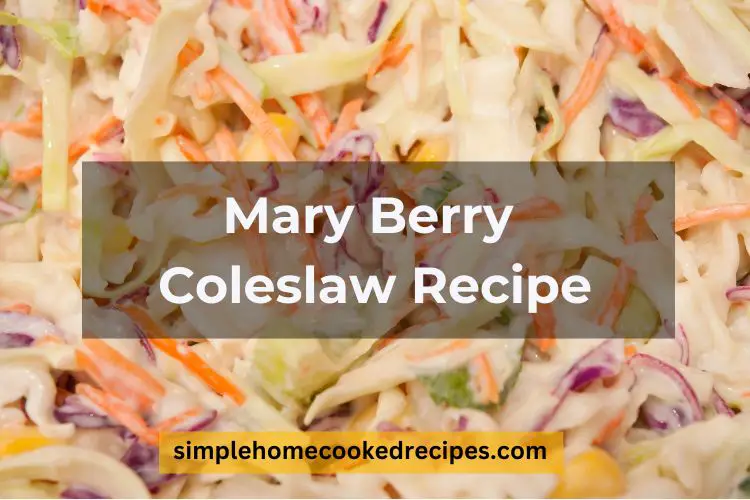 The Mary Berry coleslaw recipe is one of the most delicious and crunchy side dishes that you can serve with your food. The best part is that this coleslaw will go incredibly well with Asian dishes. So, if you are making such dishes at your next event, be sure to serve this coleslaw.
Here is your complete guide to the Mary Berry coleslaw recipe.
Mary Berry Coleslaw Recipe Overview
The Mary Berry coleslaw recipe will only take ten minutes to prepare and cook. However, you have to chill the coleslaw an hour before you serve it or overnight for the best results. This is why we recommend making it the night before.
A pro tip is to shred all the vegetables as finely as you possibly can. Doing this will help you get the most flavour out of this side dish.
Total Fat: 12.9g
Saturated Fats: 2.1g
Sugar: 6.4g
Carbohydrates: 11.6g
Dietary Fiber: 2.2g
Sodium: 583mg
Protein: 3.5g
Nutrition Facts
---
Amount Per ServingCalories171
% Daily Value *
Total Fat 12.9g

20

%
Sodium 583mg

25

%
Total Carbohydrate 11.6g

4

%

Dietary Fiber 2.2g

9

%
Sugars 6.4g

Protein 3.5g

8

%
---
* The % Daily Value tells you how much a nutrient in a serving of food contributes to a daily diet. 2,000 calories a day is used for general nutrition advice.
Ingredients
Coleslaw
2 large carrots
500g of white cabbage
200g of mangetout
200g of large radishes
100g of chopped and roasted cashews
A handful of fresh basil, coriander, and mint
Coleslaw Dressing
2 tbsp. of caster sugar
3 tbsp. of rice vinegar
4 tbsp. of fish sauce
6 tbsp. of sesame oil
Juice of two limes
Finely grated rind
1 medium hot red chilli, finely chopped and deseeded
Instructions
1. Start shredding the mangetout, radishes, carrots, and cabbages finely. Then, toss all the vegetables together in a serving bowl and mix them evenly.
2. Chop the coriander and mint and reserve some of the whole leaves for garnishing. Then, add the chopped herbs to the vegetables in the bowl and toss them thoroughly to combine.
3. Create the dressing by taking a jug and mixing all the ingredients together.
4. Pour the dressing from the jug onto the vegetables and toss well to mix evenly. Cover the vegetables and let them chill for at least an hour or overnight for the best results.
5. Before you serve the dish, toss the coleslaw to bring up the dressing.
6. Then, shred the basil and fold the shredded leaves inside the salad with most of the chopped nuts.
7. When you want to serve the coleslaw, be sure to scatter the nuts and the leaves of mint and coriander on top. Make sure that the coleslaw is also at room temperature when you serve.  
Nutrient Information
The Mary Berry coleslaw recipe will have ten servings. Each serving will contain 171 calories. Here is the breakdown of the nutrients per serving:
Total Fat: 12.9g
Saturated Fats: 2.1g
Sugar: 6.4g
Carbohydrates: 11.6g
Dietary Fiber: 2.2g
Sodium: 583mg
Protein: 3.5g
Also Read: Scrumptious Potato Salad Recipe: A Delicious And Easy To Make Dish By Mary Berry
Frequently Asked Questions
Here are some frequently asked questions about our Mary Berry coleslaw recipe:
What Is A Coleslaw Dressing Made Of?
You can make coleslaw dressing out of many ingredients. These include salt, pepper, apple cider vinegar, honey, mayonnaise, and much more.
What Type Of Cabbage Is Best For Coleslaw?
The type of cabbage that is best depends on the coleslaw flavour you want to go for. Green cabbage, white cabbage, and red cabbage all work well.
Is It Better To Make Coleslaw The Day Before?
Yes, you can make the coleslaw the day before by keeping it overnight in the fridge for the best results. It will allow the vegetables to offer a better crunchy texture.