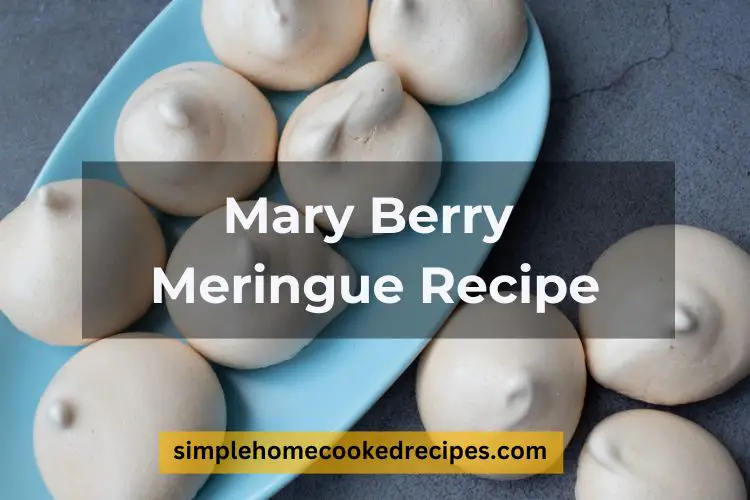 Meringue is an excellent option for serving light sweet treats at dinner parties. They are flavorful and easy to make because of the simple process. The best part is that you can improvise the dish to suit your palate better.
If you want to learn how to make the meringue recipe Mary Berry perfect way, you're in the correct place. Here is a complete recipe guide to help you make the item easily.
Meringue Recipe Mary Berry
Making meringue using a Mary Berry recipe is easy because the process is only a few steps long. You also don't need prior cooking skills to make the dish. The typical preparation time for meringue is 15 to 25 minutes, depending on how fast you whisk the ingredients and set the baking tray.
The cooking time for the Meringue is 1 hour 30 minutes for the best taste. Remember, you will also have to wait for the item to cool before serving it. The total time for making this dish will be about 2 to 2 hours and 15 minutes.
This recipe will allow you to yield 18 to 20 single meringue servings to serve a medium family or a few guests.
Also Read: These Classic Mary Berry Blueberry Muffins Will Blow Your Mind
Details
Cooking time
1 Hr. 30 Min.
Nutrition Facts
20 servings per container
---
Amount Per ServingCalories68
% Daily Value *
Total Fat 2.9g

5

%
Cholesterol 10mg

4

%
Sodium 10mg

1

%
Total Carbohydrate 10.2g

4

%

Dietary Fiber 0.2g

1

%
Sugars 9.6g

Protein 1g

2

%
---
* The % Daily Value tells you how much a nutrient in a serving of food contributes to a daily diet. 2,000 calories a day is used for general nutrition advice.
Ingredients
Freeze-dried raspberries – 14 grams
Egg whites – 4
Caster sugar – 185 grams
Whipped cream – 160 ml
Instructions For Raspberry Meringue Recipe Mary Berry
Here are the step-by-instructions for the meringue recipe Mary Berry way:
Line two baking trays with baking or parchment paper. Preheat your oven to 120 degrees Celsius, 100 degrees Celsius fan and gas ½
Place your raspberries in an extra-small or small bowl. Crush them into a powder using the end of a rolling pin or another tool
Leave the powder aside and start the preparation of your meringue
Take a large bowl and place your egg whites in it. Be sure to carefully separate the egg yolk so that no residues remain in the egg whites
Use an electric whisker for whisking and keep it at full speed for a stiff appearance
The egg white should mainly take the form of a white cloud after whisking
Start adding sugar little by little to the bowl. Whisk the ingredients every time you add sugar to the egg-white mixture for proper incorporation
Remember to keep the whisking speed at full every time you add the sugar
The final appearance of the meringue will be glossy and stiff
Now take your raspberry powder and use a spoon to fold it in the meringue
The mixture should have a marbled appearance. This will prevent you from over-mixing the ingredients
Use a tablespoon to add the meringue mixture to the lined tray and swirl them into a round shape. You should get about 18 to 20 servings from the mixture
If the raspberry powder is left, you can sprinkle it on the meringue mixture
Bake the meringue for about 1.5 hours. You can also take out the dish if the pieces can be lifted from the baking paper without sticking
Turn off the oven after the cooking and open its door
Allow the meringues to cool in the oven before taking them out
You can serve the meringues by giving whipped cream as a side
Making sandwiches of meringues with whipped cream is also a good idea. If you use this serving method, the yield will be 9 to 10 sandwiches
Also Read: Mary Berry's Creamy Panna Cotta Recipe That Will Surely Make Your Mouth Water
Pro Tip
Apply whip cream only a few hours before serving, or the meringues will become soggy or too soft
If you want plain meringue, you can skip the steps with powder
Nutritional Information Of Meringue Recipe Mary Berry
Here is the nutritional value of this recipe meringue Mary Berry recipe:
Calories – 68
Total Fat – 2.9 grams
Saturated Fat – 1.8 grams
Cholesterol – 10 milligrams
Sodium – 10 milligrams
Total Carbohydrate – 10.2 grams
Dietary Fiber – 0.2 grams
Total Sugars – 9.6 grams
Protein – 1 gram
Also Read: Delectable Manchester Tart Recipe Mary Berry For Your Next Event
Frequently Asked Questions
Here are the answers to the frequently asked questions about the meringue recipe Mary Berry way:
Can You Freeze Raspberry Meringue For Storage?
This recipe will not allow you to store your meringue in the freezer because of the raspberry incorporation. However, you can keep the unfilled meringues in a cake tin to hold the item for about two weeks.
What Is An Alternative To Raspberry For Making Meringue?
There are two options if you don't like raspberries. You can make plain meringue and serve it with whipped cream or butterscotch sauce. Another alternative is to use chocolate instead of raspberries.
You can swirl one tablespoon of cocoa powder with your meringue and use it in step ten of the earlier recipe. Chocolate-swirled meringue tastes good and offers a kid-friendly treat.