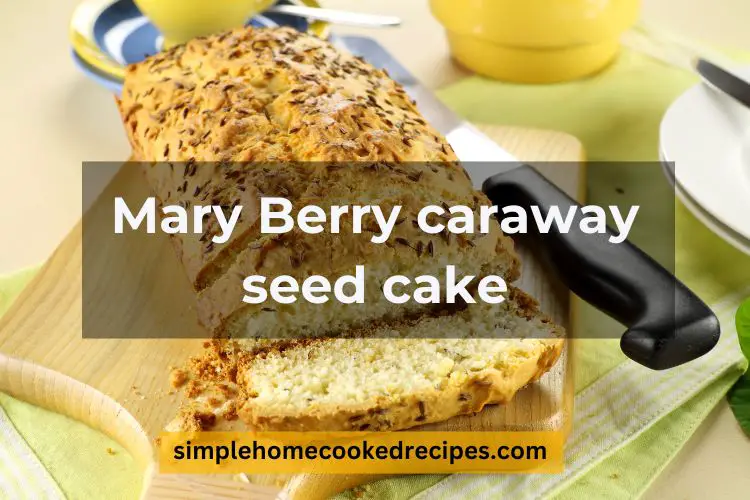 The most basic cakes include chocolate and vanilla cakes that almost everyone has made at least once. However, if you want to bake a cake with unique flavours, we recommend the caraway seed cake. It has distinctive flavours that will taste great with your evening tea or on its own.
So, if you are looking for a unique cake recipe, you have come to the right place. Here is a complete guide to making a delicious caraway seed cake.
Mary Berry Caraway Seed Cake Recipe Overview
The Mary Berry caraway seed cake recipe will take you at least one hour to cook. You will also require fifteen minutes to prepare everything beforehand. Because of this, we recommend that you set aside an hour and fifteen minutes to bake this cake.
Our recipe will also serve eight people, making it ideal for families or guests you want to cook for. A pro tip is that if you want to bake it for more people, you can switch the recipe and its ingredients.
Nutrition Facts
8 servings per container
---
Amount Per ServingCalories411
% Daily Value *
Total Fat 24.3g

38

%
Cholesterol 209mg

70

%
Sodium 154mg

7

%
Total Carbohydrate 49g

17

%

Dietary Fiber 2.6g

11

%
Sugars 25g

Protein 32.5g

65

%
---
* The % Daily Value tells you how much a nutrient in a serving of food contributes to a daily diet. 2,000 calories a day is used for general nutrition advice.
Ingredients
For The Cake
175g butter
175g self-rising flour
Three large beaten eggs
175g golden caster sugar
4 tbsp. milk
50g ground almonds
3 tbsp. caraway seeds
For The Topping
1 tbsp. crushed almonds
2 tbsp. demerara sugar
Instructions
1. Take a large mixing bowl, and sift the flour. Make sure you lift the sieve high so the flour is adequately aired when it goes down. Once this happens, you can add all the other ingredients to the cake.
2. Take an electric mixer and combine all the ingredients for a minute till you reach a creamy and smooth consistency.
3. Then, spoon the smooth mixture into the tin. You can level the surface of the mixture using a plastic spatula or the back of a spoon.
4. Next, you must sprinkle the demerara sugar and the crushed almonds on the mixture.
5. Finally, place the baking dish in the oven on the lower shelf and let it cook for an hour or until the cake is cooked through.
6. Take out the dish and let it cool for ten minutes.
7. Turn out the cake from the dish on a wire rack and let it cool for a bit.
8. Cut into pieces and enjoy this beautiful and unique cake.
Also Read: Mary Berry Scrumptious French Madeleines Recipe That Is Out Of This World
Nutrient Information
The Mary Berry caraway seed cake recipe will serve eight people. Each serving will have 411 calories. Here is the rest of the nutrient breakdown:
Total Fat: 24.3g
Saturated Fats: 12.2g
Sugar: 25g
Carbohydrates: 44.4g
Dietary Fiber: 2.6g
Sodium: 154mg
Protein: 7.1g
Frequently Asked Questions
Here are some frequently asked questions about the Mary Berry caraway seed cake recipe:
What Flavor Do Caraway Seeds Add To The Cake?
Caraway seeds have a stimulating and sharp aroma, which is why many people confuse them with cumin or fennel. However, you will find that it has a bittersweet yet nutty sharpness with a hint of anise and citrus. So, you can expect a burst of flavour as you add caraway seeds to the cake.
What Do I Serve Caraway Seed Cake With?
Caraway seed cake tastes great on its own. However, if you want to serve it to guests, you can always pair it with a cup of tea or coffee. Besides that, you can also serve it with other desserts.
What Flavors Pair Well With Caraway Seed Cake?
If you want to experiment with our caraway seed cake recipe, then you can combine it with lemon. Many people make caraway seed and lemon cake as both flavours go incredibly well together.