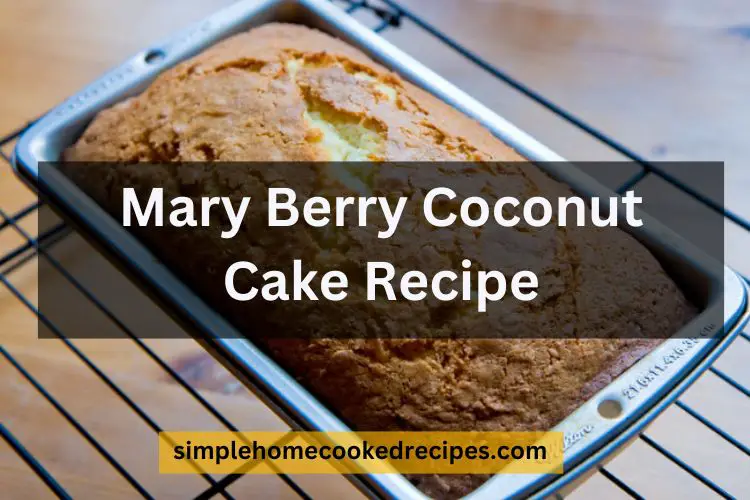 The Mary Berry coconut cake recipe is an excellent recipe that you can add to your desserts. It will allow you to have a taste of the tropics right in your home. The best part is that you only need six ingredients to create this delicious recipe.
So, if you are looking for an easy and fun coconut cake recipe, you are in the right place. Here is your complete guide.
Mary Berry Coconut Cake Recipe Overview
The total time it will take you to make this recipe is an hour and fifteen minutes. The recipe will also serve five to six people in the home, which is why it is perfect for when guests come over. You can serve it with tea, coffee, or an assortment of other desserts.
Nutrition Facts
---
Amount Per ServingCalories498
% Daily Value *
Total Fat 29g

45

%
Sodium 0.8mg

1

%
Total Carbohydrate 49g

17

%

Dietary Fiber 4g

16

%
Sugars 21g

Protein 8g

16

%
---
* The % Daily Value tells you how much a nutrient in a serving of food contributes to a daily diet. 2,000 calories a day is used for general nutrition advice.
Ingredients
4 tablespoons of milk
115g of butter
115g of demerara sugar
225g of self-raising flour
Two large, lightly beaten eggs
100g of desiccated coconut
Instructions
1. Heat your oven to 160/140C or fan/gas 3.
2. Take a loaf tin and grease it with some butter. Then, line the tin with non-stick baking paper.
3. Take a mixing bowl. Sift some of the self-raising flour into it and add a pinch of salt.
4. Take the butter and rub it with your fingertips in the mixture until it has a consistency of breadcrumbs.
5. Stir in the milk, eggs, coconut, and sugar. Keep mixing until the consistency is soft and smooth.
6. Take the mixture in the spoons and add it to the tin until it is covered.
7. Bake the mixture for thirty minutes.
8. Take out the cake from the oven and sprinkle extra coconut on top.
9. Add the cake back into the oven and bake for another twenty to twenty five minutes until you can poke the cake with a toothpick and it comes clean.
10. Take out the cake, put it on a wire rack, and let it cool.
11. Serve it with coffee or any other desserts of your choice.
Nutrient Information
The total calories in this cake are 498. Here is the breakdown of the rest of the nutrient information:
Total Fat: 29g
Saturated Fats: 20g
Sugar: 21g
Carbohydrates: 49g
Dietary Fiber: 4g
Sodium:  0.8mg
Protein: 8g
Frequently Asked Questions
Here are some frequently asked questions about the Mary Berry coconut cake recipe:
What Pairs Well With Coconut Cake?
There are many ingredients that you can pair well with coconut cake. These include vanilla, Chocolate Buttercream, caramel, and much more. For example, you can drizzle some caramel syrup on the Mary Berry coconut cake.
Can I Have Fruit With The Coconut Cake?
You can serve berries with coconut cake for the best flavour. These include cherries, blackberries, blueberries, and many others. Coconut goes well with almost all types of fruit.
Does Coconut Raise Cholesterol?
Coconut is a great way to reduce the cholesterol levels in your cakes. That is why the Mary Berry coconut cake recipe is heart-healthy. Be sure to enjoy it with light ingredients for the best results.