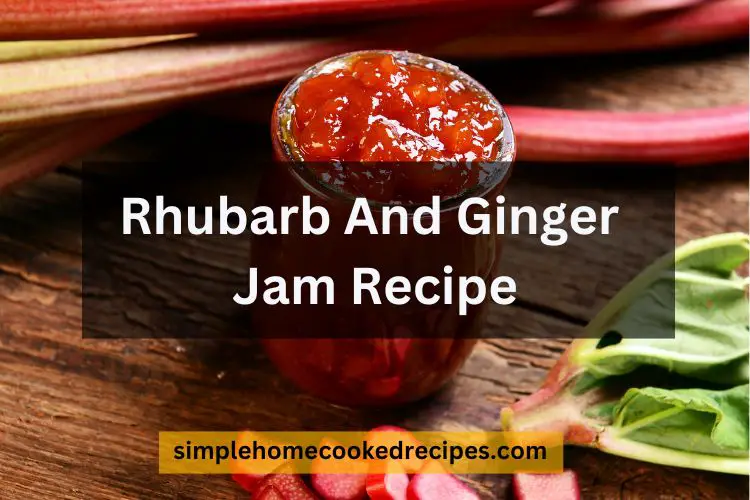 Rhubarb and ginger jam is an enjoyable festive jam that you can add to your breakfast each day. You can enjoy the jam on toast, put it on oatmeal, or have it with some granola. There are endless ways to consume the jam, and the choice is yours.
The secret to making an excellent Mary Berry rhubarb and ginger jam recipe is to ensure that you have high-quality rhubarb. It will make all the difference to your recipe. Here is what you must know about it.
Mary Berry Rhubarb And Ginger Jam Recipe Overview
It will take you more than two hours to create this recipe, but it is worth it. Our recipe will help you create three small jars and one large jar out of these ingredients and the jam. You can store the jam in the fridge and enjoy it for however long you like.
Keep in mind that it will stay good in the fridge for a month. After that, you can make another batch and store it to keep consuming this delicious jam recipe.
Details
Prep. + Cooking time
120 Min.
Nutrition Facts
---
Amount Per ServingCalories120
% Daily Value *
Total Fat 0.1g

1

%
Sodium 1mg

1

%
Total Carbohydrate 31.7g

11

%

Dietary Fiber 0.6g

3

%
Sugars 30.6g

Protein 0.3g

1

%
---
* The % Daily Value tells you how much a nutrient in a serving of food contributes to a daily diet. 2,000 calories a day is used for general nutrition advice.
Ingredients
1lb of granulated sugar
1lb of Rhubarb
1 tablespoon of lemon juice
1 teaspoon of ground ginger
Instructions
1. The first thing you must do is clean the rhubarb to ensure there are no impurities. Be sure to cut it into pieces of half an inch.
2. Take the sugar, lemon, and rhubarb, and combine them inside a bowl. Be sure to mix them well.
3. Add the ginger and allow it to stand for at least two hours.
4. Then, place all the contents in the bowl inside a large saucepan.
5. Dissolve the sugar by heating the mixture on medium heat.
6. Once the sugar is dissolved, you must ensure that the rest of the mixture comes to a boil.
7. Heat the mixture till it reaches a setting point.
8. Take some jars and add the mixture to them.
9. You can seal the jars by using waxed paper. Be sure to place the lid.
10. Serve the jam in any way you like and enjoy.
Also Try: Strawberry Jam Recipe Mary Berry
Nutrient Information
You can get fifteen servings out of the jam, and each serving will amount to 120 calories. The breakdown is as follows:
Total Fat: 0.1g
Sodium: 1mg
Total Carbohydrates: 31.7g
Dietary Fiber: 0.6g
Total Sugars: 30.6g
Protein: 0.3g
Also Read: The Best Damson Jam Recipe You Will Ever Taste
Frequently Asked Questions
Here are some frequently asked questions about the Mary Berry rhubarb and ginger jam recipe:
Do I Need To Peel The Rhubarb For Jam?
No, you don't need to peel the rhubarb to create the jam. However, many people do this because they only like to use the inside of the rhubarb for the jam.
Is Rhubarb And Ginger Jam Good For You?
Both ingredients are healthy, and ginger can be incredibly beneficial to add to your diet. It has antioxidant properties to help you fight inflammation and other problems.
Is Rhubarb Good For Diabetics?
If you have diabetic family members, you can still create the jam. That is because rhubarb is known to reduce blood glucose levels.